Audio
What should the refreshed NHS Long Term Plan look like?
With the NHS Long Term Plan set for a refresh later this year, three healthcare leaders share their hopes and fears for the post-pandemic plan.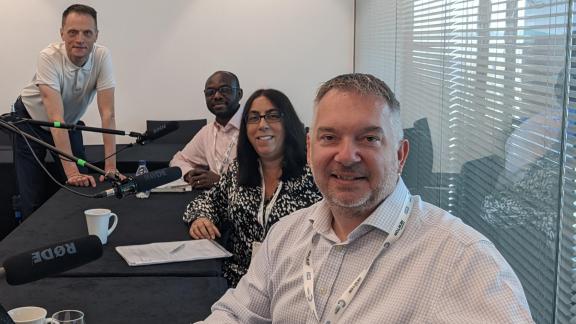 What does the health and care system need from the Long Term Plan refresh? In a special episode recorded at NHS ConfedExpo, Matthew Taylor takes soundings from system leaders, exploring their hopes and fears for updates to the plan.
Hear from Simon Whitehouse, chief executive designate for Shropshire, Telford and Wrekin ICB; Louise Ansari, national director of Healthwatch England; and Omotayo Kufeji, a GP partner and clinical director for The Bridge PCN, Milton Keynes, as they consider what needs to be different and how it can resonate with system partners, staff and service users.
Health on the Line
Our podcast series offers fresh perspectives on the healthcare challenges of our time and ways to confront them. Tune in for interviews with the movers and shakers making waves across health and care
Matthew Taylor

Hello. This edition of Health on the Line has two new features. First, I'm going to preface the interview with some short comments about what's at the front of my mind right now as a Confed CEO. I want to reflect what I've been hearing from members. What are your priorities and how are we trying to reflect those? I'll be doing this for all future editions just to make sure we stay topical, give you an insight into the day-to-day work that we're doing. Second, in this show I'm not just going to speak to one person, but I have a conversation with three health service leaders.

We recorded the session during our recent highly successful ConfexExpo. As you'll hear, it was really lively conversation. I promise that what I'll feature in the short opening essays won't always be about what I've been doing. But there are a couple of things I wanted to draw your attention to.

The first is to encourage you to have a look at my speech to the ConfedExpo; it's on YouTube. Just search my name and Confed. In the speech, I tried to reflect what our members have been telling me on calls and in visits. I explore the contrast between how things are feeling right now for leaders in a service under enormous pressure, even before what looks like a new upsurge in covid.

And then I ask, how can we build a bridge from where we are now to the future we want to create, a future of better, more equitable, more preventative, more community-based services.

And then reflecting on that question of where we are now, where we want to get to, I describe what I think could be the planks that we need to build that bridge.

First, political honesty, commitment. We need politicians to be realistic about where we are, to acknowledge the pressures that we face, and to commit to give us the tools that we need to do the job. As we've shown with long waits for elective care or the vaccination program, if we're given the tools, we will do the job.

Secondly, we need the right national leadership, a leadership that is maybe a bit more about empowering and slightly less about instructing.

Thirdly, we need a more robust and more ambitious conversation with our partners and the public being clear about what we can do, what we can't do, and more importantly, talking about how we could achieve more if we could work with our partners, with the public, co-create new ways of working, achieve better outcomes.

And then finally, we've got to be willing to have a critical conversation about how we live up to our hopes and values in our own culture. Partly that's about being as productive and efficient, as effective as we can be, because we have to be accountable to the taxpayer. But it's also about grasping the nettle on some of those really difficult issues. Issues like inclusion, like tackling the scourge of institutional racism.

So those four planks: political honesty and commitment; the right national leadership; stronger relationship with partners and the public; getting our own culture right. Get all that right and I think we've got a chance of building that bridge that takes us from where we are now to where we all want to get to.

So anyway, have a watch of the speech and tell me what you think. And by the way, for those of you who weren't able to make it, there's loads more content from what was an excellent ConfedExpo available on our website.

The other thing I hope you'll check out is a blog I've written on the proposed long-term plan refresh. By the way, that's also going to be the subject of the conversation you're about to hear.

In the blog, again reflecting what members have said to me, I talk a bit about the original plan and its strengths but focus on some recommendations of the refresh. I argue it needs to feel like it brings things together rather than being yet another thing, on top of all the other targets and priorities the system is subject to, how can it bring coherence to the noise rather than add to it?

Secondly, I call for the refresh to reflect the shift to system working and the need for systems and places to have the space to determine their own priorities. And I also urge a fresh narrative to address the kind of pessimism that exists about the health service; those who say that spending money, investing money in the health service is a bottomless pit. So, I suggest we return to some of the themes of the Wanless Report 20 years ago and demonstrate how with the right investment and the right policies, we can bend that demand curve. We can get to a position of long-term financial sustainability.

Anyway, you can read the blog on our website. So, tell me what you think of that as well. But now, with no further ado, let's head to Liverpool.

Matthew Taylor

Well, it's great to be here at Confed Expo, the biggest gathering of health leaders for both for three years since before the pandemic. It's my first conference in person as chief executive, and I'm sitting here looking out across the Mersey. The sun is shining. It's the hottest day of the year.

So, we're going to be talking this morning with my three guests about how they feel about Confed Expo, how they feel about what's going on in the health service, in particular about the long-term plan refresh, which we're waiting awaiting from NHS England. So, with no more ado, I'm going to be asking our guests to introduce themselves. And let's start, Louise, with you.

Louise Ansari

So, I'm Louise Ansari. I'm the national director of Healthwatch England, and I'm also a non-executive director designate for the Sussex ICB, which has given me an interesting perspective. And Expo has been amazing so far, hasn't it? Just as you say, fantastic energy, great speakers. I've seen so many people reconnected with so many people from the years. It's just it's just been wonderful so far.

Matthew Taylor

Brilliant. Great. Simon.

Simon Whitehouse

I'm Simon Whitehouse. I'm the interim chief exec designate; can lose the 'designate' hopefully on the 1st of July, for the Shropshire, Telford and Wrekin Integrated Care Board. Really looking forward to the conversation this morning.

Matthew Taylor

And how has ConfedExpo been for you so far?

Simon Whitehouse

So, following on from what Louise has said, it's been great actually. The content, the speakers, the in-person piece, the connections and the conversations, the realisation that actually healthcare and leadership is a contact sport, and you need to be doing that in person. But at the end of the day, also recognising how unused I am to it and I was really tired, last night.

Matthew Taylor

Tayo.

Tayo Kufeji

My name is Tayo Kufeji, I'm a GP in Milton Keynes and I'm also a PCN clinical director for the Bridge PCN. I also have a second hat, working for the CCG as director of transformation.

Matthew Taylor

And ConfedExpo, how has it been for you?

Tayo Kufeji

ConfedExpo, like everyone has said, I think it's been a really, really great opportunity just to catch up with people. I think for me the biggest thing has been the networking. So, you sort of walk 20, 30 yards and you find somebody you know, and you have a bit of a chat and you catch up about stuff. But more importantly, we're all here because we want to see the NHS get better, we want to do better work for our patients. And I think what the networking and all of the contacts is doing is helping us just to reconnect and share what it is that we think we can do better and how we can help each other, support each other through this journey. So, for me that's been really, really good and a great opportunity again.

Matthew Taylor

I said that we were going to think in particular about the long-term plan refresh, but that's an opportunity really to think about where the health service is and what it and what it needs right now. And I suggested in my speech yesterday that there was a kind of contrast between how it feels right now out in the system, but yet also the sense of possibility that there is about data, digital medtech, collaborative working, integration, a sense of excitement about the future. But yet things are very difficult now.

So, Simon starting with you, how do you think the long-term plan refresh needs to kind of relate on the one hand to the original long-term plan, but on the other hand to where we are right now? What does that system need from a long-term plan refresh?

Simon Whitehouse

I think it's a really interesting time, actually, because if we think about alignment of policy, experience in the NHS would say we've not always been in a situation where the system and partners and providers, commissioners, have been in a situation where they've looked at a long-term plan and they've looked at the integration white paper and said, you know, there's a lot in here that we agree with and align and get behind it.

So, the long-term plan refresh needs to build on the original long-term plan. Because broadly, I think it had support of systems and I it had support of partners delivering health and care. So, we absolutely need to bring it up to date, post what have we learned through the pandemic? And we need to just make sure that we are talking about the priorities and the focus that we've got now on dealing with the backlog, dealing with the elective recovery piece that I'm sure will come onto and that integration agenda. But let's not lose the core connection that landed well with the original long-term plan. So, I think it's I think the refresh is a good language and a good narrative to use in that space.

Matthew Taylor

And Louise, what do you think needs to be different? I mean, I've got a blog post published today. One of the things I say is, this long-term plan needs to recognise that system working has been introduced and that therefore, in a sense, in that health partners are now working with local authority partners, the voluntary sector and others - the idea that the health service is telling people in the health service what to do in the situation, where they're actually need to work in partnership is kind of slightly problematic. And therefore, probably one thing about this, this plan, it needs to be less target heavy. It needs to emphasise the need for systems and places to work things out with their own partners. Do you agree with that?

Louise Ansari

Yeah, I'm sure that's right. I mean, obviously, I come from the perspective, and it's not been mentioned as much as perhaps it could have been during Confed so far, and in general in the in health systems, the perspective of the patient and of the public and of communities. Actually, we've just done a piece of work for NHS England to look at what people thought of the original long-term plan and whether or not that translates over into how they feel now about various areas, including things like and waiting times and the effects on prevention.

And people generally thought the original long-term plan was and it was the right way to go. But obviously, covid disrupted that so much and they have got somewhat different views now, which I can come onto later, if you want.

I mean, the point about is health all about targets? And with integration, can we do a lot more in terms of thinking about people as actually whole people who sometimes perhaps don't prioritise health and sometimes their housing is really poor and that's going to impact on their health and sometimes, they're going to cancel or delay an operation themselves because they have to go to work. You know what role indeed do other system partners play in supporting people? And so, I am very optimistic actually about integrated care systems that will kind of open that question out a bit more to support people and patients more in a more complete sort of way.

Matthew Taylor

And Tayo one of the other things that I argue in this blog is that the long-term plan is an opportunity to underline a kind of narrative of hope. Now, you're working in general practice, which is one of those areas which feels under immense strain, you know, and I, I chaired a session with Claire Fuller, Sue Montgomery and others yesterday and there were GPs in the room, talking about the pressures, talking about seeing their colleagues leave in their early fifties. And yet Claire's vision for primary care is exciting. And so primary care is one of those areas where, again, we have this kind of feeling of the possibility of change, but yet, day in, day out, it feels really tough. And the secretary of state made comments yesterday which won't have helped. So, do you think the long-term plan is also an opportunity to kind of excite people about the fact that there is something beyond this, these current pressures?

Tayo Kufeji

I think what we need to remember is, like you said, general practice is the front door of the NHS. This is where 90 per cent of contacts in the NHS happen. Over a million people a day get treatment or get some sort of support and help from primary care.

So, I think the frustration that we're seeing on that front door is a frustration with the NHS in general. But yes, general practice as a profession is becoming really, really challenging. I was at the Claire Fuller session yesterday and I think what one of the panel members mentioned there was the hope that that report and that review gives primary care to say that there is something on the horizon that actually can make things better.

But I think in terms of the refresh of the long-term plan, what we need to see is building on the Stocktake Review recommendations, and that's for ICSs, for systems to take on that challenge. It's not for primary care to do on their own. And in fact, they can't do a lot of the stuff on their own. They've got to work with systems, with the ICS to actually make those things happen. But I think what comes out of it is the hope that things can improve and can get better. But we've got to see the actions that support that as well. And I think it's not just having the document. We've got to actually see the actions from the centre, but also what ICSs.

Matthew Taylor

And it's interesting Tayo because one of the things you said there is another thing that I argue in this blog, which is that it needs to feel like this refresh brings coherence to all the other initiatives and priorities. What we don't need is yet another thing alongside all the other things. Do you think that one of the roles of the long-term plan is for busy people at the front line, hearing all of these initiatives rushing down, it pulls it together and it gives it a sense of coherence.

Tayo Kufeji

Definitely, yes. Otherwise, there's going to be a plethora of all the other policies and all the initiatives. And I think what we need more is streamlining a lot of those. But looking at the long-term plan that was launched in 2019 and quite a few of the elements of that as we've seen particularly relating to primary have already been met. So, establishing PCNs for example they're already there, personalised care, bringing in social prescribers and health and care and wellbeing coaches to primary care, they're already there. So, we need to see that continuity from the previous long-term plan and build on that. And equally, we need to see how the new all the new policies and the new initiatives that are being launched are all connected rather than bringing them separately, so I think that would really help just to see just see that streamlining and come together.

Matthew Taylor

Yeah. So, one of the things that Claire said yesterday was that she doesn't want to see her stocktake as a set of initiatives around primary care. She wants to see it as an account of what system working means particularly at locality level. So, it's really about system working, not just about primary care. Louise, you intriguingly referred to the fact that what the people want out of this may be slightly challenging. I mean, do you feel from your work that the long-term plan impinged upon the average kind of patient or member of the public? Were they aware of it? And should this refresh attempt to be something that engages the public, or is that is that unrealistic?

Louise Ansari

I mean the words 'long-term plan' wouldn't have impinged on any members of the public, I guess, nor any of these, you know, initiatives or any of the papers or any of the guidance that comes out. But what is really important for members of the public is that day-to-day experience, and Tayo was talking about things like what happens in general practice and having health coaches and that kind of thing. People really appreciate that. But the variation in experience of getting access to a GP appointment is huge. People are really, really frustrated as you said Tayo about, you know, about not being able to access in the way they want to. And I was talking here to a GP yesterday. He said, well we actually ask people on the register whether or not they really need a face-to-face appointment or whether they're happy by filling out an online form or having a telephone appointment. And he said people are really happy with that.

And so quite a lot of is communication because if people are, you know, instantly kind of shuffled into one track and they feel kind of that they're not communicated with, they don't have a choice, and they are, you know, fingers hovering over the keypad at one minute to eight in the morning and then not getting an appointment then, you know, concepts like the Fuller review will seem a long way away from people's ordinary experience unless and until things like that are, you know, you can get access to patient urgent plus continuity of care implemented really comprehensively across the board.

And it was wonderful, wasn't it, that all the 42 ICS chief executives signed it, so I think there's a real will there and this this real optimism.

If I can just take another minute on you know what most people think about and what they want, obviously they want access to GPs in the way that they that's good for them. And in the initial work we did on the on the first long-term plan, people were quite positive about experience of things like cancer care and maternity services. Unfortunately, that experience has become much more negative over the last couple of years. So, there is a bit of a mountain to climb.

And then for mental health services people's experience was already quite negative and it's got even worse. Obviously waiting times on workforce, we know impinge on that.

So, there's a lot there. There's, you know, people's ordinary experiences, I can't get an appointment. I can't get a dentistry appointment. I'm waiting. I'm not getting supported whilst waiting. And then it's lovely to think about hope, but it's a kind of a rarefied atmosphere when we're talking about big policies and hope because they've got to be felt by ordinary people.

Matthew Taylor

So, Simon this, you know, this takes us, doesn't it, to kind of a challenge for all of us. And, you know, with ICSs playing this incredibly important role for ICSs in particular, which is, I remember a friend of mine's screensaver used to say: 'Is it urgent or is it important?' And that's such a difficult thing for us because there are so many things that are urgent and what the original long-term plan wanted to do in terms of, for example, moving resources upstream, a greater emphasis on prevention. And a lot of that was blown out of the water by the pandemic.

But going forward, how we do that, how we achieve those important changes in the face of the urgent demands that the public has, how do you how do you see that as a as a leader?

Simon Whitehouse

And so, the pandemic absolutely brought that challenge and that disruptive change, undoubtedly. But at the same time, it really brought health inequalities into a level of conversation that I had not heard previously, actually. So, let's not miss those opportunities that that disruption has brought about, because it gives us an ability to have a different conversation than I think we were having previously. Because I think at times and I include myself in this, we knew those health inequalities existed, but we reported on them. We didn't say, what are we going to do about that? And now we're into the conversations of actually, what did we learn from the vaccination programme? What did we learn from knowing the postcodes of streets that had really poor uptake? And how do we translate that into the vaccination and immunisation programme and get into that space of working with communities and partners differently? So, there's a different set of relationships and communities as well I think now that we need to maximise.

Just touching up a little bit on what Louise and Tayo said, you know, for me that the framework, the long-term plan gives us an opportunity to set the framework, doesn't it? So that doesn't need to be the template driven piece of let's fill all of this and get into the minutiae of the detail. But then we need the operating planning guidance that the NHS gets annually to show the direction of travel that fits with delivering that long-term plan. So, there's an opportunity to really say, here's our vision for five to ten years, use the operating planning guidance then that won't have an impact on a patient level or citizen level. But we need to deliver services that do have that positive impact that aligns towards that direction of travel. And let's keep that health and equality and that citizen voice front and centre in terms of how do we deliver that?

I think the final point for me, Matthew, on this is I think you touched on working at place and local authorities and health and care. I think there's a real risk here that health starts to say, look, we've got place now and it looks like this. This is our party. Here's your invite to our party. But local authorities were set up to deliver place. So actually, we need to show that humility and be humble in that space to go and say, how do we do better at working as a partner with you in place? And here are the things that we need to deliver at that place level. How do we better do that? And I think there's a change in dynamic conversation that we need to be having in that space there where we we're asking to come to somebody else's party rather than it's just always our party and we know best.

Matthew Taylor

Yeah, I think that's such a powerful point and it's partly around patient and public engagement. Fatima Khan Shah spoke at the Fuller event yesterday and she's a brilliant and powerful advocate for that. As are you, Louise, of course. And it's also about exactly as you say, this engagement with local government.

And one of the things I argued in my speech yesterday was that we can learn from local government, because the way in which we in the health service tended to engage the public is we talk to them about ourselves, about things that we want to do. We don't talk to them about what we need citizens to do.

But local government, because we've been starved of money and because it's got democratic accountability, has had to have those difficult conversations. It's had to say, you're going to have to pay to park your car outside your house. You're going to have to sort your recycling into different bins. You're going to have to deal with low traffic neighbour, whatever it might be. And there's lots of protest and letters and outrage, but in the end it's a kind of robust conversation.

And I quoted yesterday a director of Public Health who said the NHS tends to view public engagement as like dating, you know, I'll go out with you, but if it's no good I'll, I'll back off. Whereas local government sees it as a marriage, you know, it can sometimes be difficult, but you stick with it through good times and bad.

So how important do you think Simon is in both in terms of the long-term plan, but also in terms of a system in place working that the health service really changes the way in which it thinks about public and gets a step change in how it thinks about engagement of partners in the public.

Simon Whitehouse

I think that's been one of the key learning points from the response to the pandemic, hasn't it? And we need to translate that into how we think about both the planning, the delivery, the changes to services as we go forward. I think it's a really fundamental part of that conversation.

You know, for me, getting into that space of the sharing of data, the use of the population health management to really start to understand what this means, what that impact is, there's a high level, bit isn't there that fundamentally, education, job, home and a friend. Those principles there, what role can the NHS play in supporting that, both as an employer as much as then at the services that gets that get offered?

But we will not be able to respond with the financial challenges, with the ask of the delivering the performance challenges, if we're not able to have that honest conversation with local residents and with local citizens.

But we don't need to do that in isolation. We can do that with our local authority partners, and we should be doing that with our local authority partners. We must make sure we don't lose sight of those three lenses of integration that came even before the first long-term plan. Primary and secondary integration - that's an NHS conversation. Mental health and physical health. And then the NHS and broader partners, local authority, social care. So, let's look at those three lenses and understand which conversation are we in at any point and what the focus is there.

Matthew Taylor

And Louise this issue of how we engage the public. You know, it's very concrete. We can talk about abstract terms, but it seems to me that it's very concrete. And if you look back historically from community care back in the 1980s, right through to digital consultations. We think we've talked to the public about something and then things start to go wrong and the public turns around to us and says, you're only doing this to save money or you're only doing this for your own convenience. And suddenly it kind of goes wrong. And I worry that there are good initiatives like virtual care, like patient initiated follow up. These are good things. But if we don't explain clearly to the public why we're doing them or action on inequalities, you can see how easily patients could start to say you're just doing this to save money; you're doing this to make your life easier; you're doing this because you're all terribly woke. I don't know what you're talking about.

So, do you think that health leaders get that this conversation with the public is not just a nice thing to do, but is absolutely essential to making change succeed?

Louise Ansari

Oh, I love the way the conversation is going. You've kind of answered the question a little bit and so delighted as well, Matthew, that as the leader of Confed that you do actually understand and believe in public and patient voice being at the centre of change.

I worked for a local authority for a while as well, so I worked for Lambeth Council for three years and I was in charge of all the consultation and communications and it was absolutely fundamental to everything that we did from how the bins were collected, how the streets were cleaned, what happened in the parks; real impact on people's daily lives. And it was a constant process.

And having been part of the NHS for a while now, it is, as you say, kind of all right, we need to find out, we're going to close this urgent treatment centre or whatever. Let's see what people think about it. But let's see. Maybe it's possible we're going to close anyway, but let's see how we can ameliorate it. And people always ask me about that, you know, bit cynical that they're just asking me about this - they've come to ask me about this, they're going to do this anyway. You know, my views may have some impacts or not. And then I won't see them again until they ask me about another thing to do with the surgery or something I don't really understand about -integrated care.

And actually, what needs to happen on a micro-level. So, with individual surgeries and individual trusts and individuals, it's that constant conversation. And then on a macro level, a really meaningful way of inputting into change of service.

So, if you were to take dentistry, you know, really asking people what you want the dentistry service to look like when ICSs take over commissioning, working with Healthwatch, patients, you know, lots of other groups.

And Simon was talking about inequalities, how do we understand why there is inequity in and in waiting lists, why there's such inequality, why women and black and Asian people and disabled people, why they're having such poor experience of waiting, why they're waiting for longer, the way it impacts them more, you know, what's happening there? You need to actually ask the individual, what can we do to support use an individual on that list? And then take sort of personalised action.

So, communication is actually, it's not always about cost because that doesn't have to be done by clinician often, is at the core. And we've said this to the NHS guys refreshing long-term plan, it is going to be so important for all bits of the system to take on properly as we go forward.

Matthew Taylor

So Tayo one of the points that was made in the Fuller session yesterday was that this demands a very different kind of mindset from the traditional mindset that one might have had about, you know, from a clinician, that the kind of paternalism, the doctor knows best kind of worldview, has changed. And when we ask general practitioners to be working at scale, to be thinking about population health, to be engaging patients, the voluntary sector. This is a very kind of different job. And how challenging do you think that these ideas around public engagement, around community engagement, how challenging all those to the kind of professional mindset in the NHS?

Tayo Kufeji

Oh, I think it's huge. I think we've got a bit a long way to go with that change and that culture. But I think it's something that we need to learn.

So, the traditional model for, for clinicians is it is still quite reactive. It is very much I've been to medical school; I know all the stuff. So, it's very much about we think we have that power to then share. We have been trying to include or involve patients in shared decision making and some of those elements for quite a few years, which is which is going some way.

But I think what we see is that there's still this this this dynamic where the doctor knows best. And I think that definitely is a culture change in terms of how we're going to move forward from here.

In terms of relating and having patient engagement, we know that patients know themselves best and we know that healthcare that we provide as clinicians only affects their lives about 20 to 25 per cent at the most. Simon already mentioned the wider determinants of health, the housing, the ability to interact socially with other people, having education, those are the things that really make a big difference.

So, I think we need to realise as clinicians that actually we can only impact people's health by a small amount. And actually, if we really want to help that person, we've got to go beyond traditional way of thinking and our approach to healthcare. And we've got to look at all the other bits, and I think that will then drive us to actually do that engagement with. Let's talk to the person and see what actually matters to you.

Somebody mentioned it at the session, I think it was that session yesterday, and said the question needs to change from: what's the matter with you? to what matters to you? and how can I help you? What do you really need? And not pre-empt the answer to be oh I need a drug or I need a treatment. It actually might be that I need support with my house. I need support with my kids who are really struggling in school or they don't want to go to school because they're depressed or whatever.

So sometimes the answer might be not what we expect, but our job, I think, needs to change from let's give you a prescription to let us support you by giving you the right access or the right time or the right place for what you need. And then if it does need something medical, then we can do that as well.

I think the challenge we face in the NHS as clinicians is also to change the mode of debates and to start thinking actually why do we medicalise so much of life? We don't need to medicalise a lot of the things that we currently do, and we need to step back a bit I think, and not always think, oh, it's got to be something medical, let's see people as people.

And I'd like to think in some ways you can develop that. So, partnership with patients that sometimes actually become your friend, which is one of the joys of being absolutely joys of being a GP. You have patients that you can become sort of friends.

I mean, there are boundaries, but you do have patients that you can sort of do a bit of a chat with. You can sometimes, you know, say things, I have given some patients my number. But when you get to that stage, you think, look, you're going through a really tough time, call me if you need anything, even though we don't do calls anymore. But you get to that stage where you think, you know, there's a vested interest. Can't do that for everybody. But I think you do have to have that partnership working.

And I think that's where we need to get to. It's a long way to go. I don't think we're anywhere near that yet, but I think there are people that are beginning to realise that this current system just needs a bit of a slight step change.

Louise Ansari

I want Tayo to be my GP now.

Matthew Taylor

Yeah, I think I do as well.

To end up I want to move from the micro, that's a wonderful account of the kind of relationship right at the front line.

But I want to draw back now in the final bit of our conversation to the macro because one of the areas where the debate is really stuck is, is around money. And the secretary of state yesterday, you know, the message he wanted to get out to the newspapers, which they picked up on is there is no more money.

I talked yesterday about a severe and growing capacity gap. I think Amanda used more diplomatic language than me, but she also recognised in her speech this capacity gap now. We're talking about the long-term plan. But a few months ago was the 20th anniversary of the Wanless report that was commissioned after Tony Blair's commitment to increase health spending to the European average, often known as the most expensive breakfast in history because he was on breakfast TV when he made this comment.

Now, what Wanless argued was that if you get your policy right, you can shift the demand curve, you can get to a position of greater financial sustainability. And in this argument between those of us who say that there's a huge capacity gap and the secretary of state saying there's no more money, we've got to get out of this into an argument that says: How do you invest? How do you innovate? How do you change your relationship with patients? How do you have an approach that is health in every place? Which really can take you, despite the fact that demand is going to grow mainly because of population ageing, it can take you to a position of financial sustainability. We've got to win the argument because otherwise this sense that we're a bottomless pit is going to lead to a kind of fatalism amongst taxpayers and voters who are going to say, look, you know, however bad the health service need is it just looks unending.

So, Simon, how do how do you think we can start to articulate an argument and win an argument with the public that says, look, if you give us the right investment, the right support, actually, there is a way to shift this curve and to move to a position where the health service doesn't need to consume ever more GDP.

Simon Whitehouse

So easy question to finish on, isn't it?

Matthew Taylor

But it is a hard question, I know, but in a way, it seems to me that we're in a lot of trouble.

Simon Whitehouse

I'll give it a start, but then I'm sure Louise and Tayo will fill in the detail and come in on this one. So, I think the first bit is we cannot afford to lose our honesty and authenticity in that conversation. So, let's be honest, about what can be delivered for what we've got and what does that look like in the here and now? Because the worst mistake we can make is lose that honesty and authenticity and that connection. And I think that's a risk. So we need and, you know, it was really positive yesterday that the message from Amanda and from the senior team all the way through has been let's have that honest conversation around what does this look like and what does this mean, and what's in front of us now whilst we create a space for what's the next three to five years look like in terms of that partnership and in terms of that relationship.

I think the that the wider determinant piece and the Wanless report, the refresh of the long-term plan gave us that opportunity to have some of that that head space to be able to get into that debate and get into that that conversation. I think it's absolutely about saying the answers don't sit always around the board table. The answers often are in our communities and are with our partners. So, you know, as an example, I was speaking to the further education colleges in Telford on Monday, and they were saying, well, why don't why aren't we round your people board? Why aren't we talking about what the ambitions are for local people, for local children, and for those coming through education in terms of what can a health and care career look like? Because that then starts to change how they stay in the local area, what that means in terms of housing, what that means in terms of employment opportunity. And that then starts to change that public dynamic of getting into some of those points that Wanless talked about that.

But we've got to do that in partnership with our communities and with local government and with local authorities, and with the voluntary and community sector. If the NHS, if we think, if I think in Shropshire, Telford and Wrekin, I can solve our really challenged financial position by doing more of the same and doing it faster with the current workforce then everybody knows that's not going to be the right answer.

Coming back to the honesty and authenticity bit, we're also going have to make some difficult decisions. And we can't make those difficult decisions if we just keep talking about it rather than saying, well, we can no longer deliver that in that way. That is going to have to change. But let's make sure we put the narrative around that. And you touched on this right at the beginning. Let's make sure we put the narrative around what the other options are. What does that mean in terms of digital? What does it mean in terms of community based and the wider partnership piece, not just a deficit-based conversation?

Because there's a risk in this. When the money gets tight, you end up with a with a negative deficit-based conversation that's about cutting rather than about what are the services we need to change and what does that look like? Some of it will be actually that access isn't going to be as good as it was previously, or we're not got that service in the right place. Well, that's okay. But let's be honest and authentic about that conversation and help my conversation with the local communities needs to be how do you help us find those solutions, not come with a — please can we consult on the closure of the service. I think that's often where the NHS gets it wrong, it comes at that point at the end.

But the reframing piece and the ability to get into that prevention agenda, I come back to a point I said right at the beginning, if we don't use what we've learned from the pandemic response to flip and change the way we focus on communities working with partners, then we will have missed the biggest opportunity we've got to get into that space.

Matthew Taylor

And Louise, I mean, right now the public feels a lot of anger, a lot of concern, a lot of frustration. And the danger is, and we're all guilty of this, by the way, you know, that the people say in the morning, well, why isn't the health service there for me? Why am I having to wait? And then in the afternoon, they think about they think of the taxpayer, and they think, why am I shelling out all this money? Why am I having to pay the social care levy? You know, they're dealing with the cost-of-living crisis.

So, taking the public with this on this journey and them understanding the role that they have got to play, working with us in getting to a position where the service is better but it doesn't have to consume ever more money, that that it's not going to be easy. We have to have that level of conversation with the public, don't we?

Louise Ansari

Yeah. I mean I think people, to be honest on what we've done, is that overall kind of sentiment towards the NHS is positive and this has become more positive. There are just sort of pockets, big pockets of frustration, very big pockets. But overall people do still love the NHS and they've got huge amounts of admiration for it. You know, people will often understand that they have to wait for a procedure, but it's their experience whilst waiting that will often frustrate them or the or the gateways or, you know, the way they've dealt with.

I mean, so again, people are grownups, and they can have that conversation. They do understand that there is and there's a limit, you know, to spend. What that limit is, is not something that is really discussed on a national level, is it? You know, I can't recall a time where we've ever said, you know, what proportion of GDP, let's have a national conversation, should be dedicated to health and social care. I mean, in local authorities, it happens by the back door or isn't that most of the time the council tax goes to social care? But it's not you know, it's not talked about hugely or advertised because, you know, some people may not like that. But I think I'd like to think most people would support it.

I mean to your initial point and to what Simon said as well, public health does have a lot of the answers here. And, you know, prevention really does work in lots of ways. So, more support for public health interventions, co-created or talked about with communities and indeed some of the inequality-reducing initiatives that are coming up like Core20PLUS5 should actually help whole populations and reduce demand for acute.

I think the secretary of state and under others, there is this big problem, he's got to wrestle with the departments. I mean they're talking about the food strategy, for example. We know that there's a lot of evidence to show that if you take salt, fat and sugar out of the food chain, then in the long term, that will probably reduce obesity. And yet it's become this politicised issue. Is it nanny statism or not? Rather than let's just think really, you know, clearly and logically and methodically that it will ultimately reduce the obesity, reduce type two diabetes, help the population, reduce strain on the NHS, reduce the need to pay out billions of pounds. And it would just be lovely, wouldn't it, if that thinking just kind of carried through government at all levels.

Matthew Taylor

So Tayo, the last word to you on this kind of question, which is that at our worst in the health service, it can look as though what we're doing is kind of trying to shuffle demand around the system. You know, that that there's a kind of clock stopping mentality that says let's shift that on to secondary, let's shift that back to primary. Let's shift it on to social.

And we have to get into the business, it seems to me, of demand management; it's a very dry phrase, but primary care is going to be critical to this. And moving to a world where instead of in a sense, I know this is a caricature that the primary care sits and reacts to the demand that comes at it, that primary care gets into the business of going out into the community and managing that demand, pre-empting that demand, spotting people who could end up being people who use services very heavily, but helping them and supporting them so they don't need to.

Do you feel that primary care is ready for that, that shift into a kind of greater focus on moving upstream and affecting demand rather than just responding to it? And again, is it realistic to imagine that you can do that, given the kind of pressures you're on?

Tayo Kufeji

Interesting question, not an easy one to come up, but I think the answer has got to be that we have to I don't think it's a case of whether we want to, I think we have to in primary care, we have to shift further upstream to reduce that demand. And I think at the moment the difficulties, general practice just hasn't got the headspace, most GP such as at the coalface, head down, can't look up to do anything, even when you suggest that there's some solutions, we're too busy to try the solution. So, there's that kind of approach.

But I think if we don't start to do more of the prevention and I think what you're referring to there is also a bit of population health management, and if we don't start to work in that kind of way, what we are doing is actually we're going to end up with more expensive care for the down the line. So, I think it's a case of we have to work in that way for us to be able to manage the money, manage the resource that we have, but also the workforce. The workforce is a huge issue, and I don't see how that's going to be sorted or solved any anytime soon and not quickly. So, we have to manage all those resources quite carefully. And one of the ways we can do that is start to shift some of the care further upstream.

I think in primary care, with the advent of PCNs, and our PCNs have worked during the pandemic, I think there is a bit of a of a framework, a bit of a steppingstone that we can build on. We have seen how PCNs have gone into communities and actually done some work, particularly with vaccinations, but actually not just that with some screening programs. They've done work with communities in terms of uptake of other services. So, we already have some examples that some of that might be in a stocktake review from Fuller that we can learn from.

But it's for me, it's how we create that headspace for, for the, for the bulk of general practice to just look up for a minute and see that actually these are the main issues. This issue on demand we're facing now is because of pressures from, you know, years ago, plus the pandemic. But for us not to keep being under the cosh, we've got to change something now, move further upstream, do population health management, identify need as it's arising, and then we can we have a chance of reducing some of that pressure as it comes.

And the pressures of the benefits of reducing that pressure at the front door in primary care means huge, huge benefits for the rest of the system, community, for secondary care, for social care. So, it's not just a case of we're getting the benefit in primary care. So, it's a whole-system efforts to try and make that happen.

I go back to my earlier point about ICSs need to support primary care, that front door, because if you do that and you help us to push stuff out into the community, do more prevention, do more population of management with all the right data, get primary care, the, the structures and the ability to do that, then you're saving a lot of effort and a lot of time and resource further down the line.

I know it takes years and that's always one of the issues with the NHS is that we measure things by annual cycles, and you can't do that with a lot of this prevention agenda, population health management agenda. So, we have to change some of that as well in terms of expectations of what we can deliver.

Matthew Taylor

Well, Tayo that's a really eloquent way of capturing the challenge that we face at every level of the system, which is we know what we need to do in the medium to long term. How do we create the space to do that, given the short-term pressures? That seems to me to be the big issue that hovers over this event.

I could spend the whole day talking to the three of you, but I'm sure you've all got a busy ConfedExpo day two ahead of you. So, thank you so much, Louise, Tayo and Simon for joining me. It's been a fantastic conversation.