Press release
Industrial action is jeopardising the NHS' attempts to break out of its vicious cycle
With further strikes starting today and more on the horizon, NHS leaders are calling on government to enter a renewed round of talks with the unions.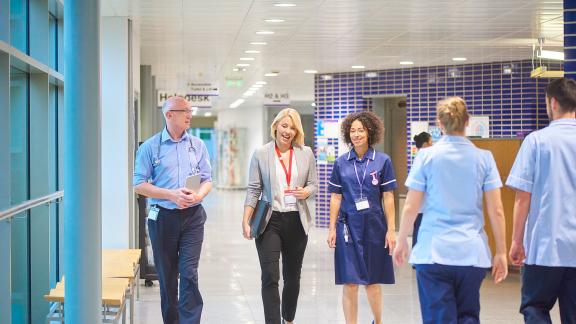 The NHS is being trapped in a viscious cycle brought about by extreme pressures in emergency care, ongoing high levels of flu, Covid and RSV infection and industrial action which shows no signs of ending.
With further strikes starting today and the Royal College of Nursing announcing two more dates for nurse strikes in February, alongside more expected ambulance walk-outs and the possibility of a junior doctors strike in March, NHS leaders are calling on the government to enter a renewed round of talks with the unions or risk further delays to patient care in the weeks ahead.
Demand for care in emergency services has been high for weeks, with the latest monthly performance stats showing there was record demand of 1.44 million attendances. Less than half of major attendances were seen within the four hour target. In addition, the number of patients who were stuck in hospital despite being medically ready for discharge topped 14,000 beds each day.
In order to get onto a more positive track, the NHS has to be able to respond to both immediate demand and to reduce the numbers of people in the community who are sick and waiting for treatment. It is the combination of extreme winter pressures plus disruptive and ongoing industrial action that is putting at risk the NHS' attempts to break out of this vicious cycle. With no sign of an end to the dispute on the horizon, NHS leaders fear that there will be a cumulative impact with each additional strike day, with more operations and outpatient appointments having to be rescheduled. This risks slowing the NHS down in making further headway when it comes to reducing long waits for treatment and improving efficiency.
To date, NHS England data shows that more than 5,000 operations and 30,000 outpatient appointments have needed to be rescheduled across strike days. If this week's nursing strikes matched the same level as December, then we are likely to see more than 4,500 additional cancelled operations and 25,000 more cancelled outpatient appointments. That would take the total to around 10,000 cancelled operations and more than 50,000 cancelled outpatient appointments.
This is a source of frustration for NHS leaders as they recorded one of their most productive months in November. The latest figures showed the waiting list dropped by more than 27,000 patients in November, with more than 70,000 more patients coming off the waiting list compared to the same month in 2019. This was achieved before the spike in demand for emergency care and before strike action began. The figures for December and into January have yet to be published, but are expected to reflect these additional pressures.
Matthew Taylor, chief executive of the NHS Confederation, said:
"We're now in the sixth week since strike action began and appear no closer to a solution. At the same time, the NHS continues to grapple with extreme pressure on its emergency care services and it is having to reschedule operations and outpatient appointments due to the strikes. We've been saying for weeks that the strike action couldn't have come at a more difficult time for the NHS, but we hoped a compromise would be reached by now to bring an end to the impasse. All the while this continues, the NHS won't be able to break out of the vicious cycle it's in.
"There is some pessimism about the current state of the NHS, but local services have been making serious inroads into reducing waiting lists. NHS leaders know they face huge challenges in responding to the growing demand they are facing, but they need help from the government in bringing an end to the dispute.
"If there is no realistic prospect of a solution, then we're facing the prolonged war of attrition between the government and the unions that we've been fearing. The NHS has coped admirably on strike days but there is a cumulative effect and we must hope that the government and unions can quickly find common ground for the benefit of patients.
"The good news is that there appears to be desire on both sides to reach a compromise and, in the meantime, the NHS is working hard with union representatives and others to ensure the most critical services continue to be provided and are minimising disruption. But elective procedures and check-ups are still having to be rescheduled and this is doing nothing to help the NHS meet its challenging targets.
"Ahead of the next round of strikes, our message to the government is to give the NHS a fighting chance and do all you can to bring an end to this damaging dispute. The Prime Minister must not allow the stand-off in the wider public sector to hold back a deal being reached in the NHS."
Following the NHS' recent success in virtually eliminating all two year waits for treatment, the next key elective target is that no patient should wait more than 78 weeks (18 months) for treatment by the end of March.
The latest data, which runs up until the end of November, showed nearly 49,000 patients were waiting more than 78 weeks. This was down from just under 54,000 in June. However, with many more patients due to tip over the threshold between the end of November and the end of March, there could be as many as 220,000 patients needing treatment to meet the target to eliminate 78 week waiters.
The NHS is doing all it can to meet the target, with NHS England writing to trusts last week and asking them to contact all potential 78 week waiters to understand more clearly who is on the waiting list, how serious their conditions are and to ensure patients most in need are seen more quickly.
Matthew Taylor added: "The NHS has shown what it can do by eliminating two year waits against this most challenging of backdrops. The NHS has also been making major inroads into the 78 week target and continues to do so, but to further help the government needs to give the NHS a fighting chance by reaching a compromise with the unions and bringing an end to the dispute."
About us
We are the membership organisation that brings together, supports and speaks for the whole healthcare system in England, Wales and Northern Ireland. The members we represent employ 1.5 million staff, care for more than 1 million patients a day and control £150 billion of public expenditure. We promote collaboration and partnership working as the key to improving population health, delivering high-quality care and reducing health inequalities.