Conference
Women in health and care leading for change
We are delighted to launch the Health and Care Women Leaders Network annual conference, our first face to face event for three years!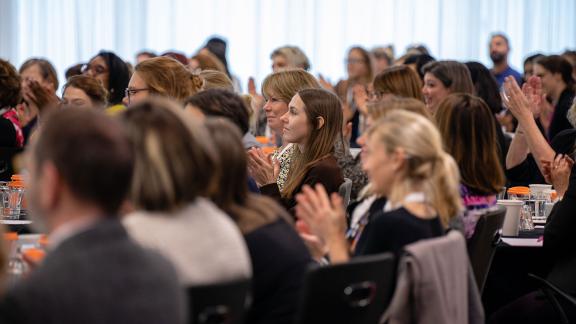 Delivered by the NHS Confederation's Health and Care Women Leaders Network. 
Join us on Tuesday 8 November for the networks sixth annual conference, hosted by our network chair, Samantha Allen, chief executive of North East and North Cumbria integrated care board (ICB).
We are delighted that this year's conference will be face to face, we cannot wait to see you there. Everyone is welcome.
The conference this year will focus on supporting delegates personal and professional development and provide space for learning. The programme will also look at work underway within the sector and the network to progress gender equality, with a focus on women's safety, women's health, inclusive leadership and supporting creative disruptors.
On the day delegates will participate in an interactive programme including opportunities for networking, learning and developing. You will listen to inspirational speakers sharing stories and join lively debates and discussions on the issues currently challenging our sector and beyond including closing the gender health gap and improving women's safety.
Programme
The programme will be updated as speakers and session leads are confirmed. 
9.30 - 10 am

Networking and exhibition

10 - 10:05am

Conference opens and introduction
Samantha Allen, Chair, Health & Care Women Leaders Network

10:05 - 11am

Panel session and audience Q&A – Supporting creative disruptors

Chair - Samantha Allen, Chief Executive, North East & North Cumbria Integrated Care Board or Simon Fleming

Guests –

Kate Jarman,

Sheinaz Stansfield

,

Simon Fleming

,

Partha Kar

    

Acknowledging that to create positive change, activism and creative disruption are key tools listen to Sam and guests discussing what creative actions we can take to affect change for ourselves and others with protected characteristics, and how we ensure allies are protected when they step into the public forum to support us – what is the wrap-around care we can offer? How do we balance affirmative action with our responsibilities as leaders?

11 - 11.30am

Keynote Speaker and audience Q&A – Dame Lesley Regan,  Women's Health Ambassador

Getting it right for women and girls

Hear Dame Lesley talk about her recent appointment as the Governments first ever Women's Health Ambassador, and how she plans to make a real difference to women by addressing the inequalities that exist within the healthcare system and across society.

11.30 - 11.45am

Break

11.45am -12:30pm

Choice of one of three breakout sessions: These sessions to focus on the personal and professional development of our delegates

1. Inclusive leadership and modelling the behaviours

Adam Doyle, Chief Executive Officer, Sussex Integrated Care Board (NHS Sussex) 

2. Identify a life you love and have the confidence to go out and get it

Jane Galloway, Quiet the hive

12:30 - 1:15pm

Lunch & networking

1.15 - 2pm

Choice of one of three breakout sessions: These sessions to focus on the personal and professional development of our delegates

1. Leading teams well

Charlie Brown, Chief Executive Officer, Staff College and Dr Jane Jones, Staff College Faculty Member and Consultant Child and Adolescent Psychiatrist, Cardiff University Hospital

2. Getting the ICB culture right - What we are here to do? How do we develop the right culture to work together? How do we make the most of different perspectives from across the system, to provide us with new ideas and solutions?

Lena Samuels, Chair, Hampshire and Isle of Wight Integrated Care Board  

2 - 2.15pm

Break

2.15 - 2.45pm

Keynote Speaker – Susie Ramroop. Mindset Coach and Author

Be the leader you want to see

Listen to Susie talk about how stories shape our identities as leaders and individuals, and how to reshape your narratives to empower you to grow, achieve and aspire.

2.45 - 3pm

Launch of NHSProjectS 

Kate Jarman, Founder NHSProjectS, Director of Corporate Affairs at Milton Keynes University Hospital 

Kate talks about NHSProjectS, an initiative to support the personal safety of women working in the NHS. 

3 - 3.15pm

Shared learning presentation

3.15 - 3.25pm

Break

3.25 - 3.55pm

Keynote speaker and audience Q&A

3.55 - 4pm

Close of conference

Samantha Allen, Chair, Health & Care Women Leaders Network
Why attend?
Over the course of the day, you will have the opportunity to:
experience a combination of keynote, breakout and panel sessions
gather tools and advice to guide you on the next step of your leadership journey
gain inspiration and motivation from leaders and experts
connect with other senior and aspiring leaders, both male and female, working in health and care settings.
Who should attend?
Our annual conference is aimed at members of the Health and Care Women Leaders network, the Confederation's LGBTQ+ and BME leadership networks as well as leaders and aspiring leaders working in the health and social care sector, or working for organisations providing services to health and care. 
Pricing
The price to attend is £200 + VAT.
In previous years many of our network members, particularly our aspiring leaders have needed to self-fund to attend the event. To make it easier for colleagues to join us at conference, we have just introduced a significantly reduced delegate rate for those in band 8a and below of £100. If you qualify for this reduced rate and would like to register for your place at the conference, please email us at womenleaders@nhsconfed.org.
We do have a limit on the number of places available, as such delegates will be offered a discounted place at conference on a first come first serve basis.
Sponsor and exhibitor opportunities  
If your organisation would like to sponsor or exhibit at our conference, please contact Ross Edwards for more information.
Book your place
Registration for this event is now open and you can confirm your place by completing our online form.
If you have any trouble accessing the form, please email eventbookings@nhsemployers.org.