Webinar
Innovation across NHS Wales in response to COVID-19
Hear about the innovation that has taken place across the NHS in Wales in response to the COVID-19 pandemic.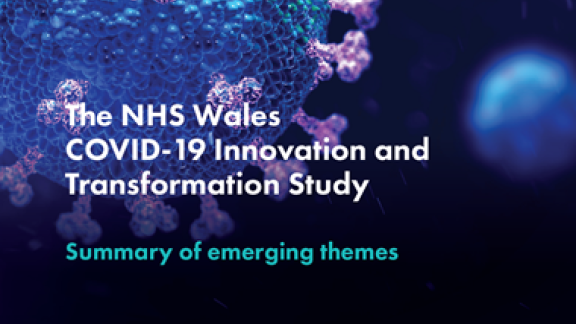 During the event you will hear from leaders across the NHS talk about the seven themes emerging from the COVID-19 Innovation Study, illustrated with specific case studies and examples.
The event will inform NHS leaders, health and care staff and stakeholders of:
The reasons NHS Wales organisations and staff could and did innovate;
Highlight key themes and learning from the COVID-19 Innovation Study;
Discuss how we can sustain the adoption of innovative practice and transformative ways or working;
Examine how evidence from the COVID-19 Innovation Study can inform policy-making and service delivery in the future.
There will be an opportunity to ask questions to those involved in the COVID-19 Innovation Study following their presentations.
Register to attend
Register your details to join our virtual event. After completing your registration, you will receive a confirmation email with your joining instructions.
This webinar will take place using MS Teams Live Events. Please check your system requirements to be able to join.