Webinar
Watch: How digital supports the transformation of health and care in Wales
Watch the recording for this #WellbeingforWales event with Ifan Evans from Digital Health and Care Wales and Stuart Morris from Cwm Taf Morgannwg UHB.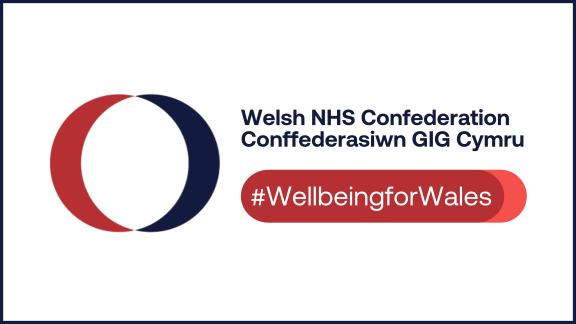 The pandemic saw rapid transformation across health and care, especially through digital innovations. These were an important part of the pandemic response and enabled patients to continue accessing care at a time when physical appointments weren't able to go ahead.
In this Wellbeing for Wales webinar, we reflected on key lessons learned during the pandemic and looked at some of the national digital programmes in progress, such as the NHS Wales app, digital medicines, and the National Data Repository. Speakers discussed the biggest opportunities and challenges for digital health and care and what this means for the NHS in Wales.
Chair:
Darren Hughes, Director, Welsh NHS Confederation
Speakers:
Ifan Evans, Executive Director of Digital Strategy, Digital Health & Care Wales
Stuart Morris, Director of Digital, Cwm Taf Morgannwg University Health Board / Chair, Digital Directors' Peer Group
Sut mae'r digidol yn cynorthwyo trawsnewid iechyd a gofal yng Nghymru
Gwelodd y pandemig drawsnewid cyflym ar draws iechyd a gofal, yn arbennig trwy arloesi digidol. Roedd y rhain yn rhan bwysig o'r ymateb i'r pandemig a galluogodd gleifion i barhau i gael mynediad at ofal ar adeg pan nad oedd apwyntiadau wyneb yn wyneb yn gallu digwydd.
Yn y weminar Lles Cymru hon, byddwn yn adlewyrchu ar y prif wersi a ddysgwyd yn ystod y pandemig ac yn edrych ar rai o'r rhaglenni digidol cenedlaethol sydd ar waith, fel ap GIG Cymru, meddyginiaethau digidol, a'r Ystorfa Ddata Genedlaethol. Bydd y siaradwyr yn trafod y cyfleoedd a'r heriau mwyaf i iechyd a gofal digidol a beth mae hyn yn ei olygu i'r GIG yng Nghymru.
Cadeirydd:
Darren Hughes, Cyfarwyddwr, Conffederasiwn GIG Cymru
Siaradwyr:
Ifan Evans, Cyfarwyddwr Gweithredol Strategaeth Ddigidol, Iechyd a Gofal Digidol Cymru
Stuart Morris, Cyfarwyddwr Digidol, Bwrdd Iechyd Prifysgol Cwm Taf Morgannwg / Cadeirydd, Grŵp Cymheiriaid Cyfarwyddwyr Digidol