Case Study
Support for military families around pregnancy, birth and beyond
A two-year pilot scheme offers bespoke support for military families facing challenges around healthcare, pregnancy and birth in Lincolnshire.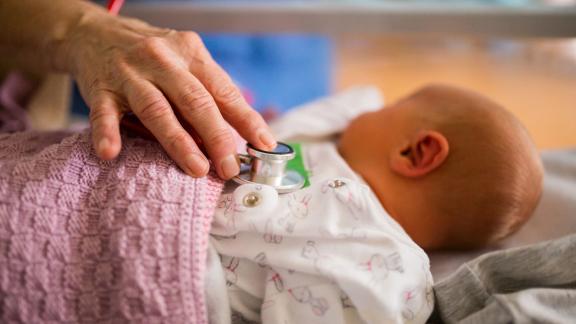 Military families face unique challenges around healthcare, particularly if they are pregnant or have young children. Sudden changes in family life, due to deployment and postings, mean military families can find it difficult to access quality and consistent healthcare.
The Lincolnshire Maternity and Neonatal Programme (known as 'Better Births'), having recognised these unique challenges, has created a bespoke service of support for military families, including ex-military and reserve forces, living on or around the many bases in Lincolnshire. The two-year pilot scheme, the first in the country, started in July 2022 and comprises a Military Care Navigator and a Military Maternity Voices Partnership Lead.
Key benefits and outcomes
Ensures that families new to the area settle in and have full access to the NHS maternity services they require to meet their needs.

Information on mother and toddler groups is helping counter isolation – and potentially associated mental health problems.

More specific and tailored involvement is helping families with a variety of problems.
What the organisation faced
Pregnant women in military families can face often complex and unsettling situations, including moves in or out of the county or country while pregnant or soon afterwards, or the serving military partner being deployed overseas. This can cause feelings of isolation from friends and family and some pregnant women simply don't know what maternity services are available to them in a new locality or how to access local healthcare.
While uniformed personnel can access military health services, dependents must reregister with local GPs when the family moves. This can lead to fragmented care with, for example, children registered with a different GP to a parent, or a delay in the transfer of healthcare notes.
What the organisation did
Better Births already brings together the NHS and Lincolnshire County Council when they need their support and as part of a wider programme, but the team wanted to provide dedicated support for military families. It contacted the area's Maternity Voices group to help them offer high-quality, accessible services for military families via a Military Maternity Voices Partnership Lead.
Maternity Voices collected feedback from families from all three services and fed back to the Better Births team for action. The Better Births team listened to the feedback which showed that military families faced a variety of challenges around pregnancy, birth, and the early stages of parenthood – 'from conception to reception'.
Action taken has included one-to-one support to help families navigate difficult situations such as a sudden overseas deployment of a serving member when their partner is in the later stage of pregnancy, or interruptions to ongoing treatment due to a move. Other routine challenges tackled by the team include contacting local midwives, overcoming transport issues to access healthcare and obtaining medical notes from previous healthcare providers. 
As a means of tackling isolation among parents, where bases have not got playgroups, the team tries to facilitate one. Isolation is a key theme which has been identified and a buddy system has been set up.
The team continues to work on other issues that have arisen such as the transfer process between hospitals, when a family member is on a waiting list for treatment and then have to re-join at the bottom of a new list having moved area.
Results and benefits
In several cases, the team has been able to make a difference helping families access the appropriate maternity care. The military has also been supportive, following guidance given by the Military Care Navigator, for example delaying deployment around pregnancy and during the first few months after birth.
In many other cases, the team has been able to successfully signpost families to the 'right' part of the NHS and help them connect with the appropriate healthcare professionals or simply help them understand how the NHS works (some military personnel's families have come from countries such as Fiji and Nepal and may encounter language difficulties and a radically different healthcare system to what they are used to).
As well as helping individual families (around 90 in the first six months), the project has deepened understanding of the challenges facing military families and how the NHS can respond to them. The team now wants to reach out more proactively to families who are identified as particularly vulnerable.
Overcoming obstacles
The big obstacle is likely to be funding. The two-year project has funding from NHS England Armed Forces and started in July 2022. The hope is that as the pilot ends, it will gain mainstream funding.
One element of the project includes engaging with former members of the Armed Forces and their families as well as present personnel. This has proved to be challenging, as many veterans' groups members are older people and locating young veterans is proving difficult, but the team is persisting.
Takeaway tips
Understanding both the military and the NHS helps enormously – being able to 'speak military and NHS'. Lincolnshire was able to recruit two people who could effectively bridge that gap and could use contacts in the military to help families.

Publicising the service is vital, but Covid-19 has affected some of the usual channels. The footfall in places such as GP surgeries, for example, means that traditional advertising methods such as posters on notice boards is no longer as effective. There are also fewer social groups to contact, making it harder to reach people.

Being unable to promote the service widely is likely to have added

to a sense of isolation and impacted mental health.

NHS staff have welcomed the project, but it is vital to engage with them regularly. 
Further information
For more information, please contact Sue Jarvis, Maternity and Neonatal Programme Manager for NHS Lincolnshire Integrated Care Board: sue.jarvis1@nhs.net