Case Study
Pivoting to digital peer-led mental health support : Ireland
A peer-led community mental health project pivoted to digital delivery to support people with lived experience of mental health difficulties.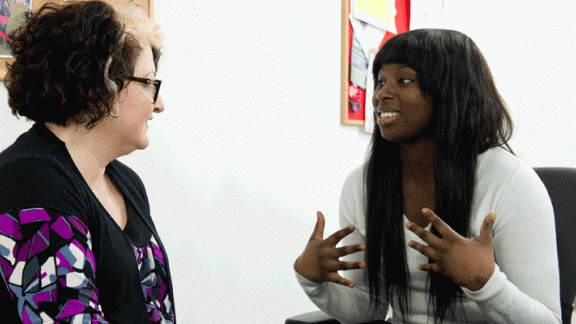 Overview
To overcome the challenges of lockdown, a peer-led community mental health project pivoted to digital to support people with lived experience of mental health difficulties. By establishing a WhatsApp peer support group and a staff-led telephone support service, the project kept people connected at a time of social isolation. The support also helped to avoid worsening mental health and increased levels of hospitalisation.
Key benefits and outcomes
Maintained contact with, and social support for, socially isolated and members at a vulnerable time.
Provided a means of contact and support for digitally excluded members.
Arranged online and socially distanced activities.
Levels of member engagement and satisfaction with the project was maintained.
The challenge
Gateway is a mental health project in the Republic of Ireland with peer-led management and operations at the core of its offering to its members. Since its inception in 2004, Gateway has been underpinned by community development principles, values and practices. It has taken a collective and practical approach to recovery and wellbeing for 16 peer-led social support, empowerment and social inclusion (including providing education, training and creative arts).
With the onset of lockdown in 2020, Gateway had to close its face-to-face activities. At the same time, publicly provided community mental health services in the local area also completely shut down, apart from acute hospital care.
Over this time, members of the Gateway project had limited or no access to many essential services, including primary care, specialist and community mental health services, education, housing and transport, as well as difficulties accessing food. They also had limited access to technology and the online world due to digital poverty. Members reported experiencing loneliness, stigmatisation, social isolation and feeling 'invisible', as well as worsening mental health.
Had Gateway not been able to address this gap, it is likely that its members would have experienced worsening mental health and increased levels of hospitalisation.
The solution
To maintain service provision for its members, Gateway implemented a WhatsApp peer support group and a staff-led seven-day telephone support service, providing weekly support calls and additional contact for those in need. Through this new communication method, Gateway was able to organise a range of online and socially distanced in-person services, including:
an outdoor ukulele learning group
art classes
blog writing workshops
table tennis, pool, and beginners boxing.
Throughout the implementation of these new services, Gateway members have taken active leadership. In addition to the representatives on the management board, and 100 per cent peer staff (including the project coordinator leading delivery), members have taken an active role in administrating the WhatsApp group, contributing to online content and supporting one another by phone and in person through community meet ups and walks, among other activities.
Results and benefits
In 2020, over 3,719 peer support calls and over 1,000 text conversations took place.
Over 486 socially distanced in-person activity sessions were arranged and 207 online sessions.
Feedback from Gateway members has indicated that the remote communication methods have been able to keep them connected at a time of intense social isolation:
"All the people who rang me were just lovely. The call said it matters that you are alive, Deirdre. Or any other member. It linked us into the world. As did the WhatsApp group. I also rang one Sunday when I was bad and got through to Catherine who picked me up, then I showered and went out for my walk. She broke the cycle I was in."
"The calls were very helpful, and Gateway did a great job. Gateway came up with solutions instead of just closing down. Without Gateway a lot of people would have had nothing. I also appreciated the other things Gateway did, like blog posts and walks."
Overcoming obstacles
When implementing the phone-based support work, Gateway found that the lack of an integrated data recording system meant that there was a heavy requirement to record contacts using Excel, WhatsApp and physical paperwork.
Further to this, some members lacked the technical skills to make the most use of online and phone-based support, which required the provision of ongoing training.
These challenges where compounded by the impact the pandemic had on the personal lives and emotional wellbeing of the peer workers running the services, implementing new systems and providing training to others.
Overall, to overcome these challenges and sustain a remote service in the long term, an additional 15-20 hours for peer support time would be required each week. This is on top of the ongoing financial costs associated with using online and phone-based methods of engagement and delivery.
Looking to the future, as restrictions on social distancing lift and services move back towards being face to face, the limitations of staffing capacity and financial resources mean that it would not be possible to maintain both face-to-face and virtual service. However, the Gateway team plan to retain the capacity to deliver virtual services as a contingency, in the event that they are required to deliver services remotely again or have the service shift to being entirely peer led.
Takeaway tips
In a crisis situation, it is possible to maintain community development principles and become boldly responsive to the community's needs.
Peer-run organisations can provide vital support and should be seen as essential services.
Members of the community can be leaders in times of crisis with the right support - in Gateway, many members led the online and in person groups.
Contact details
Martha Griffin, member of Gateway's management committee.
International innovations in mental health
Access more examples from across the globe on how mental health services have implemented innovations in response to COVID-19.