Case Study
Non-clinical support for patients waiting for mental health treatment
Non-clinical, practical support for people with serious mental illness has reduced waiting lists in Cumbria, Northumberland and Tyne and Wear.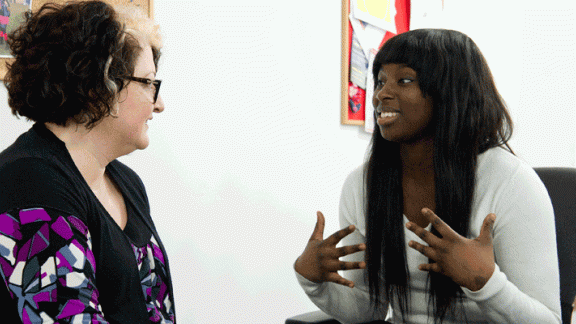 The Waiting List Initiative was a programme co-created by Everyturn Mental Health and two community treatment teams (CTTs) at Cumbria, Northumberland, Tyne and Wear (CNTW) NHS Trust. The initiative gave three-to-six months of non-clinical, emotional, and practical support to people with serious mental illness who were waiting for clinical treatment from the CTTs. This service helped to manage the increased demand on the CTTs, reduce their waiting lists, and ultimately improved mental health and wellbeing outcomes for patients.
Key results and benefits
Reduced size of CTT waiting list.

Increase in patients' mental health and wellbeing scores.

Increased clinical capacity by mobilising specialist non-clinical workforce, many with lived experience of mental ill health.

New model of care delivery that is highly replicable across different geographies.
What the organisation faced
The Sunderland and South Tyneside CTTs were facing significant increased demand, with their waiting lists increasing by 37 per cent between January 2019 and September 2021. Their total caseload size increased by 34 per cent during the same period, and they were operating with 34 vacancies across their teams.
Due to these capacity pressures, CNTW needed an innovative solution to help improve patient access and care. By evaluating historic caseloads, the CTTs identified that many people presented with serious mental illness (SMI) because of practical and social issues. They recognised that a traditional, clinical approach would not necessarily be the right solution for these cases.
Everyturn Mental Health is a national non-profit that specialises in mental health support, and understands the complex needs of people with mental health challenges. Due to the success of Everyturn's crisis link worker services, CNTW approached the non-profit to help develop a programme that could address their patients' social and practical needs, which are often largely responsible for the deterioration in the patients' mental health.
CNTW and Everyturn worked together to develop the Waiting List Initiative as a programme of non-clinical support delivered by well-trained staff, to provide patients with practical support to help relieve their mental health symptoms.
This service is the first to use link and peer support workers to connect directly with CTTs, as a way to provide alternative community treatment for people with SMI.
This service aimed to:
reduce CTT caseload

reduce the number of patients waiting for traditional, clinical treatment

ensure contact is attempted within 48 hours of referral

improve overall mental health and wellbeing of patients supported

signpost patients to other services to support them with mental health resilience and community integration.
What the organisation did
The CTTs identified a cohort of people who could be safely supported by the non-clinical workforce, then Everyturn and CNTW co-designed a pathway that delivers three-to-six months of person-centred, holistic emotional and practical support. Everyturn and CNTW reviewed existing tools from other service models and adapted them to develop a comprehensive assessment and treatment approach.
The support actively enables people to engage with community assets, and the methods of communication and intervention were chosen by the service users.
Everyturn hired six new members of staff (including people with lived experience of mental ill health), who were then trained by experienced link workers with a range of backgrounds, including psychiatric nursing; social workers; psychology graduates; people who have worked in drug and alcohol services; and people with lived experience of mental health conditions.
Prior to launch, and in collaboration with partners in the local area, Everyturn created a signposting directory of community organisations and services, which would be relevant to the ongoing support of people with SMI and would enable the link workers to understand the right places to direct patients outside the CTT.
After the launch of the Waiting List Initiative, Everyturn's team met monthly with referrers and established meetings with pathway managers to monitor caseloads, escalate issues or concerns, and provide opportunities to adapt processes.
Results and benefits
The service uses the Warwick-Edinburgh Mental Wellbeing Scale (WEMWBS) to measure its impact, reporting quarterly to its commissioners. The initiative has seen benefits for the people supported, as well as for the CTTs:
64 per cent of people (384 total) who accessed the service were safely discharged from the CTT waiting list.

84 per cent of service users supported showed an increased WEMWBS score following intervention.

Sunderland North CTT has reduced its waiting list from 200 people (waiting up to two years) to 86 people (waiting six months).

During the first 12 months of the Waiting List Initiative (Oct 2021 – September 2022), the CTTs' waiting lists increased by only 1 per cent, compared to 34 per cent the year before.
Overcoming obstacles
The Waiting List Initiative was developed collaboratively between Everyturn and CNTW CTT leadership, but for the project to be a success it was important that clinical staff working in those CTT services understood the pathway, how to refer into the service, and the interventions offered.
Everyturn and CNTW worked closely together to clearly communicate how the pathway would work in practice, recognising that the success of the project would depend on positive working relationships across the shared pathway.
Challenges were identified after the service was launched and were addressed through ongoing quality improvement activities. For example, Everyturn and CNTW staff worked together to develop a referral form to establish clear information requirements, and maintained regular communication about service capacity.
Takeaway tips
Using the power of lived experience within a workforce, and providing non-clinical specialist mental health support, frees up clinical time to support people with complex mental health needs.
Further information
For more information about Everyturn Mental Health's Waiting List Initiative, please contact Pasha Tanriverdi, head of service development: pasha.tanriverdi@everyturn.org, 07850 474415.