Case Study
Integrating care in the community: North Tees and Hartlepool NHS Foundation Trust
Joining primary, secondary and social care to ensure patients are being treated at the right time in the right place and by the right professional.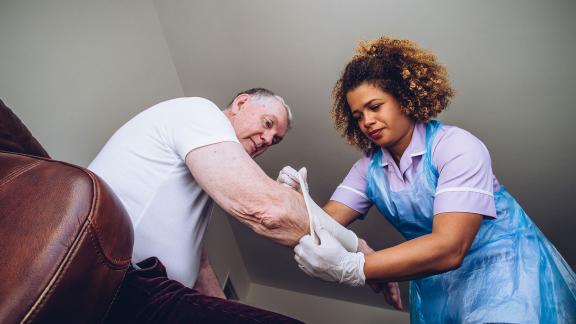 The Community Network is hosted by the NHS Confederation and NHS Providers.
Background
North Tees and Hartlepool NHS Foundation Trust is a combined acute and community provider covering a population of approximately 400,000 people. The area served by the trust is one of the most deprived in the country, with almost half the local population living in the 20 per cent most deprived communities in the country, as defined by the index of multiple deprivation. It also has some of the highest levels of obesity, smoking and physical inactivity. 
The case for integrated working
North Tees and Hartlepool NHS Foundation Trust has been working with colleagues from primary, secondary and social care to ensure that patients are only admitted to hospital when that is right for them.
In particular, hospitals are not always the most appropriate environment for frail patients with multiple comorbidities. In many cases, these patients benefit from remaining at home and receiving joined-up, wraparound care from key partners working in the community.
Deprivation can also impact on access to health and care services. With 13 per cent of local people experiencing fuel poverty, the trust is working with system partners to enhance the delivery of wraparound care at home.  
North Tees and Hartlepool's integrated community services
North Tees and Hartlepool NHS Foundation Trust has been working with system partners to develop integrated community services for many years. They have a well-established 'home first' team made up of health and care professionals who provide safe and effective care in the community. One of the key services provided by this multidisciplinary team is the Hospital at Home for frailty.
How it is delivered
The Hospital at Home for frailty was established in 2020 following the closure of the 30-bed inpatient unit at the University Hospital of Hartlepool. From this, the trust was able to redeploy existing staff into the community to form the first 'home first' team, improving the trust's capacity to care for patients in their own home. As well as using community matrons and other healthcare staff to deliver the care, the service has recently expanded to include the Hartlepool and Stockton Health GP Federation (a membership organisation of all 30 local practices) and local authority colleagues to increase the number of patients who can access the service.
The Hospital at Home for frailty delivers care 24 hours a day, seven days a week. The team receives referrals from the early supported discharge pathway and other community-based services such as district nursing and social services. The trust has also developed an integrated single point of access from which the service is coordinated. As part of this, there is a single contact number for all health and care providers, ensuring a patient query can be directed to the most appropriate team and delivered by the most appropriate health or care professional. Primary care colleagues are able to dial into this system and can assess whether a GP visit is appropriate for patients.
The trust is clear that the involvement of primary care colleagues is vital to the delivery of the service, given the level of expertise they bring. The trust has therefore developed joint governance arrangements with the local GP federation to support more integrated working.
Key barriers and enablers
Health leaders in North Tees and Hartlepool cite having a shared vision as a key enabler to developing this programme of work. Identifying and developing a set of core principles that benefit all organisations and, most importantly, patients, is viewed as key to progressing local integration.  For example, the trust co-produced plans for the Hospital at Home for frailty with the local GP federation to ensure that primary care colleagues understood benefits for patients and were bought in to this way of working.
The co-location of colleagues from across health and care is another enabler to integration and has supported the delivery of a single point of access for all community-based health and care services. Given that information governance is often considered a barrier to progressing more joined-up working, North Tees and Hartlepool NHS FT has worked hard to address this by bringing system partners, including clinical triage, local authority, primary, community and social care, together into one location. This enables staff to talk to each other about a patient's needs and decide from there what the appropriate service would be. This way of working is unusual but has clear benefits for patients.  Staff are able reduce the risk of duplication and ensure patients receive the right care at the right time and in the right place.
Strong relationships are also an essential part of integrated working across community and primary care in North Tees and Hartlepool. Mutual respect and trust between partners has been key, and there is a shared understanding that everyone is acting in the best interest of the patient. These relationships were strengthened with the launch of an Integrated Urgent Care Service in 2017 in partnership with the GP federation and ambulance service, and have developed over the years.
While there are structural differences between sectors, greater integration of data at a national level can help to address this.  For instance, shared clinical records across health and social care would ensure patients are directed to the most appropriate service on first contact.
Benefits for staff, patients and system flow
Health leaders at North Tees and Hartlepool NHS FT are clear that providing more integrated care in the community brings significant benefits for patients. Some of these benefits include a reduction in the number of COPD exacerbation admissions since the start of the Hospital at Home for respiratory  service. The mean length of stay for COPD patients has also reduced from 5.09 days in 2015 to 3.33 days in 2022. The integrated single point of access (iSPA) has also taken an average of 700 crisis calls per month, taking pressure off other urgent and emergency services.