Case Study
Identifying patients who have missed bowel cancer screening in Sussex
Breaking down regional data for Sussex into small areas has highlighted patients who have not taken up the offer of bowel cancer screening.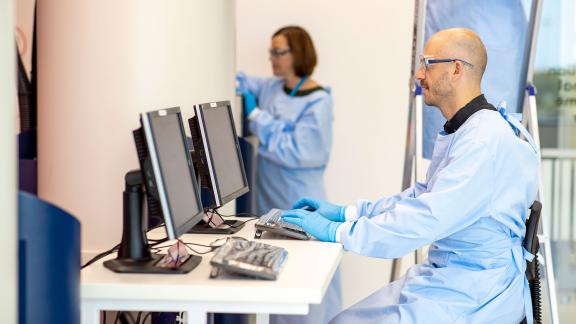 The NHS South, Central and West Commissioning Support Unit (SCW CSU) broke down data for Sussex into small geographical areas to highlight patients who have not taken up the offer of bowel cancer screening. This has been shared with primary care networks and GP surgeries by Sussex Integrated Care System. The data has identified particular groups with low uptake, allowing targeted interventions.
Key benefits and outcomes
Uptake of bowel cancer screening has risen from 64.6 per cent to 72.1 per cent in two years.

The approach is being used to drive uptake for other screening or vaccination programmes.

Opportunities created to increase engagement with other NHS services among those who have low uptake of bowel cancer screening.
What the organisation faced
Many people don't come forward for bowel cancer screening when first contacted, even though it is a simple non-intrusive test which does not involve visiting a healthcare facility. Early detection has better outcomes for patients with an increased chance they will get back to normal life.  Take up is known to be low in more deprived areas and among people from some ethnic minorities. Sussex ICS wanted to identify issues at a more local level to see if there were any other correlations with take up, such as gender and age, but it needed a modelling tool to give it this granular data.
What the organisation did
After talks with the ICS to establish what was needed, SCW CSU's geospatial analysts were able to develop a user-friendly tool that used patient postcode-level data. This was converted to lower layer super output area data, which covers areas as small as 650 households. The tool can show both geographical areas at a small scale and GP practice levels and include age and gender. It can also reflect how deprived an area is and use ethnicity information from the census. This allows PCNs and practices to see 'hot spots' of low uptake and target interventions. A time series view allows changes in uptake over time to be visualised by area. The ICS has been able to assist with this, offering options such as sending text messages to patients asking them to pick up a test kit from the practice. The scheme has been well received by GPs. It has also uncovered some groups who are more likely to miss screening, such as working men in their early 60s who live in rural but relatively affluent areas. Coastal areas also had low uptake. There was no specific attempt to incentivise practices to increase uptake, although uptake could count against their inequalities directed enhanced services. 
Results and benefits
Overall the Sussex area has seen an increase in bowel cancer screening take up from 64.6 per cent in  2020 to 72.1 per cent in 2022. The tool has helped to identify differences in take up between different groups; the information gleaned about the groups least likely to access screening could also be used to target them for other health campaigns, or to address low uptake for other screening programmes or vaccines.
It can also show up differences in uptake between practices serving similar populations, potentially aiding understanding of what different interventions work.
The approach can also be used for patients with other characteristics that mean they are less likely to come forward for screening, such as those with learning disabilities or serious mental illness.
The experience of using the tool prompted the ICS to commission Healthwatch in Sussex to look at older working age men and how best the NHS can engage with them: this has valuable lessons for the NHS.
Overcoming obstacles
One of the major challenges was around information governance. Good working relationships with the NHS Bowel Cancer Screening Southern Programme Hub enabled responsible use of patient data with strict controls over who could access it.
One issue that cannot be easily overcome is that this data is based on patient registrations, and not everyone is registered with a GP. Those who have not registered with a GP may be less likely to come forward for screening or other health interventions.
Takeaway tips
Good working relationships with those involved in developing and using the tool are vital.

Presenting information on uptake visually helps get the message across.

Any tool needs to be easily usable by practices.

Offering practices practical help if they want to contact patients about screening makes this a more manageable task for them.  
Further information
For more information, contact NHS Sussex ICB Communications team at sxicb.comms@nhs.net.