Case Study
Frimley frailty community response service
Implementing a hospital at home service to reduce hospital admissions for frail elderly patients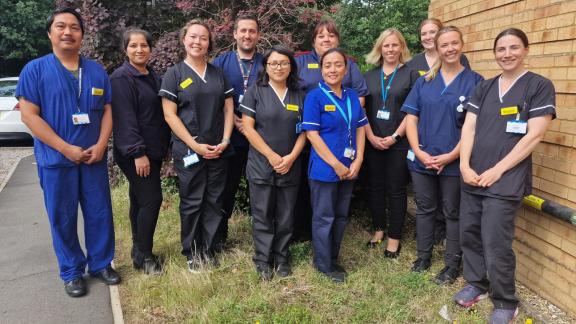 Overview
Frimley Health NHS Foundation Trust set up a hospital at home and urgent community response service, to improve the quality of care for elderly frail patients and reduce unnecessary and lengthy hospital admissions.
What the organisation faced
Frimley Health NHS Foundation Trust was feeling pressure throughout the year on in-patient beds and flow through the emergency department, with bed and trolley holds for frail, vulnerable elderly patients.
Deconditioning in older people with frailty may start within hours of them lying on a trolley or bed, with up to 65 per cent of older patients experiencing decline in function during hospitalisation. Many of these patients could prematurely end up in a care home because of 'deconditioning' and the loss of functional abilities in hospital. Hospital admission avoidance in this group allows independence and promotes mobility.
In 2018, Lucy Abbott, consultant geriatrician and now chief of service for community services and older people's medicine, developed a front door frailty model using winter system funding. However, when the pandemic hit, fewer frail patients came to the emergency department.
Improvement
The reduction in frail patients attending in person inspired a virtual service to reach out into the community using acute frailty teams, supported by advanced care practitioners performing complex geriatric assessments, which are more commonly carried out by consultant geriatricians.
In April 2021 this developed into a hospital at home service including geriatricians assessing and delivering intravenous therapies, bladder scans and electrocardiographs using their access to a shared patient records between hospital and GP.
The service has now evolved into a 12-hour emergency community response, operating 8am-8pm. Initially this was linked in with NHS111 but found more success with 999 calls. They have developed with ambulance services a 'call before you convey' model whereby if a patient has had a fall or is confused, the hospital at home team is contacted by paramedics and attends to the patient directly. When ambulance services are under pressure, the hospital at home team may be able to get there faster than an ambulance, in which case calls are diverted to the team, so the most prompt response is achieved. Where appropriate, patient get a ReSPECT form completed to enable advanced care planning. This is shared digitally across all providers, helping prevent future unnecessary hospital admissions.
Outcome
The urgent community response service between April 2022 and March 2023 saw a total of 2,933 accepted referrals, with patients commonly requiring urgent catheter care and EOL support or having suffered from falls, reduced mobility/function, and decompensation among others.
The virtual frailty ward service during the same period saw 1,429 patients being accepted onto the hospital at home service. A service that led to a total of 1266 avoided admissions across the 12 months.
As the service is connected across all providers, referrals can come directly from the patient or carer, or other care settings such as GPs, home visiting paramedics, social care providers, 999/111 services, community services, and hospitals.
Many community frail patients have expressed positivity toward the hospital at home service. One family member of a frail patient said: "We received immediate care and attention and were informed of our loved one's condition with plenty of advice. In the past (he) has not received treatment like that in hospital. Hospital at home every time."
The service has not only provided greater frailty support and care within the community and reduced unnecessary and lengthy hospital admissions, benefitting patients, it has also helped to reduce urgent an emergency care pressures.
Lessons learned
Dr Lucy Abbot identifies benefits of starting small with services such as the frailty virtual ward, both in terms of workforce and patient care. Dr Abbott identifies kit, policies, and processes as essential to get right on a small scale before building up.
Additionally, assurance and clinical governance structures enable the service to expand and respond to challenges as they arise, alongside a comprehensive quality improvement approach.
Dr Abbott reiterates the 'importance of enhancing current practices already being delivered in the community, rather than replacing or disrupting that which already exists, further supporting a successful integrated service.'
Contact for further information
For more detail on this improvement insight, contact Dr Lucy Abbott, consultant geriatrician and chief of service for community services and older people's medicine: lucyjane.abbott@nhs.net