Article
What the latest data tells us about COVID-19 and the NHS
The latest data shows COVID-19 hospital admissions, bed occupancy and staff absence continuing to rise.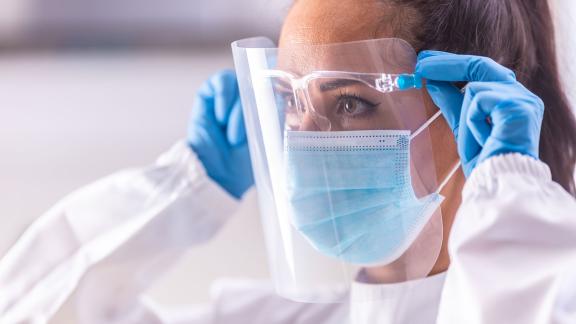 The rise of the BA.2 Omicron strain is adding further pressure to NHS services.
Our recent look at long waiters for elective care shows that despite the NHS delivering elective activity comparable to pre-pandemic levels, COVID-19 was having an ongoing impact on capacity. Rising bed occupancy, staff absence and requirements for infection prevention control (IPC), particularly in trusts with ageing estates, all remain challenges.
This analysis is part of our weekly piece looking at the urgent and emergency care situation report (sitrep) review and our monthly performance statistics analysis.
Key points
The latest rise in COVID-19 cases, hospitalisations and beds occupied by patients who have tested positive, is adding further pressure to the service, with continued requirements for

IPC

, and rising staff absence causing capacity challenges.
The situation is particularly difficult in the south east and south west, where patients in hospital with COVID-19 is higher than the January 2022 peak; at

146.5 per cent

March is

117.3

per cent of the January highs.
COVID-19 staff absence rose for the third consecutive week, accounting for

36.2

per cent of absences. In the south west this was as high as

48

per cent of absences.

Our acute members have fed back that additional flexibility depending on local circumstances would be welcomed for IPC.
Bed occupancy
As of 23 March, COVID-19 data shows us 13,248 beds were occupied by confirmed COVID-19 patients across England, compared to 11,010 a week earlier (a 20.3 per cent increase). The seven-day average from the 17 to 23 March is now 12,244, having been below 8,400 at the start of March.

The January peak was 17,120 on 10 January, with the 7-day average rising as high as 16,696. The below chart shows the picture so far this year:
The effects of this latest rise are not evenly spread across regions. The following chart shows the regional split of this uptick in patients in hospital with COVID-19, with the south east, south west and east of England all having higher COVID-19 bed occupancy than the January wave:
The chart below shows the percentage of beds occupied with COVID-19 patients in comparison to the January peak for each region:
The primary diagnosis supplement released this morning shows that on 22 March, 44.5 per cent of patients in hospital were being treated primarily for COVID-19, marginally up from 44.3 per cent on 15 March. The number of patients being treated primarily for the virus on the 22 March was 5,409, up 20.9 per cent from 4,475 a week prior.
The slight increase in patients in hospital with COVID-19 as a primary reason is unwelcome, and even where COVID-19 is not the primary diagnosis, additional IPC requirements will exacerbate capacity challenges.
Member feedback
A number of members have fed back about the continued impact of COVID-19 on services.
The message from our acute members has been that additional flexibility in IPC restrictions at a national level, expected in the next week, would be welcome if this helped increase capacity in a safe and appropriate way, improving the efficiency of care pathways and patient flow, which would support further progress on the elective backlog. In the south west, one operational director said that 'it is asymptomatic patients that are causing more disruption to flow than symptomatic', and that 'small incremental' changes in IPC guidance would be welcomed. In particular, acute members have told us that reducing social distancing requirements would definitely increase the number of patients they could see in areas where it would be safe to do so, and also wonder about whether there is scope to adjust COVID-19 testing protocols for patients.
That said, members remain concerned over staffing, which has contributed to caution, particularly from acute members in the south east worrying that they continue to 'see high numbers of staff off work' with the increases in cases. Likewise, from our primary care members with one primary care network reporting they are currently 'on their knees' due to staff absence.
Sitrep data
Today's urgent and emergency care situation report (sitrep) backs up assertions from our members and shows that staff absence in acute trusts rose for the third week in a row to an average of 63,975 per day (when seven-day averages are applied to missing entries), compared to 58,650 per day in the previous week. Prior to these three rises, it had fallen in seven consecutive weeks.
Staff absence
There were 36.2 per cent are COVID-19-related staff absences compared to 30.2 per cent in the previous week.

The peak level of absence this winter, following a cleaning of the data, was an average of 91,293 in the seven-day period leading up to 10 January where 51.9 per cent of absences were related to COVID-19. In the raw data the peak is 88,738 on 8 January, with 51.4 per cent COVID-19 related.
The impact of COVID-19 is most noticeable in the south west where over 48 per cent of staff absences in week ending 20 March were related to COVID-19, compared to the north east and Yorkshire for example, where the lowest proportion were related to COVID-19 (30.9 per cent).*
The below chart also shows COVID-19-related staff absences across regions compared to the January peak:
* A number of organisations have submitted erroneous or blank data on individual days in this return. Where possible, a moving average has been applied to show trends clearly.
Ambulance handover delays and delayed discharges
Ambulance handover delays of over half an hour dropped slightly from 20,274 to 19,598, which is now the second worst on record. The percentage of ambulances delayed was similar, 23.9 per cent compared to 24.1 per cent last week, due to a lower number of arrivals.

We spotlighted issues with handover delays in February, the challenge, how some trusts are combating this and the harm that can be caused to patients. The problem remains particularly challenging in the south west, now exacerbated by COVID-19.
In terms of delayed discharges, in week ending 20 March, 56.2 per cent of patients who no longer met the criteria to be in hospital but could not be discharged on the day, rose slightly from 55.3 per cent the previous week. The worst performance on delayed discharges this winter was 60.6 per cent in week ending 9 January. The poorer performance has tended to align with increases in COVID-19 admissions and bed occupancy.
How is the NHS performing?
View our analysis of the latest NHS performance figures for a rounded view of how healthcare services are coping under immense pressure.