Blog post
Rehab, reablement and recovery
NHS Wales has developed a COVID-19 recovery app.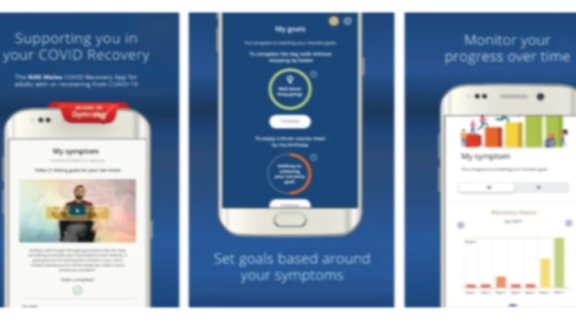 Rehabilitation plays a vital role in helping to reduce the pressure on health and social care services. Rehabilitation and reablement are key tools in managing hospital patient flow, freeing up beds and increasing the NHS's capacity to treat more critically ill patients, writes Daisy Naughton, programme support officer for the Welsh NHS Confederation. 
While a patient is in hospital, rehabilitation interventions can help address many of the severe consequences of COVID-19, including physical, cognitive, and swallowing impairments, and provide psychosocial support. Older patients, and those with pre-existing health conditions, may be more vulnerable to the effects of COVID-19. Rehabilitation support is key to maintaining previous levels of independence and wellbeing.
However, it is not just individuals who have been admitted to hospital who may require ongoing support. One in ten people who have had COVID-19 will live with long-term symptoms. Post-COVID-19 syndrome, which in some cases is referred to as long COVID, has been defined as signs and symptoms that develop during or after an infection consistent with coronavirus that continue for more than 12 weeks and are not explained by an alternative diagnosis.
The NHS Wales COVID Recovery app has been designed to offer individuals a bespoke tool and personal coach to help them on their road to recovery post-COVID-19. It is a free platform, available to anyone, and health professionals are being asked to recommend it to patients who may benefit from ongoing support at home.  
The app is bilingual and has over 100 videos and links to advice from therapists, psychologists, dietitians, and consultants. Users will be able to record their symptoms, track their progress and learn to manage their condition at home while being supported by professionals.
The new app was developed by the NHS Wales respiratory health group with support from the Executive Directors of Therapies and Health Science on behalf of the Welsh Government. This app is part of a wider national approach which aims to help people with post-COVID syndrome to ensure they receive the support they need closer to home, while promoting self-management of conditions.
The NHS Wales COVID Recovery App is now available for patients to download from the Apple App Store and Google Play or via https://healthhub.wales.
Supporting guidance and promotional tools for healthcare professionals are available on https://allwales.icst.org.uk
Daisy Naughton is the Programme Support Officer for the Welsh NHS Confederation. Follow them on Twitter @WelshConfed