Infographic
Primary care recovery plan: what primary care leaders need to see
To improve patient access, primary care leaders believe the government's upcoming primary care recovery plan must prioritise ten key issues.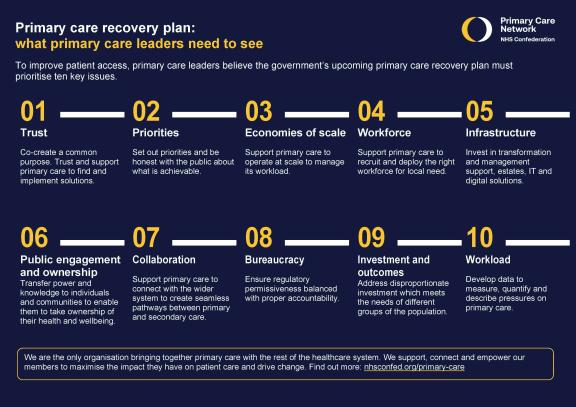 Trust
Co-create a common purpose. Trust and support primary care to find and implement solutions.
South Hambleton and Ryedale Primary Care Network approached its local mental health trust – Tees, Esk and Wear Valleys NHS Foundation Trust – to fund a two-year dementia care coordinator pilot. Following the success of other primary-care led initiatives, the trust took a 'light touch' approach and invested in primary care to design the programme that would support patients and carers to prevent hospitalisation and slow the cognitive decline associated with dementia. The care coordinator handled over 300 referrals in the first year and the feedback from patients, carers and system partners, who all saw a reduction in patients with dementia presenting in crisis, was overwhelmingly positive. At the end of the pilot the PCN allocated winter access funds to continue the programme.

Priorities
Set out priorities and be honest with the public about what is achievable.
Stort Valley and Villages Primary Care Network introduced a children and young people's social prescribing service to meet high levels of demand for mental health support and to assist struggling secondary services. The service has seen a significant improvement in the number of children referred to secondary services, with only 5 per cent of children passing through the service needing to be referred to children and adolescent mental health services. However, the service has had to prioritise a high throughput to meet high levels of demand. As such, the service engages with patients for a few weeks, focusing on how they can be part of community and social groups, which can provide ongoing support the PCN cannot. This approach keeps the pathway open for new or returning patients who need it, while patients are aware that the social prescribing service is not a substitute for ongoing counselling.




Economies of scale
Support primary care to operate at scale to manage its workload.
The Greater Peterborough Network collects data from each of the 33 practices it supports and compares population health management (PHM) projects across the network to identify what works and how it can support primary care networks (PCNs) to deliver the most successful projects on a larger scale. By sharing data, the federation has been able to direct PCN resources to make more effective interventions across a wider area. In doing so, it can prevent duplication of work, provide joined-up support to the target population, and have a greater impact on PHM by improving outcomes for pathways, such as diabetes and respiratory, at a greater scale.

Workforce
Support primary care to recruit and deploy the right workforce for local need.
West Leeds Primary Care Network recognised the Additional Roles Reimbursement Scheme (ARRS) as an opportunity to reduce the growing workload on GPs while providing patients with access to a wide range of practitioners who are better placed to handle issues that require more specialist expertise. For example, the PCN's population health management data revealed that it cares for a large, moderately frail population. It developed a frailty team and recruited health and wellbeing coaches for dementia, cancer and healthy living, not just adding additional staff, but filling a service gap and meeting a need at PCN level. By scoping the needs of the population, West Leeds PCN has ensured that it only recruits into roles which are most beneficial to its patients and build resilience into the workforce.

Infrastructure
Invest in transformation and management support, estates, IT and digital solutions.
The Oxford Terrace and Rawling Road Medical Group in Gateshead, using capital investment from the NHS, has substantially redeveloped Oxford Terrace and Rawling Road GP Practice in Bensham to increase capacity and improve facilities. During the planning and redevelopment period the practice management created innovative solutions to a lack of capacity and found ways to make use of technology and relationships with local organisations to keep meeting the needs of their community. From virtual appointments, to hosting Additional Roles Reimbursement Scheme (ARRS) roles in community venues,and moving staff between appointment rooms to ensure the space is being used in the most efficient manner, the practice has significantly improved patient access and satisfaction.

Public engagement and ownership
Transfer power and knowledge to individuals and communities to enable them to take ownership of their health and wellbeing.
Central Basildon Primary Care Network runs a Dance on Prescription service for improving social support and physical fitness, which patients are referred into via the PCN's social prescribing link workers. The service is partly funded by the local authority, enabling the service to use their assets, including schools and recreation grounds, aiding visibility in the local community. Through engaging patients in a fun and social activity with other institutional partners, they have been empowered to form new habits and improve their health.

Collaboration
Support primary care to connect with the wider system to create seamless pathways between primary and secondary care.
In the Gateshead system, access to general practice's same-day and urgent care services varied widely across the system. As a result, acute providers were seeing high numbers of patients presenting with conditions which would be best treated in primary care. To improve access and transition between secondary and primary services, the system began to co-locate primary and secondary urgent care services and developed triage hubs which would connect secondary care, general practice and community pharmacy. This collaboration has improved workforce and data sharing as well as patient access.

Bureaucracy
Ensure regulatory permissiveness balanced with proper accountability.
During the heights of the pandemic, the integrated care board released lump-sum grants to Together First CIC, a GP federation, to support practices. This enabled the federation to purchase equipment and licences to facilitate homeworking, procure personal protective equipment when there was no stock available through other channels as well as to develop staff and run COVID-19 hot hubs and home visits. This 'no strings attached' funding allowed the federation to act quickly and in the best interests of patients.

Investment and outcomes
Address disproportionate investment which meets the needs of different groups of the population.
In Lambeth and Southwark, the Children and Young People's Health Partnership programme has brought together partners from health, social care, commissioning and academia to improve outcomes and reduce health inequalities in an area where 45 per cent of children and young people are in the two most deprived deciles. The programme received funding for IT support, clinical leadership, project management, paediatrician time, in-reach clinics and multi-disciplinary team meetings and, due to the cross-organisational approach, has seen a reduction in outpatient appointments as well as primary care, demonstrating that targeted, purpose-driven funding can reap rewards.

Workload
Develop data to measure, quantify and describe pressures on primary care.
Across Surrey Heartlands Integrated Care System there was a lack of accurate and timely data to give a true picture of primary care demand and capacity, negatively affecting resource allocation and planning. The ICS therefore introduced Operational Pressures Escalation Level (OPEL) reporting, similar to that in secondary care, to proactively manage surges in demand, and the associated risks, enabling resource to be directed where it is most needed. Following the success of the project, it has been adopted across the South East.
About the Primary Care Network
We are the only organisation bringing together primary care with the rest of the healthcare system. We support, connect and empower our members to maximise the impact they have on patient care and drive change. Find out more.