Infographic
Primary care federations supporting the COVID-19 vaccination programme
Network members were asked about the support they had provided to the COVID-19 vaccination programme.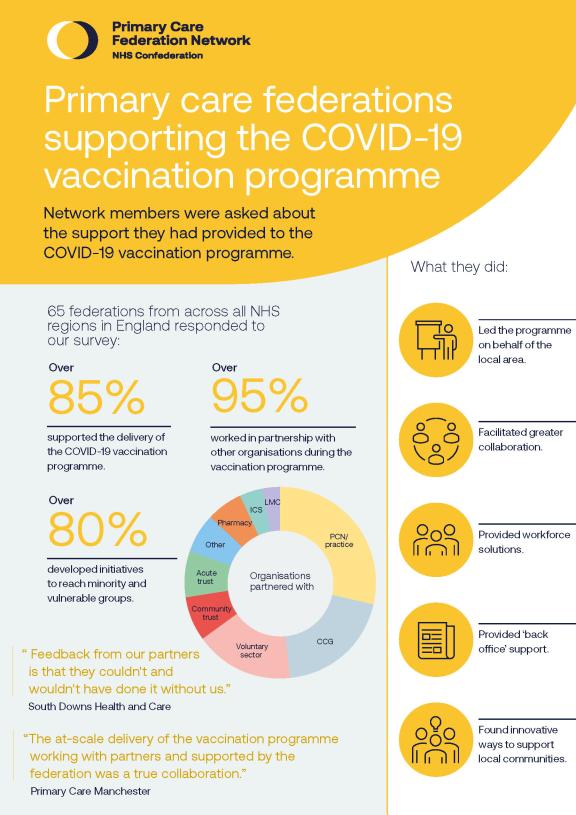 In July 2021, the Primary Care Federation Network launched a member survey to find out more about the role of federations in the COVID-19 vaccination programme. Through our engagement with members, we were aware that many federations had supported the programme in their local area. The survey has provided an opportunity to understand the scale and nature of this support.
Sixty-five primary care federations from across all NHS regions in England responded to our survey on how they had supported the COVID-19 vaccination programme. This infographic summarises the key points.
Over 85 per cent supported the delivery of the COVID-19 vaccination programme.
Over 95 per cent worked in partnership with other organisations during the vaccination programme.
Over 80 per cent developed initiatives to reach minority and vulnerable groups.
What they did:
Led the programme on behalf of the local areas.
Facilitated greater collaboration.
Provided workforce solutions.
Provided 'back office' support.
Found innovative ways to support local communities.
"Feedback from our partners is that they couldn't and wouldn't have done it without us." South Downs Health and Care
"The at-scale delivery of the vaccination programme working with partners and supported by the federation was a true collaboration." Primary Care Manchester