Blog post
NHS Reset: Rethinking the future
NHS Reset is a new NHS Confederation campaign to contribute to the public debate on what the health and care system should look like post-COVID19.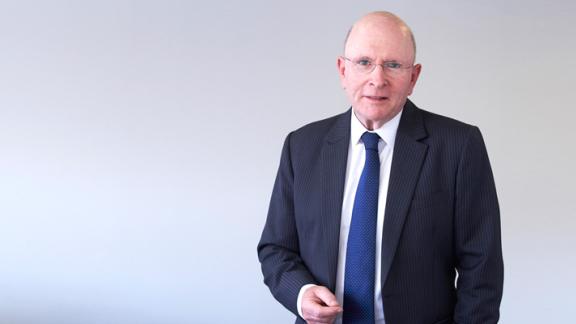 In this blog, part of a series of comment pieces from NHS Confederation leaders, members and partners, Niall Dickson takes us through the thinking behind the reset and pinpoints ten areas where those at the centre could devote their attention as we develop new priorities. 
David Cameron's view of the NHS was shaped by the life and struggle of his son Ivan, who died the year before the family went into No 10. Although this profoundly personal experience did not protect the service from the harsh wind of austerity, the NHS fared significantly better than any other public service.
Today we have a Prime Minister who owes his life to the NHS. As a crash induction course on the merits of our healthcare system, Boris Johnson's days in intensive care would have made a spell in a military boot camp seem like a luxury holiday. The service should benefit from this.
If you need any confirmation that faith in the NHS has reached new heights, just consider how the weekly visit to church has been replaced by the weekly clap for carers. But this admiration and adulation will not be a free pass. The economy that emerges from the pandemic will be a battered remnant and the idea that we can simply borrow our way out of this seems fanciful.
The need to make a convincing case for investment in health will be greater than ever, not just because there is a moral imperative to do so, but because it is surely a key part of creating the infrastructure on which economic growth and success will depend.
And while the NHS may be worshipped, with social care at last appearing alongside, key intractable problems remain. The truth, which dare not speak its name, is that health and social care are wonderful services, but they have been held back by internal strife exacerbated (though not created) by the 2012 Act.
Many leaders have been nervous about another 'top down' reorganisation but some are starting to question whether we have the right structures and incentives to drive through change at pace. Ultimately it will be up to local leaders and local clinicians, with public support, to develop a new health and care service but they will need fertile conditions in which to deliver. Increasingly there is a view that solving social care may not be possible, or that this on its own will not be enough, without creating an integrated and single health and care system. We are all agreed that post COVID-19 we cannot go back but we need further serious thought about where we are going and how to get there.
The Here and Now
The immediate challenges for England were well set out in a recent letter from Sir Simon Stevens and Amanda Pritchard.
The reaction from leaders of systems and organisations has been positive. There was universal support for the re-start and the urgent need to address the damage being done by reduced services and by the significant drop-off in demand. There was support too for capacity planning to make sure primary, community and social care services are not overwhelmed as the hospital engines are reignited. And it was good to see acknowledgement of STPs/ICSs' role in planning activity volumes as well as the welcome, if belated, focus on care homes and what the NHS can do to support them.
At the same time, we are detecting the need for further thinking about the what and the how of reset at different levels. Some of this will already be underway, but here are ten areas where those at the centre could devote their attention, as we develop new priorities.
Make sure that governance mechanisms and business rules support and do not inhibit innovation – we should see virtual by default as the new normal in key areas of delivery. Empower integrated care systems to review transformation plans so that they embed recent changes, with action plans led by cross-agency groups to lead local recovery and reconfiguration.  
Enable and encourage joint planning with local authorities and other public agencies – already many systems are working more closely with local government Acknowledge the support that staff will need after this pandemic – this is a consistent concern among leaders.
Give more emphasis to the need to reform patient pathways - waiting lists and times are important but we need an approach that balances pressures at all points on the patient journey through primary, community, social and acute care.
There is an immediate need to support the vulnerable such as some in BME communities, those on the shielded list and those whose health and well-being is compromised. This will require new services with more resources directed towards those with unequal access and outcomes.
Embrace clinicians – clinicians have been liberated and energised by the ability to get stuff done, we must not lose this and a signal to support this will be important.
A new set of partnerships – can we make local government, the voluntary and community and the independent sectors genuine partners within integrated care systems? These should not be NHS ICSs, but cross sector mechanisms – again that signal will be important.
Much has been achieved by closer local working, often led by local providers. Can we establish a set of new business rules that also preserve this energy that has been released?
Let us collate examples of good practice in service delivery so that they are not lost and can be sustained going forward.
Further faster - a turbo charged Long Term Plan?
All this suggests that the move towards system by default was the right one but alongside that there is a need for a significant review that will take us up a gear in the levels of integration and collaboration across the health and care.
The adage about form following function is correct, but for the most part we are agreed we need a single integrated system of health and care services – what is not settled is a form to deliver that. Until now it has been too difficult to tackle. This is not to advocate a uniform organisational form or necessarily control by one sector or another, but is would mean a willingness to explore radical options. The model now being implemented in Scotland is worth a look.
But for many reasons, now may be the moment to think more radically about structure going forward.  There are certainly those who were implacably opposed to another reorganisation who now argue that local level systems will need more powers.
No structure will be perfect, but there is a growing view that the current model is too NHS orientated and may be too reliant on trusting relationships alone and that resources and authority may be needed to help drive change in local health economies. Any reform (legal or otherwise) should also recognise those amazing provider-led innovations, so that maximum autonomy and freedom is given to providers, local government and other partners, including primary care networks, to enable them to come together and sort out the place-based answers.
In this we also need to rethink the relationship with the centre. National command and control has delivered in part, but it has only done so alongside local leadership and collaboration. Local leadership, both organisation and system, must be the bedrock of the 'reset'.
This then is a key moment. There is much that can be and is being done locally, but beyond the vital work of restarting services and capturing the best, it is time to start setting in place the arrangements that will enable the health and care sector (one sector not two) to devise and deliver a whole set of new joined up services which address 21st century challenges and needs.
We have now launched the Confederation's NHS Reset campaign and we are keen to get your feedback to develop this both with examples of new ways of working and ideas for how to shape that new architecture. You can find our latest briefing on this here.
Niall Dickson is chief executive of the NHS Confederation. Follow him on Twitter @NHSConfed_Niall. Join the conversation #NHSReset