Blog post
Employing local health and care students as surge care assistants
Imperial College Healthcare has developed a new surge care assistant role to students to gain practical experience and support the COVID-19 response.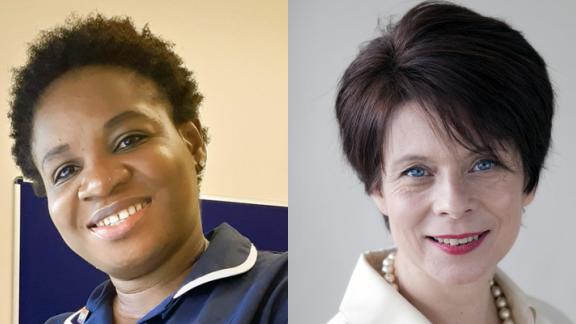 Sharon Probets, head of learning, and Dinah Ofosu-Asante, lead nurse for healthcare support at Imperial College Healthcare NHS Trust, developed a talent pipeline from college to trust through a new surge care assistant role that allowed local health and care students to get practical experience and support the pandemic response.
Before the pandemic, we wanted to use our volunteering programme to give health and care students at our local further education colleges access to hands-on work experience in an acute setting. In west London, less than a third of BTEC health and care students actually go on to work in the health or care sector, which is a huge loss of talent for us.
The second COVID-19 surge put a lot of pressure on our ward staffing, as a significant number of healthcare professionals were deployed to critical care. Wards told us they needed people who could carry out basic tasks such as changing bed linen, helping patients to eat and drink, helping patients to sit or stand and assisting with personal care.
Surge care assistant roles
To meet this need, we worked with our local colleges, West London College and HCUC (Harrow College and Uxbridge College) to develop the surge care assistant role. 
The colleges helped us to identify BTEC students who would be suitable to undertake this role as a four-week paid placement, and we agreed clear selection criteria: a maximum of 12 students, aged 18+, in their final year of a level 3 course (or higher). Our bank staffing team managed the recruiting and payroll process, and we maintained weekly Microsoft Teams calls with the bank team and the colleges to resolve any problems as they arose. Both colleges cleared the students' study calendar so that they could work full time as surge care assistants.
Exceeding expectations
We recognised that many of the students may not have been in a hospital or worked on a ward before. So, we designed a one-day induction about the trust, the requirements of the role and tasks they were expected to do on the wards. At that time, all wards were high-risk COVID-19 areas so we provided a thorough introduction to infection control and PPE, and all students were fit-tested for masks. We included practical sessions around manual handling and personal care to make sure the students were fully prepared for their role and could offer as much to the wards as the wards were offering to them in experience.
During the four-week period the students worked in pairs, one covering the early shift and the other the late shift. This meant they could support each other and share experiences and learning during their handovers. Dinah organised regular weekly catch ups via Microsoft Teams and made sure they knew who to contact if they had any issues. 
"For me, the experience has been amazing. They showed us a level of skills and maturity that were completely unexpected and I am proud to say I'd have them anytime."  Dinah Ofosu-Asante
We knew that the students would have some theoretical knowledge from their studies, and some had experience of working in care homes, but we quickly found that the level of tasks they were able to take on exceeded our expectations. 
An extra pair of hands
Ward managers understood the role of ward support officer so, for ease, we described the surge care assistants as 'ward support officers plus basic care.' Our ward staff are naturally inclined to teach and mentor others, and it was important for ward managers to be able to utilise the surge care assistants in areas of need, so they had the scope to assign additional tasks with appropriate training and supervision. 
"It's been an opportunity for BTEC students to show what they can do and demonstrate they are mature, sensible individuals who want to make a career in healthcare and just need an opportunity." Sharon Probets
Feedback
On their final day, we met with the students to talk through their experiences together. Based on the conversations and our evaluation, we believe the participants are now more likely to go into a career in health and care as a result of their experience, and many of the students now want to work for us once they have completed their course. 
Reflecting on the programme, Dinah and I have both found it to be an incredibly positive experience, as well as a learning experience for the wider organisation. Wards are keen to be involved in future programmes and reported that their view of health and social care students is now more positive. Our main learning has been around how we provide wards with clearer information about the individuals and their interests, so they can tailor tasks appropriately. Our next step is to work with all our stakeholders to design a placement programme that becomes part of our 'new normal.'
We have been able to achieve a significant step towards developing a talent pipeline from college to local workplace and then give those individuals further opportunities to develop their skills and career through our nursing apprenticeships. We are continuing to develop our relationships with our local colleges and community, and this really supports our role as an anchor institution in our local community.
Sharon Probets is head of learning and Dinah Ofosu-Asante is the lead nurse for healthcare support workers at Imperial College Healthcare NHS Trust. You can follow Sharon and Dinah on Twitter: @SharonProbets  @asante_dinah