Article
COVID-19 latest developments
Latest developments on the UK's response to the coronavirus outbreak.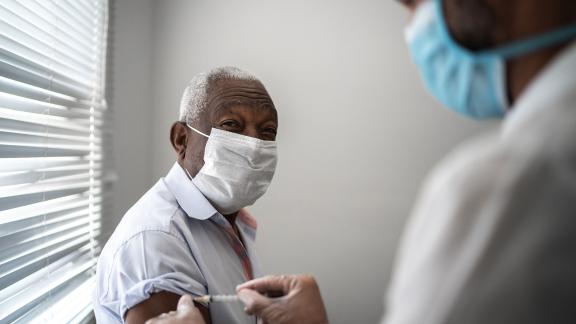 Daily COVID-19 statistics
The government's latest available daily COVID-19 statistics show that:
today, 7,673 people tested positive for COVID-19

today, ten people sadly died within 28 days of having tested positive for COVID-19

on Wednesday 9 June, 184 patients were admitted to hospital with COVID-19

on Sunday 13 June, 1,136 COVID-19 patients were still in hospital

on Monday 14 June, 188 COVID-19 patients were in ventilation beds

the total number of people who had received their first dose of COVID-19 vaccine up to Monday 14 June was 41,831,056

the total number of people who had received their second dose of COVID-19 vaccine up to Monday 14 June was 30,209,707

on Monday 14 June, 930,123 new tests for COVID-19 were conducted.
Steven at Confed21: All over-18s in England able to book jab 'by end of the week'
Speaking at our annual Confed Conference, Sir Simon Stevens, chief executive of NHS England, revealed in his keynote speech that all over-18s should be able to book their coronavirus vaccine "by the end of this week".
Sir Simon told delegates: "It is now very important that we use the next four weeks to finish the job to the greatest extent possible for the COVID-19 vaccination programme, which has been a historic signature achievement in terms of the effectiveness of delivering by the NHS – over 60 million doses now administered."
Sir Simon also stated that the health service aims to have offered perhaps two thirds of adults across England a second vaccine dose by 19 July.
However, Sir Simon reported that "vaccine supply continues to be constrained, so we're pacing ourselves at precisely the rate of which we're getting that extra vaccine supply between now and July 19".
Following today's revelations from Sir Simon, our Ruth Rankine talked to BBC Radio 4 about how primary care is endeavouring to deliver the vaccination programme while also tackling the large treatment backlog.
Also during his keynote speech, Sir Simon used his keynote speech to announce that the NHS will begin to provide an 'artificial pancreas' designed to revolutionise the life of people with Type 1 diabetes.
A summary of developments from day one of the NHS Confed Conference is available to read on our website. This summary includes summaries of Matthew Taylor's opening speech, discussions from plenary sessions, and publications launched.
New chair of Vaccine Taskforce appointed
The government has appointed Sir Richard Sykes as the new chair of the Vaccine Taskforce.
Sir Richard has served in a number of scientific, pharmaceutical and medical organisations, including as chair of NHS London, chair and CEO of GlaxoSmithKline, and chair of Imperial College Healthcare NHS Trust.
Sir Richard led a review of the Vaccine Taskforce's strategy and goals last December, and he will oversee the taskforce's work on the current vaccination programme, as well as plans for booster programmes.
Changes to CQC's monitoring approach
Yesterday, the CQC announced that they will be making some changes to how they regulate and monitor services. These changes will be piloted this week before being rolled out to more services in July.
The CQC's statement outlines that the organisation will be "more targeted" in their regulatory activity and bring information "together in one place for inspection teams".
The CQC will carry out regular reviews to support their ability to monitor risk. If the review does not reveal any risks, they will publish a short statement stating that the review had taken place. If the review does indicate that they may need to re-assess a rating or the quality of care, they may undertake an immediate on-site inspection.
Danny Mortimer described the CQC's announced changes as a "balanced reflection of the realities of greater integration and improved system working for the benefit of patients, and sets out a path for other regulators to also follow."
Scottish lockdown easing delayed
First Minister Nicola Sturgeon has said that the easing of COVID-19 restrictions in Scotland is likely to be pushed back by three weeks, from 28 June to 19 July.
The COVID-19 case rate in Scotland is now five times higher than it was in early May.
Ms Sturgeon said that "we need to buy sufficient time for vaccination to get ahead and stay ahead of the virus, and that is the reason for caution at this juncture".
She added: "Doing that will give us the best chance, later in July, of getting back on track and restoring the much greater normality that we all crave".
Sinn Féin 'will not back new first minister without Irish law'
Sinn Féin has asserted that the party will not agree to a new DUP First Minister without movement on Irish language legislation.
Following Arlene Foster's resignation, both parties must agree to a new First Minister and Deputy First Minister. However, Sinn Féin has said it wants Irish language legislation passed, while the DUP will not commit to this before the next election.
The party told the UK government it should legislate for the Irish language through Westminster to resolve a Stormont split on the issue.
Party leader Mary Lou McDonald claimed the government offered to intervene weeks ago, but the party declined.