Article
COVID-19 latest developments
Latest developments on the UK's response to the coronavirus outbreak.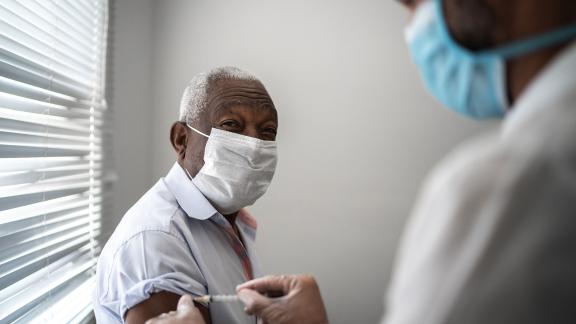 Daily COVID-19 statistics
The government's latest available daily COVID-19 statistics show that:
today, 102,292 people tested positive for COVID-19

today, 346 people died within 28 days of having tested positive for COVID-19

on Saturday 22 January, 1,399 patients were admitted to hospital with COVID-19

on Tuesday 25 January, 16,594 COVID-19 patients were still in hospital

on Tuesday 25 January, 575 COVID-19 patients were in ventilation beds

the total number of people who had received their first dose of COVID-19 vaccine up to Tuesday 25 January was 52,265,883

the total number of people who had received their second dose of COVID-19 vaccine up to Tuesday 25 January was 48,252,782

the total number of people who have received their COVID-19 booster or third dose up to Tuesday 25 January was 37,048,033

on Tuesday 25 January, 1,272,805 new tests for COVID-19 were conducted

on Tuesday 25 January, PCR testing capacity stood at 1,020,897.
Health and care bill – day 6
The House of Lords has today been holding its sixth day of Committee Stage debate on the health and care bill.
Debate began today with on the group of amendments beginning with Amendment 106, and the Lords' target for the day is to finish debating all amendments up to and including the group beginning with Amendment 203.
We are therefore expecting amendments which are being supported by the NHS Confederation to be debated later this evening.
Amendments to be debated today, which are supported by the NHS Confederation, include amendments 174A to 176A tabled by Labour peer Lord Hunt of Kings Heath which concern the bill's proposed powers for the Secretary of State over the operational management of NHS England, and amendments 179 to 183 tabled by Conservative peer Baroness Cumberlege, which aim to provide checks and balances on the bill's proposed powers for the Secretary of State over local NHS reconfigurations.
You can watch the debate live on parliamentlive.tv.
The NHS Confederation, NHS Providers and The King's Fund's joint briefing for peers on the amendments our organisations are supporting has been published on our site.
Javid 'reflects' on mandatory jabs for NHS staff
Speaking yesterday to the House of Commons Health and Social Care Committee, Health Secretary Sajid Javid told MPs that he is "reflecting" on the government's policy of requiring NHS staff to be double vaccinated against COVID-19.
However, Mr Javid added that the patient safety reasons behind the policy have remained unchanged.
Mr Javid also told the Committee that he wanted to establish a "national vaccination service" that would mean GPs did not have to stop doing other work in order to deliver vaccines.
MPs debate OHID and health inequalities
This afternoon, Labour MP Peter Dowd led a Westminster Hall debate on the topic of the Office for Health Improvement and Disparities and health inequalities.
Citing research provided by an NHS Confederation briefing for MPs on the debate, Mr Dowd made reference to how health inequalities are being reflected in the growth of elective care waiting lists, as waiting lists in deprived areas are growing at a more rapid rate than in less deprived areas.
A transcript from the debate will be published later today in Hansard, and you can watch a recording of the debate on parliamentlive.tv.
Starmer calls for full publication of No 10 parties
Labour leader Sir Keir Starmer has urged Prime Minister Boris Johnson to publish the official report into Downing Street parties in full.
During today's Prime Minister's Questions, Sir Keir told Mr Johnson that he should resign, adding that his leadership was "doing damage" to the UK's reputation.
However, Mr Johnson said he was "getting on with the job" and would stay on.
BBC News understands that senior civil servant Sue Gray's report is essentially completed, but she has not sent it to Mr Johnson yet, although it is still expected that this will happen at some point this week.
In an another emerging controversy surrounding the Prime Minister, emails leaked by a whistle-blower reveal that Mr Johnson authorised the evacuation of animals from Afghanistan during the fall of Kabul, despite previously dismissing the claims as "nonsense".
NHSE director: Staff will quit if not given 'time to recover'
As reported in the HSJ, Matthew Winn, NHSE's director of community health and Cambridgeshire Community Services Trust chief executive, has said that he "fears [the NHS] will see increasing numbers of resignations" unless more is done to ensure burnt-out staff are given sufficient leave to recover mentally and physically.
Mr Winn set out his concerns in a paper for discussion at his trust's board meeting today.
The public warning from Mr Winn comes amid concerns among some senior trust leaders that the long-standing issue is not receiving enough attention at national level.
Mr Winn's paper states: "As the NHS starts to focus on recovering from the current covid pressures, it is vital that the national, regional and local planning must take into consideration that our staff need time to recover and that they cannot (for example) be expected to catch up on the waiting lists that have accrued, without time and resources to support them.
"In the absence of such an approach, I fear that we will see increasing numbers of resignations and the care we will be able to provide will be far short of the standards we set ourselves and that the public expects from us."
Pfizer and BioNTech start trialling Omicron-specific jab
Pfizer and BioNTech have started clinical trials of a new COVID-19 vaccine which targets the Omicron variant. The companies plan to test the protection gained from the new vaccine as a booster vaccine and as three separate jabs in unvaccinated people.
More than 1,400 adults are expected to be enrolled in the trial, likely to be in the United States.
US company Moderna is planning to begin trials of its own Omicron-specific shot soon.
Oxford University and AstraZeneca have also started working on a new version of their vaccine.
Government report on genomics beyond health research
The Government Office for Science has published a report on how genomics will affect our lives in the future.
The research details how the genome can influence people's traits and behaviours beyond health and how studying our DNA presents both benefits and challenges to society.
Whilst the report highlights the importance of genomics in health policy, it focuses more widely on human genomics outside the health sphere, notably in agriculture, ecology, and synthetic biology.