Briefing
Discharge to assess: The case for permanent funding
This Community Network briefing sets out the case for permanent funding to support the 'discharge to assess' model.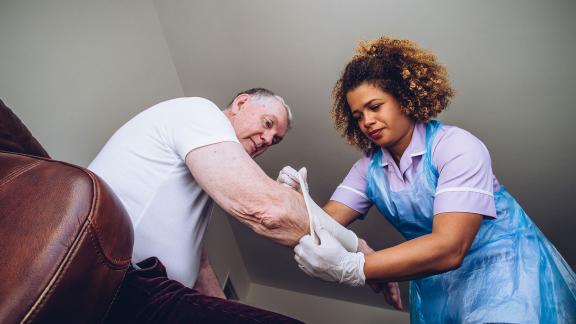 This briefing sets out the case for permanent funding to support the 'discharge to assess' model based on cost effectiveness for the taxpayer and improved outcomes.
Key points
Both acute and community providers are clear that withdrawing funding for the discharge to assess model will lead to a damaging 'cliff edge', increased length of stay, delayed discharges and avoidable readmissions. All of these factors have a negative impact on patients and the public purse, and will be particularly detrimental to service delivery as we seek to recover and restore services following the pandemic.
Central, dedicated funding for the discharge to assess model improved patient care and proved cost effective by contributing significantly to a reduction in average length of stay during winter 2021/22 and facilitating patient flow from acute to community settings. The National Audit Office showed that 30,000 acute beds were freed up in preparation for the COVID-19 pandemic, and data from NHS England and NHS Improvement (NHSEI) shows a 28% reduction in patients staying over 21 days in hospital between winter 2019/20 and winter 2020/21.
Discharge to assess funding helped providers to reduce avoidable admissions during the pandemic and reduced bed days improving quality and benefitting the public purse. Emergency readmissions to hospital are distressing for patients and their families, often coming at a point of crisis. They are also costly to the public purse at an estimated annual cost of £1.6bn. Analysis by the charity Age UK shows that that the average excess bed day (the cost of a patient remaining in a hospital bed after their treatment has ended) costs £346. As the discharge to assess model reduces delayed discharges and therefore excess bed days, it is a proven, cost effective policy.
A permanently funded discharge to assess model will help acute trusts and community providers to manage the existing backlog of care through improved patient flow. Maximising capacity will also help trusts tackle persistent winter pressures beyond the pandemic. Conversely, removing the funding puts this progress, and key national priorities at risk, particularly the commitment to clear the elective waiting list of 4.7 million people.
The discharge to assess model aligns with the broader strategic direction of travel for the health and care system to deliver more care within and closer to home for the benefit of both patients and the wider health and care system.