Audio
Andy Bell and Marsha McAdam: A vision for mental health, autism and learning disability services
Andy Bell and Marsha McAdam on how to transform mental health, autism and learning disability services over the next decade.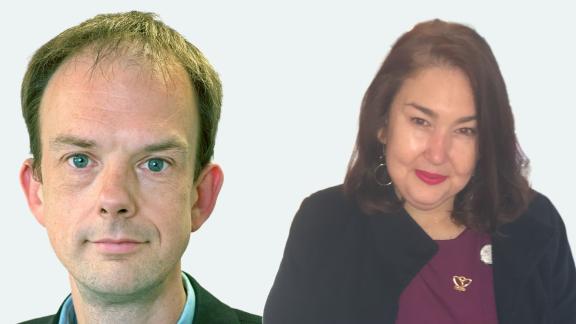 Matthew

Hello, Happy New Year and welcome to the first Health on the Line of 2023.

As the leaders I speak to daily tell me and as the grim headlines attest, the health and care system entered 2023 in crisis. The focus is on ambulance delays, overcrowded EDs and hospitals unable to find enough beds. But everywhere in the system, primary, community, mental health, we can see what happens when demand so regularly and substantially exceeds capacity.

I sense, at least, a greater understanding beyond the NHS about why we are where we are, about the impact of the austerity years, about the effect on staff performance and morale with so many vacancies, about the impact of capital under funding, about the difficulty of achieving innovation or improvement in crisis conditions. Now the Prime Minister has got involved. This is to be welcomed and not just because it's generated some additional short-term funding. After all, it's only six months since the occupant to Number 10 was prone to boast about 40 new hospitals and claim that social care was, in his words, "sorted".

But it's odd when this crisis has been so long predicted to be holding emergency Downing Street summits as it unfolds. And as I speak, it seems as though the government's desire to be seen to be doing something about industrial action is not being fully matched by willingness to change course in its negotiating stance. As I've often emphasised in the media, even if there were no unions and no strikes, we would still have to address the huge challenges of recruitment, retention and motivation in our workforce.

More days of industrial action loom - something that feels like it could be the final straw to many leaders. Somehow, we will get through the next two months. But we need to learn and do whatever is necessary to avoid another winter like this one.

With that in mind, the system, place, provider leaders I speak with share elements of a common agenda. They talk about better integration, use of shared monitoring systems, digital hubs, expansion of remote and virtual care, using data to identify those most at risk and help them and their families be more resilient. The ingredients will be similar. But because everywhere is different, the recipe for recovery and reform will vary.

We at the Confed are delighted to be supporting the Hewitt Review, exploring what forms of support and accountability can best enable system working. This winter has come too early for most systems to have the impact they aspire to. But in the spirit of Hewitt, we're hoping to use our networks to develop an approach to challenges like winter resilience, approaches which are more collaborative and adaptive. Less prescriptive. Less top down.

We were delighted just before Christmas to publish a major report on mental health. Mental health, autism and learning disability services need to change, and our report sets out a vision for what these services should look like in ten years' time for people of all ages in England. It was commissioned by the NHS Confederation and written by the Centre for Mental Health. The report brings together research and engagement with a wide range of stakeholders, as well as people who bring personal and professional experience about what these vital services should be like in 2032. The report identifies ten interconnecting themes that underpin the vision and three requirements that would turn the vision into reality. So, to mark the publication of that report, this edition of Health on the Line speaks with two experts on mental health, both with fascinating things to say.

--- --- --- ---

I'm delighted to be joined by Andy Bell. Andy has been with the Centre for Mental Health since 2002, became deputy chief executive 2009 and he'll be interim CEO from early 2023. And he's worked for more than 25 years in the voluntary sector striving for equality and social justice through research, communicating evidence, influencing policy, informing debate.

Andy was the driving force behind the Commission for Equality and Mental Health, funded by the Elliot Simmons Charitable Trust, which was established to investigate inequalities in mental health and whose work culminated in a final report on mental health for all.

Amongst the other things Andy does, he also plays a pivotal role in facilitating the local authority mental health challenge, which engages the elected members across the country. But we're really talking today, Andy, because you have authored our new report, No Wrong Door, which seeks to develop a positive but also realistic vision for mental health, autism and learning disability services for people in England over the next decade. And that's what we're going to focus on. So, first of all, Andy, welcome to Health on the Line.

Andy

Thanks, Matthew. Nice to be here.

Matthew

Just before we talk about the report, Andy, tell us about the Centre for Mental Health. How do you work? What are your objectives?

Andy

The Centre for Mental Health is an independent organisation. We've been around since 1985. Our purpose as a charity is to eradicate inequalities in mental health and we do that through a mixture of research, evidence gathering, policy analysis, training and support. And we work alongside organisations like the NHS Confederation to really shift the debate on mental health.

Matthew

So, a starting point, I guess when we look at mental health is a particularly kind of stark example of a more general problem, which is the gap between demand and capacity. And that gap is huge. Just talk us through Andy what are the factors that have led to this enormous capacity gap?

Andy

It is an enormous gap, and I think most of the population surveys of people's mental health suggest between a quarter and a third of people with a mental health difficulty get any help and support for it, certainly from a professional service anyway. But effectively, this comes down to a number of things. Partly it is that awareness and understanding of mental health until the last decade or so, has always been quite poor compared to physical health. And partly it's been down to under-investment in mental health services. We know the NHS in England is attempting to address that, and the long-term plan in particular has brought significant extra funding for mental health services. But nonetheless we have a legacy of mental health being undervalued compared with physical health, and there's just not that same pressure on systems, whether that's nationally or locally, to bridge the gap as we've seen in other areas of healthcare.

Matthew

And what about the demand side of this? Something that I feel quite strongly is that we can't create the impression that the NHS alone can solve the mental health crisis. I think sometimes because, in a sense, organisations like ours focus on resources, we talk about the capacity gap, it can sometimes feel like we're implicitly saying a perfect world would be a world where, I don't know, one in three people had a mental health diagnosis and we had a workforce of, you know, 2 million people working on mental health. But that isn't any anyone's idea of Nirvana is it?

Andy

No, it's not. And I think one of the most important things is where possible, we do what we can to prevent mental health difficulties. We know there's much more that we could be doing as a society to keep people mentally well, if you like to create good mental health and there's a great deal more that we could do around that in neighbourhoods, in schools, in government policies, in workplaces, the places we all work in. We could all do much more. But I think also we need to look at what resources are in communities that can help to support people early when they're experiencing mental health difficulties. For example, we know that if health visitors and midwives and GPs have both the time and the training to offer women support during the perinatal periods. They can do a great deal to support better mental health so that fewer experience the kinds of difficulties that require a specialist response.

Matthew

And do you think that the debate about why it is that so many people are suffering from mental health issues can be part of a broader debate about the kind of society we need? It feels as though you can't separate these things out - we know that poverty; we know that inequality; we know that a kind of environment of competition, an environment where people, especially young people, are worried about their status fuelled by social media; that there's all sorts of factors in our society that are contributing to this level of kind of mental health. 'Bad work' is another thing I've written a lot about in the past. So, we won't really resolve the underlying problem of what's driving the greater need for mental health services unless we're willing to have a different kind of conversation about what we want from society, are we?

Andy

Yeah, absolutely right. And I think it's understanding that we've come a long way in terms of improving mental health awareness. And we've seen some very high-profile campaigns that have encouraged people to look after their own mental health, to really tackle stigma and discriminatory attitudes towards people with mental illness. And those have all made lots of progress over the last decade or so. But we are still a long way from having a mature debate about what creates a mentally healthy society.

As you said, we know that poverty is particularly toxic to mental health. And given where we are now with a cost-of-living crisis, which is putting a lot of people's financial wellbeing at risk, we know that that is a mental health crisis, too, as indeed was the pandemic, and still is. And so, I think it's really important that we look at the structural factors that lie behind poor mental health and really understand that for very many people, campaigns that look to change individual behaviour aren't going to work because so often it's inequities in terms of wealth and power. As you say, mental health is inextricable from the health of our society as a whole.

Matthew

So, Andy I want to turn in a moment to the vision of mental health, autism and learning disability services by 2033, the heart of the report that we've done with you. But just before that, let's just deal with this view, which I think a lot of people have, but perhaps people don't articulate it because I don't want to be accused of being unsympathetic. But there is a view that says a lot of this is about the kind of medicalisation of everyday unhappiness. What's your take on that?

Andy

What's really interesting is, first of all, if we think about mental health as being a spectrum we're all on, I think that helps to take away from that binary notion that you're either mentally well or mentally not well. And I think that's really important that we understand that because there are interventions across the spectrum, not medical interventions, predominantly not medical interventions, that can make a real difference. But I think we have to understand that for very many people, the distress they experience is very real. It's very significant. It has a huge effect on every part of their lives. And essentially the idea is to have just enough intervention.

For many people whose symptoms or experiences are currently quite mild, then sometimes guided self-help, maybe some online support or other resources can be enough to prevent the need for requiring a professional service. For others, you need quite a lot more intervention and using a variety of different approaches. But what's really interesting is that the more evidence we have from a whole range of different sources, the more it becomes clear that the basic things in life, having enough money to live on, being safe, having a home, having a good job, being okay are the most important things you can do to support someone with their mental health and in some way become back to circle towards the social model.

Matthew

So, Andy, take us to 2033. You're looking out as chief executive of the Centre for Mental Health 2033, and you are describing a world where we have got it right on mental health, autism and learning disability services. So, what are you seeing around you in 2033 that feels very different to where we are today?

Andy

I think the first thing we notice is that in the places we are, whether that's at school, whether that's at work, whether that's in the communities we live in, faith communities, that efforts are made to prevent mental health difficulties and promote good mental health. And particularly in communities where we know there are the highest rates of psychological and emotional distress. So, the first thing you notice is, is that we don't wait for someone to become unwell to think that there are things that we can do. Every child, when they go to school, learns about mental health and wellbeing. The teaching staff know how to look out if a child seems to be experiencing difficulty. And the teachers themselves look after their own mental health as well. And they're in an environment that's conducive to that. And you can see that across other institutions as well.

If someone does need help for their mental health in ten years' time, what we hope is that wherever they go for help, whether they talk to their class teacher, whether they talk to their line manager at work, whether they go and see their GP, whatever it is, that they're able to get access to the right level of support for them, again, as early as possible, but there's no wrong time to ask for help and that help is roughly proportionate to their level of need and responds well.

We would expect that, as we said with the report title, there's no wrong door for help and when you do have access to that support it is high quality care, it is compassionate, always, and where possible the use of institutional responses, particularly for autistic people and people with learning disabilities, but for people with mental health conditions as well, the use of institutional care is minimised. There's really good support in the community, in the places people live. Services actually reach out to where people live. There might be mental health workers in youth clubs and care homes and other places, so you don't have to go somewhere for it. And then those services see you in the context of your life.

They support you with money and work and housing and other matters that really matter to you. They look after your physical health as well as your mental health. There's no artificial division between those things. They relentlessly and proactively tackle inequalities and inequities, and that really does mean more than being active, being actively anti-racist, for example, actively adapting services to the needs of autistic people and people with learning disabilities for their mental health. And so on across all range of protected characteristics.

We see services where people using them have much more say in the way those services are run. There's a real spirit of partnership and co-production in those services. And crucially, we have a mental health workforce that is diverse. It's representative of the communities it seeks to serve. It's confident and skilled and properly supported for its own mental health and wellbeing, too, with good, compassionate employers. And these are some of the things that we would expect to observe in ten years' time if this vision was able to be brought about.

Matthew

And it's interesting that you talk about user engagement just being the way we do things because we'll be talking later in this episode to Marsha McAdam who's the deputy chair of our Mental Health Network and an expert by experience, and she's very eloquent about the importance of listening to people who experience those services first hand. Now, I think Andy someone listening to what you've just said might say, well, that all sounds great, but it's a pipe dream. It's a fantasy. In order to address that kind of cynicism, one of the things that was important about this report was it did contain some great examples of good practice. So, Andy, just pick out a couple of examples of the good stuff that's happening now, which, if we could only make it more generally available would be part of that 2033 vision.

Andy

We were very mindful in producing this that there's no point in producing a vision for ten years' time, which isn't ambitious enough. We need to have something to aim for. We need to have a sense that we can really go places. But it had to be realistic enough that within a decade, particularly a decade where we're starting where we are, in a quite challenging place. So, we were very mindful of that and we really did look around for a examples we could see now of services embodied many of these characteristics.

I, for example, talk about the Young People's Advice Service in Liverpool. It uses youth information advice and counselling service approach, it's one of the early support hubs that many of us have been campaigning for to be everywhere. And so, they provide on the high street, and in schools, access to counselling and emotional support for young people. Free to access, you don't need an appointment, you don't need a referral, you don't have a complex bureaucratic pathway to get in. But as well as supporting individual young people, they have peer support arrangements and groups and young people come together for social action projects. And so, it's not just trying to support the individuals, it's actually trying to bring about social change in the area it works. And they've had some outstanding examples of young people who've come together through YPAS to campaign for changes that help them to have a better chance of good mental health and of course, other young people, too. So, I particularly point to that.

And then I'd look at something like the primary care psychological medicine service in Nottingham. That's a service that works within GP surgeries in parts of the city. It's an outstanding example of taking psychological treatment for people whose needs are often regarded as too complex and too difficult for both physical and mental health services. People who experience enormous amounts of distress but have never had a really strong response before, to have access to a multidisciplinary team within their own GP surgery somewhere they feel comfortable and close to home. And again, they've demonstrated some remarkable achievements in terms of meeting people's needs who would otherwise have been written off and seen as too complex, which of course is quite shocking. So, I think those are two examples that we would point to show that this can happen.

Matthew

So, you've taken us to 2033 and described what it might look like, and you've talked about good practice, but we are in a very different place now. What, Andy, do you think are the absolute priorities for us? And in that question, what I'm asking you to do is, partly to say what are the most pernicious aspects of where we are now? What are the things that are really most urgent for us to solve? I mean, some people, for example, just talk about, you know, people being sent long distances to get residential care away from their families or whatever. But what is it that you think is most urgent to change? But also, what is the most important to change in terms of going on that path to that different future what are going to be the critical things that will need to change if we are going to move from where we are to where you want us to be.

Andy

As you say, the most shocking examples, if you like, of the current system not working for people are where, unfortunately, people, both autistic people and people with learning disabilities and people with mental health needs find themselves in hospitals far from home for some very protracted periods of time. Of course, there are other people that don't get any help and support at all. And indeed, the shocking and appalling racial inequalities in terms of the use of coercion through the Mental Health Act. So, we know there are many examples of where the system is working poorly now. I think tackling those, we really need, first of all, to acknowledge that the NHS in England is investing in mental health services now and there is a willingness to transform community services and we need to harness that, we need to build on that, we need to see that is possible to make progress. This isn't a system which is forever stuck in a kind of outdated model. We know we can make change at a scale in mental health services, otherwise we'd still have a system based predominately long stay hospitals as we had in the 1950s.

We know it's possible, but it does need a real willingness to change, a real openness to find different models and different approaches and to really open the system up, to acknowledge that the current service is inequitable. It doesn't meet the needs of racialised communities as well as it should. There are a number of different groups of people who don't get the right kind of mental health support that you might expect to be available. So, I think that willingness to change is so important. Inevitably, that's made it a lot easier if there's funding coming through to allow for change to happen in a way which is, in a sense, you need that kind of bridge to get across to a new way of working. And that's often what stops change from happening is a sense that we can't invest in earlier intervention because our services are all stuck in very high-cost services for people who didn't get early intervention in the first place. And of course, that's where austerity and mental health services is so incredibly harmful.

Matthew

Yeah, but it's also, isn't it, Andy, where we've got to hope that the new integrated care systems have got that capacity to not just think about responding to the short-term challenges, but also those deeper structural shifts that are necessary if we're going to move away from being in crisis.

Andy

I think that's absolutely right. I think integrated care systems have all of the right wording. If you look at the act of parliament that set them up, the words are all there, a real focus on inequalities, a real focus on population health, parity between mental and physical health, a focus on wider systems and influences on health. So, they've been set up with all of the right responsibilities and with that huge potential to create a collaborative approach, bringing local government together with the NHS in an equal partnership. Really taking health out there and having those wider debates about what creates good mental and physical health and what puts it at risk and having that really strongly place based approach to health. It certainly has the potential to completely change the terms of debate and I hope what our report does is it gives a bit of a road map to where those systems might be going and what they can what they can do to start making this vision absolutely a reality in the places they serve.

Matthew

Andy, thanks so much for talking with me. No Wrong Door, the Centre Mental Health Report for us is available on the Confed website, so do have a read. Andy, thanks so much for joining us on Health on the Line.

Andy

Thank you.

--- --- --- ---

Matthew

That was an Andy Bell. After speaking to Andy, I caught up with Marsha McAdam.

I'm delighted to be joined by someone I've got to know since I've been there called Fate. And I've always found our conversations really interesting. That's Marsha McAdam. Marsha is a mental health influencer and ambassador for many organisations and social movements, including the Centre for Mental Health and the Speakers Collective. Marsha has used her lived experience to help people and services over many years and she sat on some of really transformative boards and panels, including the Expert by Experience group for Equally Well UK and until recently she was co-chair of the Greater Manchester Personality Disorder Strategy. Marsha is a national speaker on matters ranging from parity of esteem, personality disorder, stigma and discrimination. And I'm also delighted to say that Marsha is vice chair of the NHS Confederation's Mental Health Network.

Hi, Marsha, How are you?

Marsha

I'm good, thank you.

Matthew

So, tell us about yourself as much as you want to, as little as you want to. And what have been the most kind of formative experiences for you of the health and care system?

Marsha

I've got both physical and mental health needs. I have a diagnosis of borderline personality disorder, recurrent depression, fibromyalgia, chronic fatigue, type two diabetes, and a few other little bits in the mix. And I have had some really good services, but then also some not so good services. And throughout the years I used to self-harm quite a lot until I took a near-fatal overdose in 2008 that saw me in an induced coma for three weeks, and then weaned round a week afterwards, you know, off the oxygen and that, and it was only then that I received life changing therapy called mentalisation based therapy that saved me from myself. But sadly, from there, being in that coma, I then developed more physical health conditions and now I use access domiciliary care. And so, I've received some really not good services and at the minute some really good services, I call them my fairy godmothers.

Matthew

And what do you think? Is it, Marsha, that that distinguishes between the good and the bad? Is it resources? Is it the attitude of the people who provide it? What do you think is the kind of distinguishing characteristic of the services and support you receive that's been useful?

Marsha

It's the attitude of the people. Having borderline personality disorder, I've always been on edge because of some really bad things. So being really concerned around who's coming in my house and stuff like that to look after me has been something that has had negative impact over the years. But at the minute I'm under Manchester City Council's complex care team, which is an in-house service and the carers are just so unbelievable and you can tell that they're taken care of, because it means that they are then like that with me. I know it sounds daft, but I've seen the other side of it.

Matthew

I'm sure that's absolutely right. I think that compassion breeds compassion. And I think that's such an important and it's such an obvious point, but it's such an important point as well. So, Marsha, you're really associated with being an expert by experience, the importance of listening to service users. Do you see progress in terms of the degree to which the health system, maybe local government as well understands the importance of first-hand experience in decision making?

Marsha

Sadly, there's some really negative experiences. Well, I myself, as you know, was the GM personality disorder strategy, which was patient leading the way, it was devolution. And I'm hoping that through the new ICS and the new ICBs, that we will get people with living experience and their carers at the heart of their decision making.

Matthew

And do you see signs of that?

Marsha

In little pockets, yes. I guess that's one of the challenges that I put to the Mental Health Board was that I wanted to go out and look at that and I'm going to be doing that with some of your staff, Matthew, going out there and seeing what there is and hopefully, as the Confed, we can look into what a proper infrastructure would look like. And maybe we could then get a really good workforce going forward, you know.

Matthew

And do you think, Marsha, there are particular challenges about engaging people who've got a condition, you know, like yours is that you've got a double thing to overcome here. So, you've got, on the one hand, the kind of issue of kind of professionals versus amateurs, which is, you know, doctors or nurses thinking, well, look, I've got the expertise and, you know, you haven't, there's that. But there's also the sense that because you have mental health challenges, that in some ways your opinions, your views aren't to be trusted because of that, because you have to overcome that challenge. So, I guess it's a kind of double effect, isn't it?

Marsha

Years ago, it used to be. I remember being in a meeting and someone came in late and turned round to me, what are you doing here, who invited you? But thankfully, where I'm now at with chief execs and medical directors, and I actually feel like I'm part of a team. And I know that doesn't happen everywhere, but I'm really hopeful that we are moving in the right direction.

Matthew

Marsha the report that we've published, the Confed Mental Health network that you're now vice chair of that, you know, we've been discussing that on this programme. Lots of recommendations. But I guess that for me, one of the kind of big messages of that is that the NHS cannot solve the challenges of mental health on its own. Do you agree that we're not going to solve the problem of mental health simply within the health service itself, that it has to go wider than that?

Marsha

It definitely does. And we need political will. We need people, we need our politicians around the table saying that we can, and we must, do better and doing it together. And in the report itself, there's some really positive case studies which demonstrates that there is some really good services out there. Say, for instance, NAViGO, it's not mentioned in the report, but I visited it recently. It's an award-winning social enterprise in East Lincolnshire for mental health. And when I visited it was like: Wow, I wished I could live here, you know, to get that care. And then there's this stuff going on in Somerset, and then there's something called Choice Support. It supports people with both physical and mental health. And so, for me, there are bits of it out there, but how do we make it more of a norm, those really good services?

Matthew

Now, most of this programme's listened to by people who are leaders in the health service. If you could just give them one message as somebody who spent so much time engaging with the system, sometimes satisfactorily and well, sometimes not so much, what would be the one thing you'd want leaders to understand from your experience?

Marsha

Having borderline personality disorder, a lot of it's linked back to trauma in childhood. And then you go out and act out later on because you're in persistent distress. My worry is that over the last few years, what the young people have been experiencing, I worry that they go on to then develop those unhealthy coping skills, like me. So, for me, it's early intervention and prevention from the outset, and I don't think we have much time to do that. For me, it's please, let's get the early intervention and prevention in straightaway.

Matthew

And health inequalities as part of that, isn't it, Marsha? Because it's about not just open, not just having an open door to a service, but it's also reaching out to those communities and those people who aren't going to walk through an open door that needing to someone to hold their hand and bring them through that door.

Marsha

Culturally appropriate services. For borderline personality disorder, it's usually Caucasian females that get a diagnosis. Well, what about everyone else? What's happening with them? And so, for me, the works at the NHS Confed around social injustices in that is something that I'm really looking forward to being part of.

Matthew

And then finally, Marsha, as I said, I'm delighted and I'm proud that you're the vice chair of our mental health network. How are you going to use that role Marsha? What difference do you hope to make, not just a mental health network, but to the Confederation as a whole?

Marsha

I'd like people to see the person and not just the chaos in front of them that is BPD. I know that sounds daft, but years ago people used to run away from me. I joke that psychiatrists and that used to hate seeing me and that. But I'm just a human being and I want everyone else to get the same support that I did get.

Matthew

Well, thanks, Marsha. You know, I see you as an immense asset for the organisation. So, you know, in as much as part of what we've got to do here is stop thinking about people as being passive or being victims or simply as it were, kind of drain on resources and understand that everybody has got assets and that indeed some of the people who've got the biggest challenges are the strongest people with the greatest assets because they've had to fight and they've learnt really important lessons along the way.

Marsha, thank you for joining me for this interview and I'm really looking forward to working with you in the future.

Marsha

Thank you, Matthew.