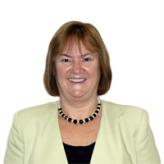 Dame Gill Morgan
Gill joins us in July 2021 as chair of the recently established ICS Network Advisorate.
Gill is the independent chair of Gloucestershire Integrated Care System, one of the smaller systems and part of the first ICS cohort established. 

Gill is well-known to many in the health world. A qualified doctor, she worked in both hospitals and general practice before becoming director of public health in Leicestershire. From there, she became chief executive of North and East Devon Health Authority and subsequently chief executive of the NHS Confederation. In this role, she worked closely with ministers, policy makers and the media. Her final executive role was as permanent secretary to the Welsh Government.  

After retiring from there, she chaired NHS Providers for six years. In addition, she has chaired and been a trustee of a number of charities, most recently the Lloyds Bank Foundation of England and Wales, and NHS Charities Together.