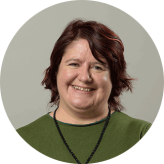 Claudine Weeks
A member of the External Affairs team, Claudine supports communications for the ICS Network, NHSCC network and across the organisation. 
She previously worked for Healthwatch, leading on communications and engagement programmes for a group of nine different Healthwatch organisations across the south coast, looking after all their patient and public engagement work.
Claudine has had a varied career, starting out as a newspaper reporter before moving into media relations for the emergency services in the West Midlands. She then moved into wider communications within the health industry and has worked both within NHS Trusts and for marketing agencies dealing with global pharmaceutical companies.