News
Support Equality, Diversity and Human Rights Week 2023
A national campaign for health and care organisations to highlight their work to create a more inclusive NHS for patients and staff.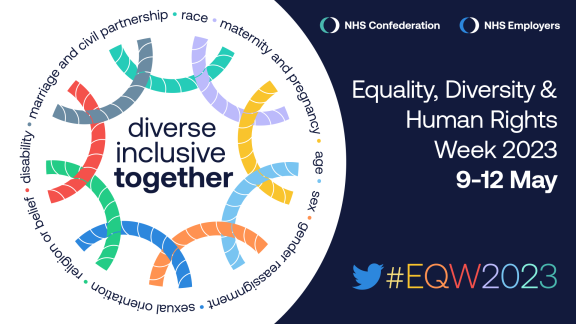 Now in its eleventh year, Equality, Diversity, and Human Rights Week (EQW2023) takes place from 9–12 May 2023. 
EQW2023 provides an opportunity to recognise the contributions of diverse staff and their unique perspectives, enabling organisations across the NHS to deliver better patient outcomes and improved staff experiences.
The campaign links to the NHS Confederation's EDI strategy, and provides a platform to drive forward the EDI agenda, reinforcing the importance of creating an environment of trust, understanding and respect for all individuals, regardless of their identity or background. 
Ensuring our working environments have an inclusive culture, will in turn, improve retention and help the NHS attract more talent.
Joan Saddler OBE, Director of Partnerships and Equality, NHS Confederation said:
"Can we imagine a world where tackling inequality no longer features?
The NHS was created in 1948 in order to tackle stark inequality and it will continue to do so. Supporting our workforce and also carers, children and young people, women and the wide range of groups, both within and wider than those outlined within the 2010 Equality Act 2010, ensures the NHS continues to deliver the high-quality care we all fund and expect.
During and also after Equality, Diversity and Human Rights Week, lets highlight and not denigrate those who tackle inequality, as they continue to do so for the next 75 years."
What's happening during the week
The themes for the week are: 
•    Tuesday 9 May - Inclusive recruitment
•    Wednesday 10 May - Psychological and physical safety of staff
•    Thursday 11 May - Pay gaps
•    Friday 12 May - Health inequalities
The NHS Employers' Diversity and Inclusion team are hosting a webinar on the psychological safety of staff in the NHS and also a tweet chat on reducing pay gaps and disparities across the NHS. 
Find out more information and join us in celebrating diversity, inclusion, and equality in healthcare. 
Follow @NHSE_Diversity on Twitter and use hashtag #EQW2023.