News
Political consensus on urgent need to better fund and fix social care, poll reveals
Nine out of ten MPs say that local government does not have enough resource to meet the growing need for social care services.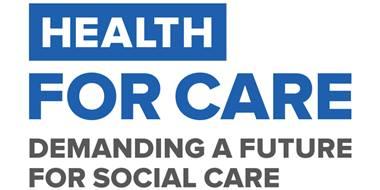 Nine out of ten MPs say that local government does not have enough resource to meet the growing need for social care services and three in five believe that the social care budget should be raised by £7 billion a year over the next two years. 
These are among the key findings of a major poll of politicians from across the political spectrum carried out by YouGov on behalf of the Health for Care coalition which shows a broad consensus, driven by the tragedy of the pandemic, on the pressing need for widespread social care reform.
Health for Care – a coalition of 15 national health organisations, led by the NHS Confederation – warns that the social care system needs urgent and radical reform and significant investment and is calling on the Government to rapidly deliver on its manifesto pledge to transform the struggling sector.
As the Chancellor of the Exchequer Rishi Sunak prepares to set out his budgetary statement on 3 March 2021, the findings of a survey of nearly 100 MPs and over 500 English councillors highlight the pressing need for a long-term funding strategy and swift transformation in social care.
They show strong support for a long-term financial and workforce plan for the sector and for a funding settlement of an additional £7 billion a year by 2023- 2024, as recommended by the Health and Social Care Select Committee in October.
Other key findings show:
over three quarters of MPs believe the budget for social care should be raised. This included almost two thirds who believed that it should be increased by £7 billion a year and almost a quarter who believed the increase should be more than this.  
a third of Conservative MPs and nearly three quarters of Conservative councillors believe the social care budget should be raised by £7bn or more to plug the funding gap.
three quarters of Conservative councillors, and almost half of all MPs think that social care should be funded by a new collective funding mechanism.
The survey reveals a strong political consensus on the need for adult social care reform in England which spans party divides and both national and local government.
The COVID-19 pandemic has served to highlight once again the important interlinked relationship between health and social care, which has left both struggling to cope. Without a comprehensive and properly funded long-term plan for the sector this important infrastructure is in peril.
1.4 million older people are currently estimated to have an unmet need for social care, yet despite this there have been dramatic falls in spending on social care in England, with figures showing a 12 per cent decrease per person over the decade to 2018/19.  
It is now imperative that the Government lays out a new plan for social care, which addresses the complex problems it faces including severe underfunding; an overstretched and under-valued workforce; a fragile provider sector; extensive unmet need; a lack of clarity about the cost of care; and a complex system to navigate.
Danny Mortimer, chair of the coalition and chief executive of the NHS Confederation, said: "Decades of delay and inertia have left the social care system chronically underfunded and in desperate need of reform.
"As we slowly and cautiously ease out of the COVID emergency we cannot delay this a moment longer. It is clear that the tragedy of Covid-19 has helped to cement a consensus in both parliament and local government that urgent action is needed to fix social care. There is also clear cross-party support for additional resources for the sector and the need long term financial and workforce plan.
"The NHS and social care work side by side, when one service does not work, the other suffers, and the pandemic has served to shine a stark light on how fragile and severely under-resourced the country's social care system has become.
"We are now calling on the Government to commit to deliver both significant investment and concrete legislative proposals which give social care the future facing reform it so badly needs." 
Commenting on the findings, Neil Tester, director of The Richmond Group of national health and care charities, said: "It's heartening that local and national elected politicians, across party divides, recognise the scale and the long-term nature of the investment people demand to see being made in the essential social care support they need to live their lives, including the vital staff who deliver it.
"The Government must now heed that message without delay and deliver real strategic reforms to fix social care."
Professor Helen Stokes-Lampard, chair of the Academy of Medical Royal Colleges, said: "It is really encouraging to see the widespread support for better resourcing for social care from MPs and councillors from all parties. Medical Royal Colleges all recognise that the social care system needs long term reform and adequate funding both for its own sake and for the sake of the NHS. For the NHS to function effectively it is essential that Social care is also functioning effectively in parallel." 
Miriam Deakin, director of policy and strategy at NHS Providers, said: "These poll findings show cross party support from local politicians to place social care on a sustainable footing, which is really encouraging to see.
"COVID-19 has highlighted just how underfunded the social care sector has been for too long, despite this government's pledges for reform.
"The NHS and social care are two sides of the same coin. The NHS relies on a stable social care system to help people remain well and independent. We look forward to the proposals government has committed to bring forward on social care later this year."
Dr Jennifer Burns, President of the British Geriatrics Society, said: "It is heartening to see that councillors and MPs from across the political divide regard social care as a political priority and agree that significant public funds should be committed to it. We look forward to these MPs and councillors applying pressure on the Government to fulfil its promise to reform social care in the very near future."
Nick Kirby, managing director of the Shelford Group of NHS hospital trusts, said: "It is clear from these findings that there is cross party support for urgent and thorough reform of social care. Now is the time to be more ambitious than ever and look at far reaching changes that can make a real difference to people's lives."
Fredi Cavander-Attwood, policy manager at the MS Society on behalf of National Voices, said: "Despite a third of MPs agreeing that social care reform needs to be prioritised, we're still waiting to see proposals on how to fix our broken system – something we were first promised nearly four years ago. Failure to deliver these has resulted in millions of people, including many living with MS, going without the vital care and support they need to get dressed, prepare meals and leave their homes.
"People are desperate, and the Government must urgently provide a sustainable funding solution to create a social care system that works for everyone. Without this, more strain will be put on the already over-stretched NHS, and those who rely on social care will remain barely an afterthought."
Fiona Carragher, director of research and influencing at Alzheimer's Society, said: "People with dementia deserve the right to good quality and affordable care - the coronavirus pandemic has exposed just how threadbare and broken our social care system is, at a time when families needed to rely on it most to care for their loved ones. We support the Health for Care Coalition in calling for urgent, comprehensive social care reform. We need a system fit for purpose and free at point of use, like the NHS and education, providing quality care for every person with dementia who needs it."
Dr Jonathan Steel, Royal College of Physicians' lead fellow for social care, said: "It is encouraging that the majority of MPs think a long-term financial plan should be one of several priorities for the social care sector. There are many things we need to do to fix social care, but it all needs to be underpinned by a sustainable funding settlement to be effective.
"The recent white paper on NHS reform which sets out how new legislation will hopefully enable more integrated care and services is welcome, although the lack of a proper plan for social care was noticeable. We look forward to the government publishing its social care reform proposals later this year.
"The Chancellor's Budget next month needs to deliver a significant funding increase for social care to get people the support they need and create a service we can all be proud of."
Rachel Power, chief executive of the Patients Association, said: "It's a profound unfairness that patients with an illness that can benefit from medical treatment get it free on the NHS, while those who can only be helped through day-to-day support have to battle with the complex and expensive social care system. As we look ahead to a life after lockdown, there can be no possible excuse for not ending this injustice, and finally resolving the drawn-out crisis in social care, as the Prime Minister promised nearly two years ago."
Lou Patten, CEO of NHS Clinical Commissioners, said: "The pandemic has thrown into sharp focus the gaping holes in our social care system, to the detriment of our most vulnerable people. Our social care colleagues are doing their best with the resources they have available, but after years of underfunding the NHS is left to pick up the slack at a time when our health services are most under pressure.
"For too long the Government has dragged its heels on this issue, despite the Prime Minister's pledge to 'fix the crisis in social care once and for all'. We cannot wait any longer. Now is the time for the government to take bold action, providing short-term funding to plug the immediate gaps, and setting out comprehensive proposals for a social care system that is sustainable in the long term and delivers for those who need it."
The NHS Confederation, on behalf of the Health for Care coalition, will publish a report setting out the full polling data findings later this week.