News
NHS leaders urge mask wearing to continue to be legal requirement in health and care settings
Healthcare leaders are urging the government to be clear with the public about where and when to wear a face masks.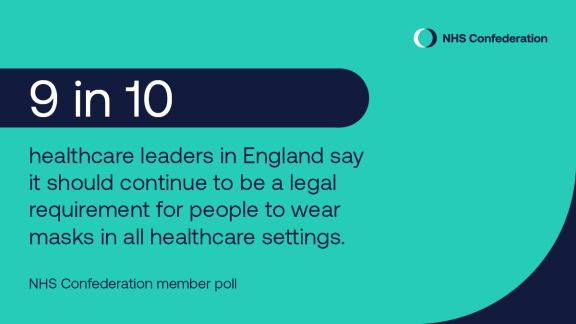 Healthcare leaders are urging the government to be clear with the public about where and when to wear a face masks and to ensure that it continues to be a requirement in hospitals, GP practices, ambulances and other health and care settings.
As the government promises to publish 'clear and strong guidance' on mask wearing, 9 in 10 healthcare leaders in England polled by the NHS Confederation, which represents organisations across the health service, say it should continue to be a legal requirement for people to wear masks in all healthcare settings.
If the guidance is too opaque or does not go far enough then stronger measures may also be needed to ensure people continue to don a face covering every time they visit their GP, go to into hospital or see a healthcare professional in other setting.
Matthew Taylor, chief executive of the NHS Confederation, said: "COVID-19 has not gone away and although the vaccine is helping to reduce the severity and impact of the disease, we really do have to continue to be careful and try to protect ourselves and each other. 
"We know that face masks are proven to reduce the spread of COVID-19 which is why the overwhelming majority of our members are urging the government to be crystal clear with the public and say that it is a mandatory requirement to wear a face mask in all healthcare settings.  NHS leaders are very concerned that unless the message is simple and unambiguous people may get confused and make their own rules which could put others at risk."
One NHS manager said: "Wearing a mask is a small gesture but an important one as it dramatically reduces cross infection and will protect those still vulnerable."
Another added: "It's a small ask for potentially very large gain in keeping COVID-19 transmission rates lower and keeping our patients and health and care staff as safe as possible."
"If the public are not clear on when they should wear a mask and choose not to this will once again lead to the even more rapid spread of infection to the most vulnerable members of the population both in the community and within healthcare settings. The point of masks is not just to protect yourself but everyone else too."
The NHS Confederation polled 3,106 members across acute, primary care, mental health, community, ambulance, integrated care systems, clinical commissioning groups and the voluntary sector in England.

484 members responded to the question: '

Do you want there to be a continued legal requirement for members of the public to wear masks in all health care settings?'

433 (89.46%) responded yes, 49 (10.12%) responded no, 2 (0.41%) responded don't know.