Press release
Lack of capital funding risking patient safety and impeding waiting list recovery: new poll of NHS leaders
Our latest member flash poll shows 9 in 10 health leaders say reducing waiting lists is being hindered by a decade long lack of investment.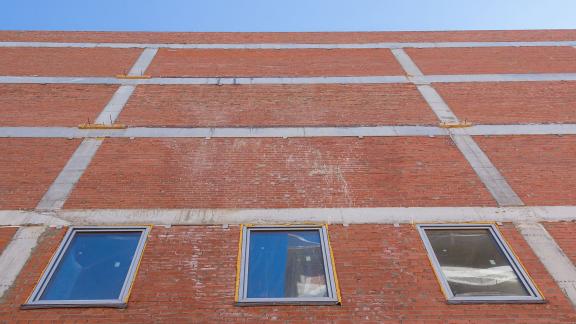 Nine in 10 NHS leaders say their efforts to reduce the size of the waiting list are being hindered by a decade long lack of investment in buildings and estate. 
Two thirds say they do not have enough capital funding to meet 'digital ambitions' including rolling out electronic patient records. 
Nine in 10 say they cannot transform patient services to meet current NHS England Long Term Plan targets without further capital. 
NHS leaders warn of ageing buildings, run-down estate and outdated computer systems which are risking patient safety.  
Patient safety, as well as the NHS' ability to drive down waiting lists and hit performance targets, is being severely hampered because the NHS has been plagued by one of the worst records for capital investment in the OECD over the past decade.  In a new poll published today, NHS leaders say they do not have the capital funding they need to renovate and repurpose old and sometimes extremely dilapidated buildings and estates. 
 
Nearly nine in 10 NHS leaders responding to the NHS Confederation survey warn that an insufficient capital settlement is impacting on their ability to meet safety requirements for patients in hospitals and ambulances, as well as in community, mental health, GP practices and other primary care settings. 
 
They are urging the Government to provide quicker access to the capital funding that has already been pledged by ministers, as well as investing further in the Autumn Budget. Unless they do, NHS leaders warn that the chances of reducing the elective care backlog will be impeded.  
 
NHS organisations across the country warn that they urgently need to make vital upgrades to ageing buildings or change the use of often very run-down estate, transport fleets and computers and telephone systems to meet demand. 
 
Although the NHS received increases in capital funding last year in the Government's autumn spending review, this falls short of what is required to stem the tide of the lack of investment in the NHS' physical infrastructure over the last decade.
And NHS leaders who are in line for extra capital funding describe how they continue to struggle to access the funding. Over the ten years to 2020, capital spending in the NHS has been around half that of other OECD countries.  
They also sound the alarm over their lack of ability to meet the Government's ambitious targets to reduce the elective care backlog which they say is hampered by the £9.2bn maintenance bill that's built up over the past decade.  
NHS leaders describe in stark terms the consequences of this lack of capital investment. 
 
A provider trust chair in London said that a dearth of sufficient funding to repair their estate meant their organisation was constantly having to juggle essential maintenance and repair. 
"The standard of much of our office accommodation and IT is miles behind the rest of the economy, we have constant problems with blocked toilets and our changing rooms and rest areas for staff are cramped and lack privacy. We are also not building up our capacity to deal with waiting lists, and the conditions for patients in some wards and clinics are not fit for purpose." 
 
One primary care network clinical director in the Southeast said:  
"We're working in a 1950s tin roof health centre servicing 34,000 patients with no ability to provide fit for purpose 21st century healthcare. Our ability to meet patient expectations and political promises is impossible unless significant investment in infrastructure is made.  
 
"It is like promising the public a safe effective modern car and when they go to collect it, they find a 1970s Ford Escort, with rusting roof, wheezy engine, designed to take four people, but being required to carry ten, and with no one to service it or drive it." 
 
And a non-executive director in a mental health trust in the Southwest warned that their organisation was "unable to properly build on investment to date in electronic patient record systems" because of the lack of capital to upgrade the IT network and Wi-Fi infrastructure.  
 
"This will mean continuing frustration for colleagues and patients as our working practices are forced to remain in the last century," they added.  
 
Leaders also described a disjointed and confusing capital application system, with more than eight in 10 admitting that they do not have the capital funding they need to provide services in the most efficient ways or to increase productivity. 
 
An ICS leader in the North of England said that delays to a hospital rebuilding programme meant that staff were having to work in "appalling conditions" and that the system was facing a "very large bill for propping up" a dilapidated hospital.  
 
They also warned of the effect of surging inflation on building programmes. "We urgently need to build two elective units for elective recovery and beyond but building cost inflation now means we cannot do this for less than £20m and that puts us into a protracted Treasury approval process." 
 
Matthew Taylor, chief executive of the NHS Confederation, said: 
 
"NHS leaders share the Government's commitment to further boosting NHS efficiency and productivity and are doing all they can to tackle the care backlog that has built up in recent years, but they are being held back in their efforts by a lack of capital funding which is now a major barrier.
"The huge gulf in the NHS' capital budget combined with a decade long underinvestment in estate, infrastructure and IT systems has left the NHS with run-down buildings, a major maintenance backlog and limited potential for maximising the use of digital technology.  
 
"The Government needs to urgently unlock the capital funding that has already been promised so that work can finally begin up and down the country on new builds as well as addressing the maintenance backlog. The Government then needs to revisit capital funding in the Autumn budget to address the shortfall that has been created. We should be ahead of the pack when it comes to the amount we invest in capital compared to other OECD countries rather than lagging behind as we currently are.  
 
"Failure to do this will mean patient treatment targets being missed, the waiting list backlog growing even larger and patient safety could be put at risk." 
 
Despite carrying around 105,000 staff vacancies at the last count, the NHS leaders polled questioned how they would house the additional staff they so desperately need without being able to expand and build their estates or access the cash to pay for the equipment extra staff need to do their jobs properly.    
This is particularly true in primary care where managers repeatedly warn that they have no additional space on their sites to accommodate new GPs and other additional clinical primary care staff.  
Some NHS leaders surveyed also warned that despite being part of the Government's flagship new hospitals programme they had seen no practical benefit from involvement instead being forced to maintain hospital sites which they described as "short-term wasting assets, with massive backlog maintenance issues." 
 
The poll was carried out by the NHS Confederation between Tuesday 7 and Friday 10 June 2022, covering health leaders across NHS acute, mental health, community and ambulance service trusts, primary care, and integrated care systems in England. 182 NHS leaders took part. 
About us
We are the membership organisation that brings together, supports and speaks for the whole healthcare system in England, Wales and Northern Ireland. The members we represent employ 1.5 million staff, care for more than 1 million patients a day and control £150 billion of public expenditure. We promote collaboration and partnership working as the key to improving population health, delivering high-quality care and reducing health inequalities.