News
Cutting discharge funding is a missed opportunity
Community Network chair Andrew Ridley responds to NHS England and NHS Improvement's planning guidance.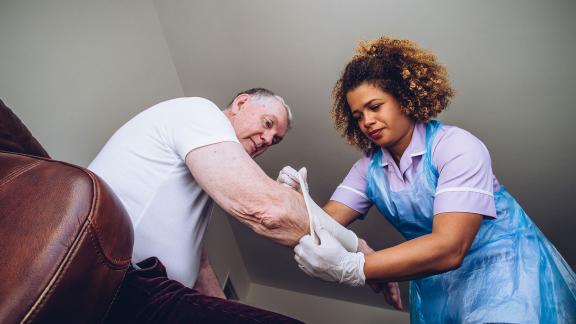 Planning guidance published by NHS England and NHS Improvement provides welcome clarity for the service for the remainder of this financial year, but confirms there will not be central funding for the Discharge to Assess scheme beyond 2021/2022 onwards.
The scheme enables people to leave hospital as soon as they are medically fit by guaranteeing a period of care support in the home or community settings, funded centrally. Spending less time in a hospital bed is better for patient outcomes and supports the flow of patients through the health and care system.
During the first COVID-19 wave, Discharge to Assess freed up 30,000 hospital beds, delivered a 28 per cent reduction in patients staying in hospital over 21 days and led to £451 million of acute bed savings and freed up more than 6,000 staff, including nearly 4,000 trained nurses.
The Community Network, which is hosted by the NHS Confederation and NHS Providers, has strongly made the case for this funding to be continued, including publishing a briefing and writing to the Chancellor and the Health Secretary.
Andrew Ridley, chair of the Community Network, which is hosted by NHS Providers and the NHS Confederation, said:
"The recent investment in the NHS by the government was welcome, as was confirmation that £478m dedicated funding for discharge to assess would be provided for the second half of this financial year. We made the case for this with a coalition of partners including social care and patient organisations. The fact it will no longer be centrally funded beyond the end of March 2022 is however a missed opportunity.
"Without dedicated central funding, system partners may struggle to maintain the processes they have put in place. In a worst case scenario, we risk returning to unnecessary bureaucratic local negotiations for each patient as they are left waiting in a hospital bed. It is also unclear whether the current Better Care Fund alone will be sufficient.
"This model is better for people and supports a more sustainable health and care system. It is telling that both health and care colleagues have called for it to be continued. It has also been exceptional value, delivering millions of pounds worth of hospital bed savings.
"A funding cliff edge in April risks significant disruption for teams and will mean more people waiting longer in hospital when they could be receiving care at home or in more suitable community settings at a time when hospital capacity is crucial given the size of the treatment backlogs."