News
36 organisations endorse new joint paper calling on the next Welsh Government to show national leadership on ending inequalities
With just a week to go before the Senedd election, 36 organisations from across health, social care, transport, & housing have signed up.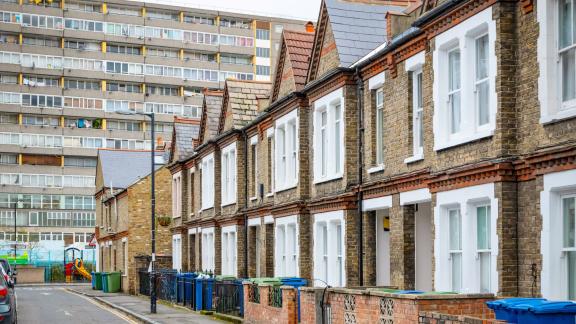 For some, the consequences of COVID-19 have been absolutely devastating
With just one week to go before the Senedd election, 36 organisations from across health, social care, transport, and housing have signed up to a joint paper which calls for urgent Welsh Government action on health inequalities.
The incredible hardship inflicted by the COVID-19 pandemic has not been equally felt by individuals, families, and communities across Wales. For some, the consequences have been devastating.
Endorsed by organisations from across the third sector, including the Academy of Medical Royal Colleges in Wales, Shelter Cymru, the British Medical Association, Community Housing Cymru, Sustrans Cymru, Macmillan Cancer Support, and the British Red Cross, the paper calls on the next Welsh Government to:
publish an ambitious cross-government strategy and delivery plan to tackle inequalities
invest in long-term prevention across all sectors, especially housing, education, health, energy, and transport
work in partnership with people and communities to change lives for the better.
This paper follows an open letter to the First Minister and Senedd opposition party leaders in February 2021, calling for a cross-government strategy on health inequalities. In reply, the Welsh Government acknowledged that 'health inequalities arise as a result of the social and economic inequalities that shape the conditions in which people are born, grow, live, learn, work and age … the impact of healthcare on health inequalities is relatively small' (25 March 2021).
It is time to build on the Health in All Policies approach with a cross-government strategy.
Dr Olwen Williams, Royal College of Physicians vice president for Wales said:
"As doctors, we're seeing first-hand the impact of unfair and avoidable differences in health and wellbeing between different groups of people. It's not at all surprising that when a pandemic piled pressure onto our health system, the people who suffered the most were those who were already struggling.  Tackling the social causes of health inequalities has never been more urgent: this is not an issue to be addressed once the pandemic is behind us."
Stuart Ropke, chief executive of Community Housing Cymru said:
"The Covid-19 pandemic has exacerbated existing inequalities in our communities, and made clear how important a warm, safe home is to our health and wellbeing. Poor housing currently costs the NHS in Wales more than £95m per year in treatment costs. Investing in homes that are adaptable, connected, warm and safe will make a massive difference to helping people stay well and remain independent in their own homes for as long as possible.  To urgently respond to the scale of health inequalities in Wales, the next Welsh Government has a vital role to coordinate action from all partners who can help tackle the root causes of poor health. Housing Associations stand ready to play their full part."
Professor Peter Saul, joint-chair of the Royal College of General Practitioners Cymru Wales said:
"There are lots of ideas to tackle the inequality of health outcomes that blight the life chances of so many. To harness these ideas, we need a strategy that unites different policy remits and is answerable in political terms to the First Minister, and in community terms to the very people it is seeking to help. I think this policy paper helps us to bring people together behind that vision and can put Wales at the forefront of efforts to tackle health inequality in the first year of the new Welsh Government."
Darren Hughes, director of the Welsh NHS Confederation, said:
"The COVID-19 pandemic has brought the issue of health inequalities into sharp focus and exposed the harsh realities of this deep-rooted and multi-faceted problem. NHS leaders from across Wales are determined to reduce avoidable and unfair differences in health outcomes, working closely across sectors and political boundaries to address shared challenges and focus on wellbeing, prevention, and early intervention. As an anchor organisation employing around 100,000 people, NHS bodies have a positive influence on the economy and the health and wellbeing of communities across Wales.  Everything we do must make a material difference at a local level to reduce the impacts of wider determinants of health. However, as we know, the NHS alone doesn't have the levers to make the vital changes needed and all organisations and sectors across Wales must come together to create the conditions necessary for good health and wellbeing."
Gemma Roberts, policy and public affairs manager at British Heart Foundation Cymru said:
"Covid-19 has highlighted concerning variation in cardiac care across Wales. This, and higher rates of obesity and smoking mean that the poorest in our society have worse health outcomes when diagnosed with heart and circulatory diseases. Better prevention, detection, diagnosis and treatment for people in Wales living with these conditions is vital."
Dr David Bailey, chair of the British Medical Association's Welsh Council said:
"It is crucial that the Welsh Government takes a proactive approach to tackling the underlying inequalities which lead to unacceptable differences in life expectancy and quality of life in Wales. We know that many inequalities are avoidable and remediable and there is a moral and economic case for them to be addressed without delay."
Ann Tate, chief executive of Cancer Research Wales said:
"At their most extreme, inequalities determine people's chances of cancer survival – an unacceptable outcome in a modern, relatively prosperous country. Overcoming cancer inequalities is a core aim of Cancer Research Wales, underpinning research we fund and support. We want this paper to inform and influence the post-election landscape in Wales. A strategic response to health inequalities acknowledges the scale of the problem we face: it prioritises clear collective government action and set us on a path towards more positive outcomes for the people of Wales."
Deborah Shaffer, founder of Fair Treatment for the Women of Wales said:
"We are pleased to support a cross-government approach to tackling health inequalities. Citizen and service-user voices are key to effective prevention and early intervention."
Lowri Griffiths, head of policy and public affairs, Marie Curie (Wales) said:
"One of our priorities going forward at Marie Curie is eliminating inequities in palliative and end of life care. Unfortunately, we still see instances where people and their loved ones are not receiving the best possible experience in their final days. There is only one chance to get it right and we need to do better.  We're extremely pleased to have been a part of this collaborative initiative and hope to see the next Welsh Government recognise the significance of the challenges we have highlighted, not only in end of life care, but across health and social care as a whole."
Elen Jones, director for Wales at the Royal Pharmaceutical Society said:
"We are pleased to be standing alongside colleagues from other organisations and sectors to call on the next Welsh Government to commit to action to tackle health inequalities. Collective action based on a solid understanding of the wider determinants of health and backed by national leadership and investment in prevention is now critical in Wales. We look forward to working with the next Welsh Government and other colleagues to ensure pharmacy can maximise its contribution to this important work."
Lynne Hughes, director of MS Society Cymru said:
"Prior to COVID-19, many people living with MS in Wales already faced inequality in access to emotional, social care and rehabilitation support and this corresponded directly to income, education and employment status. Access to services helps people living with MS manage their condition; identify early signs of complications; and put in place prevention strategies to avoid unscheduled hospital admissions. By preventing relapses and disability progression, people living with MS should be able to take greater control of their condition and their lives, improving physical, economic, emotional, and social outcomes. The next Welsh Government must take significant steps to end the inequality in access to vital support services and commit to addressing the poverty and hardship that people living with MS face."
Rhiannon Williams RD, deputy chair of the British Dietetic Association Wales Board said:
"We need urgent action on health inequalities, including a co-ordinated, sustained focus on food and reducing diet inequality. Too many people in Wales continue to find it difficult to access a healthy and nutritious diet, with conditions such as obesity, malnutrition and diabetes much more prevalent amongst poorer and more vulnerable communities. Equal access to dietetic services to support people to improve their diet and manage their weight is needed, across the country, from prevention through to specialist clinical services. The next Welsh Government must make health equality a core focus of the next term."