Conference
Women in Leadership: Turning Intent into Action
Bookings are now open for our Health and Care Women Leaders Network annual conference, on 1 November in Leeds.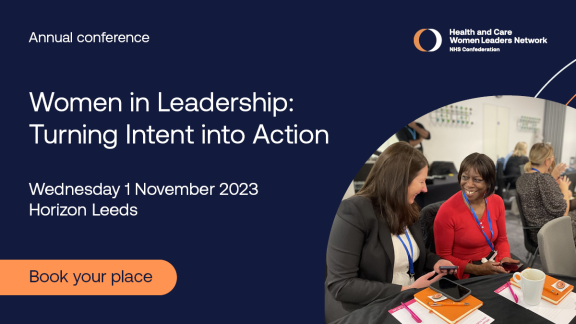 Delivered by the NHS Confederation's Health and Care Women Leaders Network. 
Join us on Wednesday, 1 November in Leeds for the network's seventh annual conference. The event will be hosted by our network chair, Samantha Allen, chief executive of North East and North Cumbria Integrated Care Board (ICB). Everyone is welcome.
The conference this year will focus on supporting delegates' personal and professional development and provide space for learning and networking. The programme will look at work underway within the sector and the network to progress gender equality, with a focus on women's safety, women's health, turning intent into action and channelling your inner activist. 
On the day, delegates will participate in an interactive programme including opportunities for networking, learning and development. You will listen to inspirational speakers sharing stories and join lively debates and discussions on the issues currently challenging our sector and beyond, including closing the gender health gap and improving women's safety.
Why attend?
Over the course of the day, you will have the opportunity to:
experience a combination of keynote, breakout and panel sessions
gather tools and advice to guide you on the next step of your leadership journey
gain inspiration and motivation from leaders, aspiring leaders and experts
connect with other senior and aspiring leaders, both male and female, working in health and care settings.
An opportunity to network with fellow delegates and establish connections while gaining insights from a range of exhibitors.

Samantha Allen, Chair, Health and Care Women Leaders Network

Dr. Jacqui Dyer's Story: Transforming Intent into Action

Join this conversation with Cllr Dr. Jacqui Dyer MBE, as she shares her extraordinary journey of turning intent into impactful action. Explore insights, personal experiences, and invaluable lessons that have paved her way to becoming a prominent advocate for mental health equality.

Dr. Jacqui Dyer MBE, Honorary Fellow, King's College London, and Independent Consultant in Health and Social Care

There is a pressing need to ensure the safety of women in health and care in order to foster a secure, productive, and diverse workforce while ensuring high-quality patient care. In this session, listen to Sam and guests discuss both challenges and practical solutions to create a supportive and safe environment for women in health and care.

Chair:

Samantha Allen, Chair, Health and Care Women Leaders Network

Guests:

Dr Chelcie Jewitt, Co-founder, Surviving in Scrubs 

Dr Becky Cox, Co-founder, Surviving in Scrubs 

Kate Jarman, Co-founder, Flex NHS

Professor Scarlett McNally, 

President, Medical Women's Federation

 

1. 

NHS Confederation's Health and Care LGBTQ+ Leaders Network on Allyship

Explore the importance of allyship and access practical strategies to support and advocate for LGBTQ+ colleagues, to foster a more inclusive healthcare environment.

Peter Molyneux, Chair, Sussex Partnership NHS Foundation Trust

2. Reducing Gender Inequalities for Parents and the Role of Fatherhood Forfeit 

This interactive session explores the concept of the 'fatherhood forfeit' and how this impacts opportunities for women. Dr Jasmine Kelland will share her research, which sheds light on the importance of redefining traditional gender roles and advocating for equitable parenting responsibilities.

Jasmine Kelland, Lecturer in Human Resource Management and a Programme Leader at the University of Plymouth.

3. Activism Without Dimming Your Ambition

How do you balance your desire to create change in your career ambitions? Can you have both? In this session, hear how United Lincolnshire Hospitals Women's Network has successfully struck that balance and gain practical insights on developing and expanding a successful network without compromising your personal goals. Get tips on starting a new network, refreshing an existing one, or changing its direction to find success, both personally and professionally. 

Sally Robinson, Chair of the Womens Staff Network and Head of Strategy & Best Practice at United Lincolnshire Hospitals. 

No One is Coming to Save You: How I became a Social Justice Leader - Activating Your Inner Change Agent

Session outline coming soon.

Christiana Melam, Chief Executive, National Association of Link Workers

1. Building a Culture of Wellbeing

Workforce is one of the biggest strategic risks for NHS trusts. People matter: we can do nothing without them. We need to support people to look after themselves, physically, mentally, and financially. Join this session to hear more about Leeds and York Partnership Foundation NHS Trust's People Plan and how this has effectively supported staff after crisis, critical incidents and the cost of living. Learn from their journey and gain practical insights to deliver change in your own organisation.  

Dr Frances Dodd, Associate Director of People Experience, Leeds and York Partnership NHS Foundation Trust

2. 

Session 2

Session outline coming soon.

3. 

Success is a Journey: You Have to Start Somewhere, and Why Not Start Now.

Career pathways can sometimes appear unclear, overwhelming, and challenging to navigate. In this session, Leah, an aspiring leader in the NHS, shares her career journey and the factors that contributed to her leadership journey. She will discuss the common tendency to wait for the perfect time to make career moves, unintentionally creating barriers, and will offer practical advice on navigating your career and development to help you reach your goals. 

Leah Kline, Senior Programme Manager, Health Education England

Join Sam and a panel of CEOs as they discuss their unique career journeys, personal stories, insights and reflections. Together, they will shed light on how they have overcome challenges and the key decisions that led them to their current positions. 

Chair:

Samantha Allen, Chair, Health and Care Women Leaders Network

Guests:

Foluke Ajayi, Chief Executive, Airedale NHS Foundation Trust 

Trudie Davies, Chief Executive, Gateshead Health NHS Foundation Trust

Join this conversation, reflecting on insights learned from the day, and share how you plan to turn intentions into tangible actions.

Conversation lead:

Samantha Allen, Chair, Health and Care Women Leaders Network
Tracie Jolliff, Deputy Chair, Health and Care Women Leaders Network

Samantha Allen, Chair, Health and Care Women Leaders Network
Pricing
The price to attend is £200 + VAT.
In previous years many of our network members, particularly our aspiring leaders, have needed to self-fund to attend the event. To make it easier for colleagues to join us at conference, we have a significantly reduced delegate rate for those in band 8a and below of £100 + VAT. If you qualify for this reduced rate and would like to register for your place at the conference, please email us at women.leaders@nhsconfed.org.
We do have a limit on the number of places available. Delegates will be offered a discounted place  on a first-come first-served basis.
Sponsor and exhibitor opportunities  
If your organisation would like to sponsor or exhibit at our conference, please contact Ross Edwards for more information.