Event
NHS Communicate Awards 2022
Recognising the achievements of communicators across the NHS and celebrate innovation in the sector.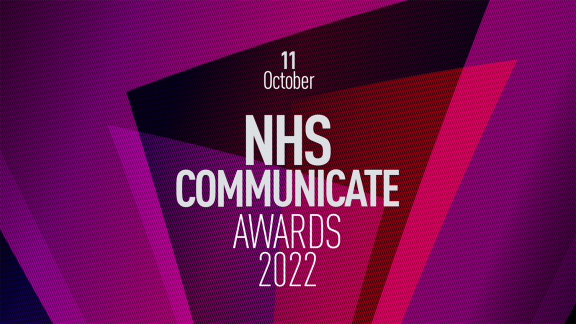 The NHS Communicate Awards took place on the evening of Tuesday 11 October 2022 and was an opportunity to celebrate the brilliant work of individuals and teams working in NHS communications.
The second of these annual awards, this event focused on how communicators in the health sector have demonstrated extraordinary resilience in the face of unprecedented challenges, and how they have been at the forefront of efforts to support and guide colleagues, patients and communities through the pandemic.
The NHS Communicate Awards recognise the achievements of communicators across the NHS and celebrate innovation in the sector and will celebrate teams and individuals who have delivered highly effective communications, to support delivery at a local, regional and national level.
Head to the awards website for more information on the categories.
The 2022 winners for each category on the evening were:
Best Behaviour Change or Public Health Campaign: #Don'tMissYourVaccine – NHS South East London CCG
Outstanding Contribution to NHS Communications: Anna Shaw, Derbyshire Healthcare NHS Foundation Trust
Use of Insight and Data in Communications: A Change of Heart - Newcastle upon Tyne Hospitals NHS Foundation Trust
Board Commitment: Wrightington, Wigan and Leigh Teaching Hospitals NHS Foundation Trust
Best Use of Digital Communications and Engagement: Increasing pharmacy use through our targeted foot-fall tracking campaign - South West London Health and Care Partnership
Promoting Diversity and Inclusion in Communications: Stop, Challenge, Change - Birmingham Women's and Children's NHS Foundation Trust
Communications Team Health and Wellbeing: Queen Elizabeth Hospital King's Lynn NHS Foundation Trust
Working in Partnership: Outrun an Ambulance collaborative charity campaign
Internal Communications and Staff Engagement: Salisbury NHS Foundation Trust
Best NHS Charity Campaign: Buy Addenbrooke's A Robot Campaign - Addenbrooke's Charitable Trust
Rising Star category:

Brad Grant – Southport and Ormskirk Hospital NHS Trust
Dannielle Houston – South West Yorkshire Partnership NHS Foundation Trust
Megan Crank – Wrightington, Wigan and Leigh NHS Foundation Trust
Sam Puleston – North East London NHS Foundation Trust
Sophie DiMauro – Bradford District and Craven, reducing inequalities in communities programme.