Event
NHS Communicate Awards 2021
Celebrating teams and individuals who have delivered highly effective communications, to support delivery at a local, regional and national level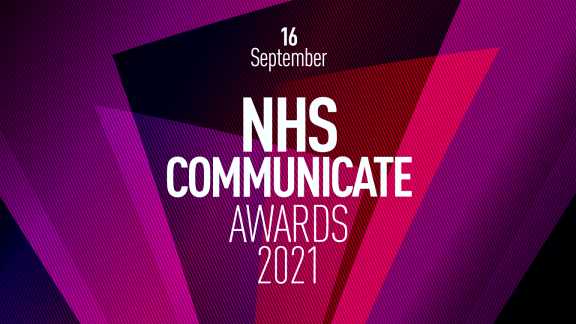 Celebrating excellence in health communications
In responding to the coronavirus crisis, the health sector has demonstrated extraordinary resilience in the face of unprecedented challenges. NHS communicators have been at the forefront of efforts to support and guide colleagues, patients and communities through the pandemic and we want to celebrate your hard work.
These brand new awards celebrate teams and individuals who have delivered highly effective communications, to support delivery at a local, regional and national level.
The NHS Communicate Awards, run by the NHS Confederation and NHS Providers, in association with The Centre for Health Communications Research (CHCR), are designed to recognise the achievements of communicators across the NHS and celebrate innovation in the sector.
Our organisations are passionate about the strategic contribution that NHS communicators make and want to celebrate the success of the profession. That's why we've made the awards completely free to enter and attending the awards ceremony will be free too.
Why enter the awards?
Your success celebrated – have your work showcased to the health communications as an example of communications excellence and best practice within your sector.

Judged by the best – the entries are assessed by a senior judging panel that is diverse and varied. The panel is formed of experienced communications colleagues from across the a range of sectors with a proven track record of success in their field.

Winners showcased – winning the awards provides national exposure for you, your team and your organisation. All shortlisted entries will be shared across NHS Providers, NHS Confederation and CHCR's channels, while winners will be featured in the winners showcase and will receive a coveted trophy.
Who can enter?
We want to hear about communications campaigns and initiatives of all sizes and budgets.
The NHS Communicate Awards are open to colleagues from:
NHS trusts and foundation trusts
clinical commissioning groups
primary care networks and primary care federations
integrated care systems
voluntary providers of NHS-funded care
communications professionals from national bodies. 
The entries will be assessed on their impact, creativity and innovation, so whatever the scale of your initiative, we want to hear about it.
We look forward to hearing about the incredible work you've delivered, and celebrating with you at the awards ceremony, on 16 September 2021.
Discover more by looking at the award categories below.
How to apply
To enter the awards have a look at the categories below, then fill out the form and send it back to us.
Key dates
Open for entry – 13 May
Entry submission closes – 30 June
Judging takes place 30 June – middle of July
Shortlist announced – 30 July
Awards ceremony – 16 September 2021
Award categories
Best Behaviour Change or Public Health Campaign
This award recognises campaigns that have demonstrated a clear impact on behaviours or have successfully engaged on a public health issue. Entrants must include examples of the campaign and evidence of impact and evaluation.
Promoting Diversity and Inclusion in Communications
This award recognises a communications team that is demonstrably championing diversity, inclusivity and equality. Examples can include promoting diversity through recruitment and retention and engaging and communicating with diverse audiences and being able to demonstrate an impact.
Working in Partnership Award
This award recognises communications teams who have successfully worked collaboratively and in partnership with other organisations e.g. social care, local authorities, charitable and voluntary sectors and private on a successful communications and engagement project or campaign.
Best use of Digital Communications and Engagement
This category will focus on teams that have successfully used digital communications and social media in its communications and engagement. Entrants will have to demonstrate how they planned the content, set aims and objectives and have evaluated the outcomes. Entries can focus on a specific campaign or long term and routine use of digital comms and social media.
Use of Insight and Data for Innovation in Communications
This award recognises the effective use of data and insight to develop new and innovative approaches to communicating and engaging with patients, staff or key stakeholders. Entrants should demonstrate aims and objectives, evidence used to introduce new approaches and how the innovation has been deployed and evaluated.
Internal Communications and Staff Engagement
This award recognises the successful and sustained use of internal communications to engage staff, drive organisational change, or change an organisation's culture. Entries should include detail on the aims and objectives set for internal communications and how impact has been measured.
Communications Team Health and Wellbeing Award
This category recognises the contribution that communications makes to the successful implementation and delivery of health and wellbeing initiatives and programmes for staff in their organisations.
NHS Regional Rising Star Award
This category recognises talent and outstanding performance in those aged 25 and under in communications teams. There will be one award for each of the seven NHSE regions.
NHS Board Commitment to Communications
This award recognises the boards of NHS organisations who have continually demonstrated and celebrated the strategic value of communications and engagement in its organisation. Entrants must demonstrate how the board provides ongoing leadership and support for communications and champions the discipline.
Outstanding Contribution to NHS Communications Award
This award will celebrate those who have dedicated a significant part of their career to championing and furthering the development of NHS communications. Nominations will be welcomed for journalists, strategic communicators, clinicians and other NHS staff.

Enter the awards.
Sponsorship
Associate your organisation with high achieving NHS communicators. Have your brand or message visible across a variety of channels before and during the awards.
If you target the health sector for business, want to raise your profile or increase market share, then sponsorship offers an unparalleled opportunity to:
create new business opportunities
align your brand with NHS Confederation, NHS Providers and The Centre for Health Communications Research (CHCR)
build profile and raise awareness throughout the sector
demonstrate your expertise in health communications.
Find out more about how you can sponsor an award - request our sponsorship brochure from John O'Brien.