Conference
Highlights - Women in Leadership: Turning Intent into Action
The Health and Care Women Leaders Network hosted its seventh annual conference, on 1 November in Leeds.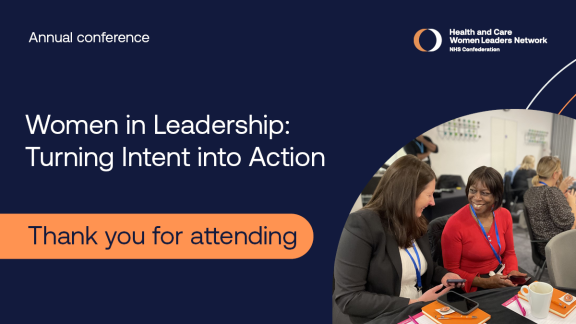 Delivered by the NHS Confederation's Health and Care Women Leaders Network. 
On Wednesday, 1 November the network hosted its seventh annual conference in Leeds. The event was hosted by our network chair, Samantha Allen, chief executive of North East and North Cumbria Integrated Care Board (ICB). Everyone is welcome.
The conference this year focused on supporting delegates' personal and professional development and provide space for learning and networking. The programme looked at work underway within the sector and the network to progress gender equality, with a focus on women's safety, women's health, turning intent into action and channelling your inner activist. 
On the day, delegates participated in an interactive programme including opportunities for networking, learning and development. Delegates heard from inspirational speakers sharing stories and join lively debates and discussions on the issues currently challenging our sector and beyond, including closing the gender health gap and improving women's safety.
Highlights from the event are available below.
An opportunity to network with fellow delegates and establish connections while gaining insights from a range of exhibitors.

Exhibitors 

The Medical Women's Federation 
The Medical Women's Federation was founded in 1917 and is today the largest and most influential body of women doctors in the UK. Our aims are to advance the personal and professional development of women in medicine, to change discriminatory attitudes and practices and to work on behalf of women patients and their families. Great advances are being made in medicine, and as the number of women doctors rise, women have an increasingly important role to play in delivering health services to patients. Women are key to society's health and wellbeing. 

NHS England
The NHS England Domestic Abuse and Sexual Violence Programme has been set up to transform the way the NHS responds to domestic abuse and sexual violence for both patients and staff. Earlier this year, NHS England launched the first-ever sexual safety charter in collaboration with key partners across the healthcare system. Signatories to the charter commit to enforcing a zero-tolerance approach to any unwanted, inappropriate and/or harmful sexual behaviours within the workplace. It is expected that signatories will implement all ten commitments by July 2024. Healthcare organisations can sign the charter on behalf of your organisation by emailing england.domesticabusesexualviolence@nhs.net.

BME Leadership Network
The NHS Confederation's BME Leadership Network exists to strengthen the voice of NHS black and minority ethnic (BME) leaders and to support NHS organisations to meet the needs of all communities. Membership is open to both BME leaders and allies. Visit BME Leadership Network to become a member. 

Health and Care LGBTQ+ Network
The NHS Confederation's Health and Care LGBTQ+ Network is a social movement of LGBTQ+ leaders, aspiring leaders and allies. Join us to connect with your peers, champion inclusion and help influence change across the health and care system. Find out more. 

Samantha Allen, Chair, Health and Care Women Leaders Network

Dr. Jacqui Dyer's Story: Transforming Intent into Action

Join this conversation with Cllr Dr. Jacqui Dyer MBE, as she shares her extraordinary journey of turning intent into impactful action. Explore insights, personal experiences, and invaluable lessons that have paved her way to becoming a prominent advocate for mental health equality.

Dr. Jacqui Dyer MBE, Honorary Fellow, King's College London, and Independent Consultant in Health and Social Care

There is a pressing need to ensure the safety of women in health and care in order to foster a secure, productive, and diverse workforce while ensuring high-quality patient care. In this session, listen to Sam and guests discuss both challenges and practical solutions to create a supportive and safe environment for women in health and care.

Chair:

Kate Jarman, Co-founder, Flex NHS

Guests:

Dr Chelcie Jewitt, Co-founder, Surviving in Scrubs 

Dr Becky Cox, Co-founder, Surviving in Scrubs 

Professor Scarlett McNally, 

President, Medical Women's Federation
Dr Nikita Kanani MBE, Director, Clinical Integration NHS England

 

1. 

NHS Confederation's Health and Care LGBTQ+ and BME Leaders Network on Allyship

Explore the importance of allyship and access practical strategies to support and advocate for your colleagues. Gather practical tools and insights on how to foster a more inclusive healthcare environment.

Safina Nadeem, EDI Director/System Lead, NHS Frimley

Dr Michael Brady, National Advisor for LGBT Health, NHS England; and Deputy Director, Patient Equalities, NHS England

2. Reducing Gender Inequalities for Parents and the Role of Fatherhood Forfeit 

This interactive session explores the concept of the 'fatherhood forfeit' and how this impacts opportunities for women. Dr Jasmine Kelland will share her research, which sheds light on the importance of redefining traditional gender roles and advocating for equitable parenting responsibilities.

Dr Jasmine Kelland, Lecturer in Human Resource Management and a Programme Leader at the University of Plymouth.

3. Activism Without Dimming Your Ambition

How do you balance your desire to create change in your career ambitions? Can you have both? In this session, hear how United Lincolnshire Hospitals Women's Network has successfully struck that balance and gain practical insights on developing and expanding a successful network without compromising your personal goals. Get tips on starting a new network, refreshing an existing one, or changing its direction to find success, both personally and professionally. 

Sally Robinson, Chair of the Womens Staff Network and Head of Strategy & Best Practice at United Lincolnshire Hospitals. 

No One is Coming to Save You: How I Became a Social Justice Leader - Activating Your Inner Change Agent

Learn from Christiana's empowering journey of self-transformation as we unlock the path to unleash your inner change agent.

Christiana Melam, Chief Executive, National Association of Link Workers

1. Building a Culture of Wellbeing

Workforce is one of the biggest strategic risks for NHS trusts. People matter: we can do nothing without them. We need to support people to look after themselves, physically, mentally, and financially. Join this session to hear more about Leeds and York Partnership Foundation NHS Trust's People Plan and how this has effectively supported staff after crisis, critical incidents and the cost of living. Learn from their journey and gain practical insights to deliver change in your own organisation.  

Dr Frances Dodd, Associate Director of People Experience, Leeds and York Partnership NHS Foundation Trust

2. 

Tackling Toxic Leadership - What Will Make the Difference

The symptoms and issues of poor leadership behaviours in the NHS are well rehearsed and versed. In this session we will be exploring the practicalities of change and what collective and individual actions could be taken to start to shift the balance and create a meaningful movement.

Carrie-Ann Wade, Director and Mentor, Cat's Pajamas
Lee Griffith, Founder, Sunday skies
 

3. 

Success is a Journey: You Have to Start Somewhere, and Why Not Start Now

Career pathways can sometimes appear unclear, overwhelming, and challenging to navigate. In this session, Leah, an aspiring leader in the NHS, shares her career journey and the factors that contributed to her leadership journey. She will discuss the common tendency to wait for the perfect time to make career moves, unintentionally creating barriers, and will offer practical advice on navigating your career and development to help you reach your goals. 

Leah Kline, Senior Programme Manager, Health Education England

Join Sam and a panel of CEOs as they discuss their unique career journeys, personal stories, insights and reflections. Together, they will shed light on how they have overcome challenges and the key decisions that led them to their current positions. 

Chair:

Samantha Allen, Chair, Health and Care Women Leaders Network

Guests:

Foluke Ajayi, Chief Executive, Airedale NHS Foundation Trust 

Trudie Davies, Chief Executive, Gateshead Health NHS Foundation Trust

Salma Yasmeen, Chief Executive, Sheffield Health and Social Care NHS Foundation Trust

Join this conversation, reflecting on insights learned from the day, and share how you plan to turn intentions into tangible actions.

Conversation lead:

Samantha Allen, Chair, Health and Care Women Leaders Network
Tracie Jolliff, Deputy Chair, Health and Care Women Leaders Network

Samantha Allen, Chair, Health and Care Women Leaders Network
Speakers and exhibitors for 2024
If you are interested in speaking at our annual conference next year or if your organisation would like to secure an exhibition stand, please contact us at women.leaders@nhsconfed.org.