Event
Co-designing integrated care systems in the South East
A joint session held for all tiers of local government and NHS colleagues.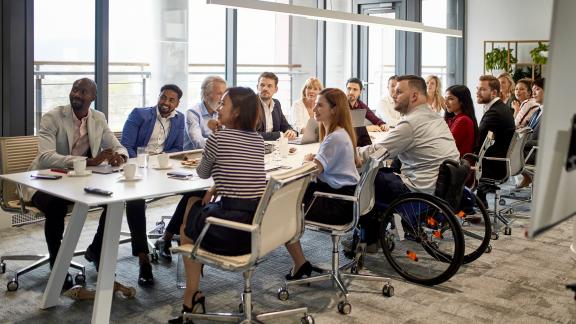 A virtual regional event on behalf of Rachael Shimmin, chief executive at Buckinghamshire Council, and David Radbourne, director of transformation and strategy in NHS England and NHS Improvement's South East Regional Team.
The purpose of the meeting was to understand the current ICS context and further develop our shared agenda across local government and NHS in the South East. 
The meeting was a genuine opportunity for all tiers of local government to get alongside NHS colleagues in the region to think through some of our challenges and develop our thinking and solutions. It also provided an opportunity to think about whether leaders want to meet on an infrequent but regular basis across health and care and the region.
Further guidance has been published to support effective partnership working within ICSs. 

 

Co-produced by NHSEI and LGA, this guidance will support all partner organisations in ICSs to collectively define their place-based partnership working and to consider how they will evolve to support the transition to the new statutory ICS arrangements. It is published alongside Delivering together for residents, prepared by the Society of Local Authority Chief Executives and Senior Managers. This guidance is aimed at all ICS partners and leaders.

This guidance supports the development of distributed clinical and care professional leadership across ICSs, and describes what "good" looks like. It is based on extensive engagement involving more than 2,000 clinical and care professional leaders from across the country, led by a multi-professional steering group. This guidance is aimed at all ICS leaders and ICS clinical and care professional leaders.

This guidance suggests how voluntary, community and social enterprise (VCSE) sector partnerships might be embedded in ICSs, recognising expectations set out in the ICS Design Framework that support close working with the VCSE sector as a strategic partner. This publication is for health and care leaders from all organisations in ICSs who are developing partnerships across local government, health, housing, social care and the VCSE sector.

This guidance sets out expectations and principles for how ICBs can develop approaches to working with people and communities, recognising that the ICS Design Framework sets the expectation that partners in an ICS should agree how to listen consistently to, and collectively act on, the experience and aspirations of local people and communities. The guidance is designed for all ICS partners and ICS leads.  

The What Good Looks Like framework from NHSX draws on local learning and builds on established good practice to provide clear guidance for health and care leaders to digitise, connect and transform services safely and securely.