Case Study
Supporting elderly patients in Northamptonshire to stay well
The ICS in Northamptonshire has, with partner organisations, helped create a web of support for patients with long-term conditions.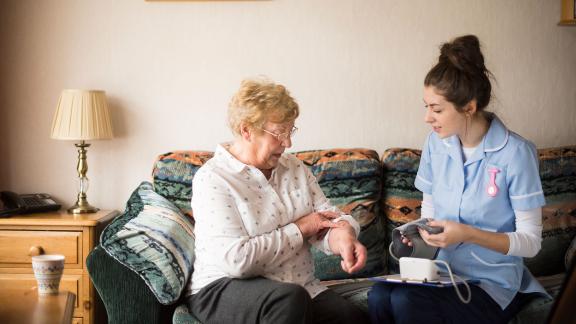 The integrated care system in Northamptonshire has, along with partner organisations, helped create a web of support for patients with long-term conditions, backed by co-production and collaborative working. This support extends through the time they are living in the community to when they are in hospital and are discharged.
Key benefits and outcomes
Those with long-term conditions, and their carers, feel less socially isolated.

More support for patients around discharge and support once they are able to go home.
What the organisation faced
Integrated Care Northamptonshire – the area's integrated care system (ICS) – had an imperative to support patients and carers as its population has a higher-than-average proportion of people with long-term conditions and those on the frailty register. These groups could put additional pressure on the health service in the county if they were not supported to remain as healthy as possible. The county's community services provider, Northamptonshire Healthcare Foundation Trust, had been working with primary care, the voluntary sector – including Northamptonshire Carers – and local councils for some time and was keen to build on this work.
What the organisation did
The ICS's iCAN (integrated care across Northamptonshire) programme was first set up in 2019, to improve the quality of care on offer for older people and and support them to live independently in the community, offering swift assessment and effective treatment when needed and improving discharge planning and support when leaving hospital. One of the main roles of the ICS has been that of enabler, providing a collective commitment to transformation and empowering social care and community partners to work together to develop better services for carers and patients with long-term conditions.
This has allowed close working between healthcare professionals and the voluntary sector, creating teams wrapped around primary care networks (PCNs). Funded backfill for a frailty GP for one day a week in each PCN allowed for reviews of patients and carers in their own homes. This revealed this group of patients – identified as frail or at risk of becoming frail – had multiple needs, many of which were non-medical. Support offered included link workers with the ability to solve problems such as the need for small pieces of equipment and reduce the passing on of people to other agencies.
Northamptonshire Carers has been a key partner in this approach, leading on running peer support groups for those with long-term conditions, and bringing together health and other professionals to ensure those attending are able to access advice, information and support in a relaxed and welcoming environment. It has placed support workers within multidisciplinary teams to aid hospital discharge and also supplies live-in overnight care staff for the first days after discharge, if needed.
Results and benefits
Patients and carers reported feeling empowered, enjoyed being in a peer support group and felt less socially isolated. The involvement of healthcare professionals in the community asset groups also allowed for the sharing of information and advice about their conditions in a more relaxed environment than the typical consultation.
The number of older people having five or more unplanned hospital episodes in a year has reduced by 280, or 25% – which indicates that this model of holistic support can significantly decrease escalations.
While the number of vulnerable adults in Northamptonshire has grown over the last four years, the demand for two-hour urgent community response has stayed the same, as have attendances to A&E. There has also been a reduction in 21-day stays in hospital and the county has managed on a lower bed base than in 2019.
The work in hospitals – involvement in multidisciplinary teams and in supporting discharge – has had positive effects in managing demand.
Overcoming obstacles
As the population ages and its health needs increase, there is a danger that the work could hit a buffer unless there is continued focus on preventing people slipping into frailty. This requires commitment to a medium- to long-term strategy of investment. The ICS has been supportive, despite financial pressures. However, there may be a case for further scaling up. The work is currently reaching around 5,000 older people a year – but Northamptonshire has around 146,000 older people.
Finance is an issue for all partners and is not easy to overcome. Putting in care packages early may help keep people at home longer but costs councils more in the short term. Although some of the voluntary sector funding is recurrent, that is not the case for some work in hospitals. The key to tackling this will be longer-term contracts to give greater certainty to voluntary and community partners.  
Further information
For more information, please contact: 
Mark Major, Chief Executive Officer, Northamptonshire Carers: markm@northamptonshire-carers.org
Giles West, Deputy Director of Operational Transformation, Northamptonshire Healthcare NHS Foundation Trust, and Community Resilience Transformation Lead for Integrated Care Across Northamptonshire: Giles.west@nhs.net