Article
Spotlight on Philippe Croze
I have supported, and now lead our PCN, and always have my sights set on better ways of working for our patients.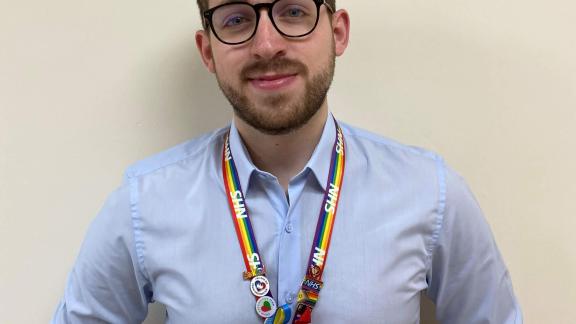 Tell us a little bit about yourself  
Relatively new to the NHS, I started my first official posting in 2019 which was supposed to only be maternity cover for a reception role in my local GP practice, before moving away for an internship. Fast forward three years and through COVID-19, I have worked my way up and have just accepted Practice Manager there.  
Over that time, I have supported, and now lead our PCN and always have my sights set on better ways of working for our patients, hungry for any projects we can be involved with and piloting lots of exciting systems, solutions and technologies. 
Being a product design graduate, I always want to learn about and understand the systems around me (the NHS and primary care being rather complex ones!). I'm also currently participating in a various learning programs / mentorships and aim to have a few accreditations under my belt in the coming year. 
When did you join NHS Confederation and why? 
I found out about the NHS Confederation while searching for various resources. I loved the published guidance, updates and other documents that they put out as it was always so helpful. I was amazed at how practical and useful everything was and how they had their finger on the pulse with all things NHS. 
When the opportunity went out in July 2022 to premium members about establishing the new Primary Care Network and within it, the advisory group, I quickly gathered support to submit my successful application, knowing how useful it might be to have a link in with the Confed. I was excited to join the team on their mission to support and be a voice for Primary Care. 
Truly a remarkable group of people, I came away from the first meeting knowing I had made the right decision and was at the right table to really drive change.  
What excites you the most about the direction of the NHS Confederation, and how will you contribute towards it? 
The very foundations of the NHS always seem to be moving and although it is scary not to be sure about the sustainable future of the Health and Care System in this country, I love that the Confed is looking at the uncertainty as an opportunity to provide practical and really well thought out solutions.  
These are driven by their membership so you can be sure the solutions and resources that come out are being designed by the people that are in the thick of whatever area they might be focusing on at any given point. Listening is their superpower. 
What does it mean to you to be a member of the Primary Care Network Advisory Group?  
Being a member of the Advisory group for the Primary Care Network means making sure to remember my colleagues up and down the country and that what we think about, talk about and design or put out, must be representative of their views, their challenges and actually be useful to people on the frontline. 
Being a member allows me to be a voice for my colleagues that are experiencing very real, tough and more often than not, very complicated issues, but it also allows me to push the right people who can make a difference, to aim for a solution. 
What is something members of the network, staff and even other Advisory Board members might be surprised to know about you eg; what is your proudest achievement? How would you fill an unexpected day off?  
I'm a big foodie! I love to cook and might also have a small obsession with mixology and trying new cocktails...As much as I love my friends, I do find myself preferring to spend my days off alone with my boyfriend, curled up with a good book, trying new recipes or binge-watching films and programmes.