Article
South West Provider Collaborative: Shared Recruitment Platform
A summary of the Provider Collaboration Forum's Workforce and Engagement Peer Learning Set.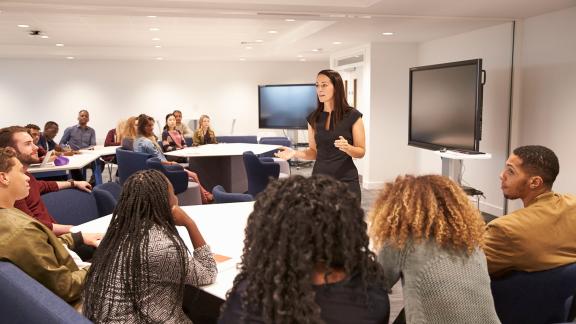 Workforce challenges are one of the most visible issues impacting the health and care system.
As organisations are moving away from competition and towards collaboration, partners coming together to find shared solutions to these workforce challenges will be a key priority. In our recent report The Evolution of Provider Collaboration, workforce was a key area of focus for the collaboratives.
We spoke to the South West Provider Collaborative who have been taking action in this area.
Overview
The South West Provider Collaborative is an award-winning partnership of five NHS organisations, with Devon Partnership NHS Trust as the lead provider, two independent sector organisations (Elysium Healthcare and Priory) and a community interest company (Livewell Southwest) working together to improve the care pathway for people needing specialised mental healthcare in the South West.
With a geography that spans from Cornwall to Gloucester, covering 22,000 square kilometres and a population of around five million, its aim is to ensure that people experience high quality care as close to home as possible, so they can better connect with their support network and local clinical teams and return to their family, friends and community as quickly as possible. Since 2017, their healthcare providers in the South West have been sharing knowledge, resources and expertise, making a significant difference to peoples' lives.
Developing a shared recruitment platform
The Collaborative created a shared recruitment platform which acts as a shop window for opportunities across the Collaborative. It doesn't replace what the provider partners are doing individually, but provides a platform to bring together the following:
Information about living and working in the South West and the benefits of living and working in the region.
An overview of the South West Provider Collaborative, its role and impact on patient care, as well as information about each of their provider partners.
Details of vacancies, as well as profiles on the website and information on what each of the key roles are involve. There are also human stories of people currently in the roles.
A schedule of upcoming recruitment events.
Information for international applicants.
Looking at their experience of setting up and running the project, there are key points of learning that we can draw upon:
Working together on a shared challenge – the Collaborative came together to address a substantial challenge that each organisation faces.
Moves away from competition – if this problem had been addressed by trusts as individual actors, it would have been a zero-sum game. Moving staff around the system and not tackling the shared challenge, benefiting the health and care system as a whole and ultimately the patients who need their care.
Deliverable projects – the project had a clear tangible output, working together as a Collaborative added value and did not duplicate actions fulfilled by the individual Provider Partner organisations.
Embedding collaboration through the workforce – moving the role of collaboration from a discussion amongst execs to the people who are delivering services. The project involved working with services in provider partners such as recruitment and communications. It was cited that this was the first experience many had of the Provider Collaborative, but engagement in the project is embedding it in organisations. Broadening the involvement in collaboration beyond the most senior actors in an organisation and making it part of people's jobs throughout organisations will be essential to making provider collaboration work.
Provides a platform for further joint work and identification of areas where collaboration could be beneficial – working together identified more opportunities for collaboration. An initial project can act as a foundation to build upon.
These lessons reflect much of what we are hearing from Provider Collaboratives who are working together to develop collective solutions to shared challenges. The South West Provider Collaborative shared recruitment platform is a fantastic example of this work and how collaboratives can get to grips with the workforce challenge that they are increasingly looking to tackle together.
Further information
The South West Provider Collaborative is made up of:
Devon Partnership NHS Trust
Avon and Wiltshire Mental Health Partnership NHS Trust
Cornwall Partnership NHS Foundation Trust
Gloucester Health and Care NHS Foundation Trust
Somerset NHS Foundation Trust
For more information, please contact: