Blog post
'Hello, my name is… and my pronouns are…'
Why pronouns can build a more compassionate relationship health staff and trans patients.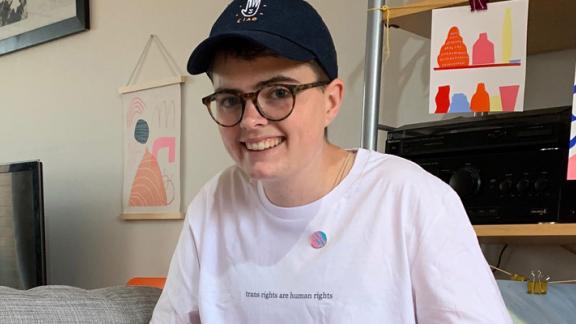 Eddy Phillips (he/him or they/them) is a learning disability and autism network manager at NHS England and NHS Improvement, and the trans rep for the organisation's LGBT Network. 

On International Pronouns Day, Eddy shares why the use of pronouns can help increase awareness and visibility of trans people and build a more open and compassionate relationship between health staff and trans patients.
My name is Eddy and my pronouns are he/him. Pronouns are those small words that other people use to talk about us – he, they, or she, for example. 
Pronouns may seem insignificant but, from my own and others' experiences, I'm very aware of the difficulties that trans people accessing health services can face, most of which come from a lack of understanding. 
I've had many interactions with healthcare staff, in both primary and secondary care, where I have been misgendered or a person has misunderstood my needs from not having a grasp of my gender. Other's experiences have often been worse.
Health inequalities
People who are not trans may not spend a lot of time to thinking about their gender, what their pronouns might be, or how important they might be to someone else. But fear of not being seen or understood, or of prejudice, can hold LGBTQ+ people back from accessing services. 
These barriers mean we are likely to experience inequalities at a time when many more of us are likely to access healthcare, which makes the need to speak up ever more pressing. This is especially important for disabled trans people, who may need to use mainstream healthcare services much more than others.
While the biggest challenge for services like gender identity clinics is to reduce waiting times for trans people wanting to take medical steps, progress is slow, and there are other parts of healthcare that we can look at in the meantime to make trans people's experiences of general services more positive. 
Hello my name is
This led me on to thinking about 'hello my name is', a campaign for compassionate care which was founded by Doctor Kate Granger and Chris Pointon. When receiving treatment for cancer, Kate realised that many of the NHS staff didn't introduce themselves. The campaign, which used social media, badges and lanyards, transformed the way healthcare is given and received – and continues to change lives today.
Introducing yourself to a patient with your name shows respect and a willingness to connect on a human level. Using your pronouns goes one step beyond; it shows an understanding that assumptions cannot and should not be made about gender, and gives people space to open up about their own pronouns, and perhaps with that, other issues that they might not otherwise have felt comfortable discussing.
Pronouns badges
Inspired by 'hello my name is' I began work on a campaign to improve the relationship between clinicians and trans patients.  
With the help of Chris Pointon, I contacted the official providers of 'Hello, my name is…' products, and asked them to create new templates so that the badges now read 'Hello, my name is… and my pronouns are…'. All three providers agreed and are now selling the new badges. 
My hope is that today's International Pronouns Day campaign will increase awareness and visibility of trans people and build a more open and compassionate relationship between health staff and trans patients, breaking down some of the barriers that prevent us from accessing the health services we need.
Today you will be seeing photos of colleagues all over the NHS wearing the pronouns badges. We hope you join us.