Report
Understanding LGBT+ employee networks and how to support them
A three-year study to understand how LGBT+ employee networks operate within the NHS.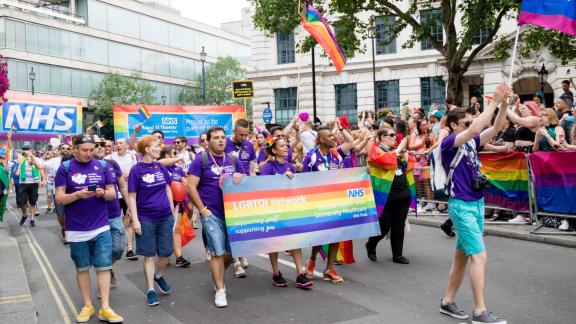 This new report from The University of York follows a three-year study to understand how LGBT+ employee networks operate within the NHS, how they are run, what they can do to improve relationships between colleagues, and ultimately, how they can improve the wellbeing of LGBT+ employees.
The report sets out a series of recommendations on how networks could be used in inclusive work environments.
Written by Dr Anna Einarsdottir, Senior Lecturer in Work, Management and Organisation at the University of York, the research includes an analysis of over 4,000 completed surveys by NHS staff, in depth case studies looking at nine NHS organisations who provided access to their LGBT networks and 66 interviews.
The report concludes unequivocally that, while the NHS provide a very positive space for many LGBT+ networks students, there is a real need for the sector to engage with LGBT+ networks and to review how it provides support for networks to ensure NHS trusts get the most from their LGBT+ networks.
Download the report and the executive summary to find out more.
Access LGBTQ+ Network's film and toolkit
The findings of Dr Einarsdóttir's study inspired the launch of a film 'Any other business' and toolkit designed to drive conversations about LGBT+ networks. Register to receive the toolkit and hold your own virtual event featuring the film and a set of Q&A to facilitate discussions.
Launch event - watch the recording
Watch a recording of the launch event which has presentations from key speakers and a panel discussion covering questions on the sustainability of networks, intersectionality, openness of gender and sexual identities, and collaboration between networks.