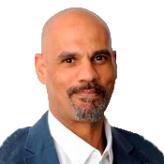 Wayne Farah
Wayne is a full-time carer and non-executive director at Coventry and Warwickshire Partnership NHS Trust.
He works with the NHS Confederation as coordinator of the national BME Leadership network. He is also a senior consultant with QK Associates which works primarily with social housing providers, where he leads the health and social care department.
Wayne has over 18 years' experience as an NHS non-executive including 6 years as Vice-Chair of Newham CCG. At NCCG Wayne was the architect of the Newham community prescription which won the BT Sports Industry 2018 Community Programme of the Year award. His contribution to improving health care for disadvantaged communities was recognised in 2015 with an HSJ Patient Leader Award. 
He relocated to the west Midlands earlier this year, and was excited to join the board of Coventry and Warwickshire Partnership Trust.
Wayne has over 30 years' experience as a social entrepreneur and community organiser. He is a long-term associate of the Institute of Race Relations and has had leadership roles in numerous grassroots community organisations. 
He is a former Chair of An Viet Housing Association and trustee of Newham Monitoring Project and Doctors of the World UK. He was a founding member of Adcris CIC, Umoja Theatre Company, Vision Care for Homeless People, the Migrants Rights Network, and ARHAG Housing Association where he is currently a trustee. Wayne has recently joined the the new aboard of the Institute of Healthcare Management.
He has worked as a social worker, a HR manager, and Senior Policy advisor in local government, and as a lecturer at London Met University.
Wayne studied theatre at Dartington College of Arts, then a post graduate diploma in management at UEL before undertaking postgraduate study in occupational psychology at UMIST researching the impact of occupational stress on health under Prof Cary Cooper.
Wayne's hobbies include gardening, and running regular half marathons to raise money for cancer research.