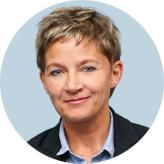 Tracey Cooper
Tracey Cooper is Chief Executive of Public Health Wales. This is a national organisation within the NHS in Wales and its main purpose is to protect and improve the health and wellbeing of the people of Wales and to reduce health inequalities. It does this through a diverse range of functions that include delivering screening, vaccination and immunisation programmes; providing microbiology services; leading on health protection; providing strategic leadership in healthcare associated infections; delivering health and healthcare improvement programmes and providing a health observatory resource.
Prior to joining Public Health Wales, Tracey had been the Chief Executive of the Health Information and Quality Authority (HIQA) in the Republic of Ireland since 2006. Its functions include the setting of standards, regulating health and social care services, undertaking Health Technology Assessments and providing advice on, and developing technical standards for improvements in health information.
Tracey qualified as a doctor at Southampton University in 1990. Her career has included working clinically in emergency medicine, emergency care services and health system reform. She has worked in, and advised on, a variety of different health systems in different parts of the world.
In 2008, Tracey joined the Board of the International Society for Quality in Health Care (ISQua) and became its President in 2011 completing her Immediate Past President position in October 2015.