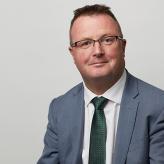 Sean Duggan
Sean is passionate about raising standards of care and treatment of mental health services and improving lives of those who use services and their carers. His focus is on influencing politicians, policy makers and heads of public sector organisations and other key stakeholders to deliver evidence based intervention with a sound economic basis.

Previously, Sean joined the Centre for Mental Health as director of Criminal Justice Programme in 2006, and became Chief Executive in 2011. Immediately before joining the Centre, Sean was Director of Health and Social Care for Criminal Justice at the London Development Centre and offender health consultant for the Department of Health. He trained as a registered mental health nurse in Sussex, where he also held his first NHS Board Director's post.

Sean is a founder member of the Mental Health Policy Group and has expertise in forensic psychology and criminal justice.