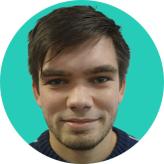 Joe Plewes
Joe studied history and politics at the University of York, graduating in 2013. He has also completed Google's professional certification in data analytics.​
Joe initially undertook work experience at BBC Lincolnshire, training as a sports reporter and writing copy for the BBC Sport website. Following university Joe then worked as a business analyst for an electronic patient record software house for two and a half years, before joining the NHS Confederation. Joe firstly worked in NHS Employers, supporting NHS organisations with international recruitment and professional standards before later joining the strategic policy team as a health policy analyst in summer 2021.​
In Joe's role as a health policy analyst, he supports the NHS Confederation's policy work with key intelligence, statistics and analytical insights. Joe works across the NHS Confederation's various networks including acute, supporting colleagues with the latest data.​
Joe is a keen football fan, having followed Lincoln City since his dad took him at a young age. He also has an unhealthy obsession with collecting football shirts from across the world. Otherwise, he can regularly be found at the Brudenell Social Club watching live music.​
Follow Joe on Twitter at @JoePlewes