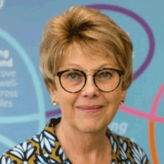 Jan Williams OBE FRSPH
Jan has senior leadership experience across the whole healthcare system in Wales, with a strong track record in organisational leadership and development, in improvement science and in the fields of investigation, inspection and regulation as they relate to generating improvements in policy and practice.
Jan was educated to postgraduate level at the University of Wales and the University of Aberdeen. She joined the NHS in 1979 and held a number of senior posts at NHS Trust, Health Authority and Health Board level; Jan also held senior posts at national level and in Welsh Government.
Prior to her appointment as Chair of Public Health Wales, from 2013 to 2017, Jan was the Independent Police Complaints Commission (IPCC) Commissioner for Wales, Cheshire and Merseyside police forces. This involved membership of the IPCC Governing Body, oversight of independent investigations into the forces concerned and the production of learning recommendations to improve policy and practice.
In addition to her role in Public Health Wales, Jan is a Board member of the Human Tissue Authority and an independent member on the Home Office Domestic Homicide Review Quality Assurance panel.
Jan holds an OBE, for services to the health sector.