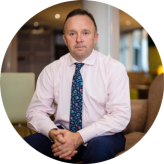 Darren Hughes
Darren has been director of the Welsh NHS Confederation since August 2019. Prior to this he had worked in health professional regulation as Director for Wales at the General Pharmaceutical Council and Head of Office at the General Medical Council.
Darren joined the Welsh Confed with a wealth of experience working with the NHS. His career to date has meant he has worked extensively with the NHS, healthcare professionals, the UK and Welsh Governments, politicians, the media and health stakeholders.
He has also conducted research at Cardiff University looking at how organisations can work together to campaign for legislative change.
Darren was born and brought up in Gilfach Goch in south Wales and now lives "just over the mountain" with his family.
Follow on Twitter @WNHSC_Darren