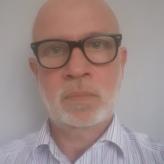 Andrew Davies
Prior to his appointment as Policy and Development Manager his previous NHS experience included senior management roles in corporate governance, project management and service modernisation.

Andrew has also been General Manager for PrimeCare Wales, a commercial out of hours primary care provider, and was an Operations Director at Diabetes UK where he lead on the successful change in corporate identity and culture.
Mae gan Andrew 25 mlynedd o brofiad o weithio ar lefel uwch mewn meysydd yn ymwneud ag iechyd o fewn y GIG, y sector preifat a'r sector gwirfoddol yng Nghymru a Lloegr.

Cyn iddo gael ei benodi yn Rheolwr Polisi a Datblygu, roedd ei brofiad blaenorol o'r GIG yn cynnwys rolau uwch reoli mewn llywodraethu corfforaethol, rheoli prosiectau a moderneiddio gwasanaethau.

Bu Andrew hefyd yn Rheolwr Cyffredinol PrimeCare Cymru, darparwr gofal sylfaenol masnachol y tu allan i oriau, ac roedd yn Gyfarwyddwr Gweithrediadau yn Diabetes UK lle yr arweiniodd y newid llwyddiannus mewn hunaniaeth gorfforaethol a diwylliant.