Press release
Improving working lives of senior BME staff must be a critical priority for NHS
Joan Saddler and Matthew Taylor respond to the NHS Confederation's BME Leadership Network's report 'Shattered Hopes'.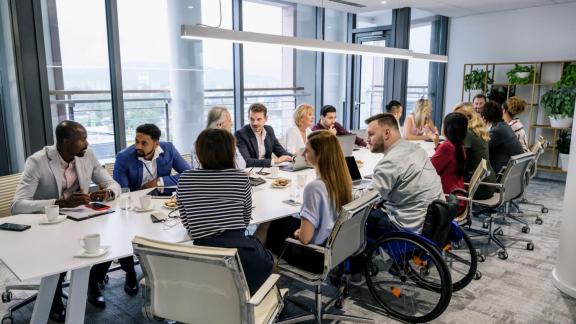 More than half of senior health leaders from black and minority ethnic (BME) backgrounds have said they are considering leaving the NHS because of their experience of racism at work.
The NHS's workforce is more diverse than at any other point in its history, with the number of BME staff at very senior manager levels having doubled in the last year.
However, a national survey carried out by the NHS Confederation's BME Leadership Network published today (Thursday 16 June) at the ConfedExpo 2022 conference in Liverpool has found that many senior leaders from BME backgrounds had experienced verbal abuse and behaviour targeting their racial, national or cultural heritage at least once in the last three years.
More than 1 in 5 respondents, ranging from roles including chief executives, directors and senior managers, said that this unacceptable behaviour had happened to them five times or more.
As the NHS faces a workforce crisis and record levels of demand in the wake of the pandemic, BME leaders told the NHS Confederation that their managers, peers and other colleagues were a particular source of this racist treatment, more so than abuse from members of the public.
However, more than half of respondents still said that they had experienced this sort of treatment from this group, including patients and their relatives.
Also, 58 per cent said the pandemic had impacted their experiences of or exposure to racism in the workplace, suggesting a direct correlation between heightened pressures on healthcare services and the treatment of staff.
Elsewhere, only 1 in 10 respondents were confident that the NHS is delivering its commitment to combat institutional racism.
The stark findings follow General Sir Gordon Messenger's landmark review, which concluded that much more action is needed to create a more diverse leadership across the health service and that equality, diversity and inclusion must become more mainstream in all leadership positions.
The NHS Confederation is calling for better processes to support future and current BME leaders across the NHS; for NHS recruitment processes to be reformed, with required skills, roles and experiences described in more inclusive ways, along with better community engagement to encourage a more diverse pool of applicants for senior roles; and, for all NHS organisations to ensure all staff have a better understanding of their own responsibilities in relation to respecting others.
Joan Saddler, director of equality and partnerships at the NHS Confederation said: 
"The NHS is at risk of losing committed, highly skilled and motivated talent to institutional discrimination and racism. It is high time we move way from warm words and vague commitments to targeted and sustained action to address this deep-rooted systemic problem.
"The NHS has a more diverse workforce than ever before, including those in senior leadership positions. While this progress should be celebrated, it also shows why targeted and urgent action is needed now to support our BME leaders to thrive and survive.
"Our members are determined to be part of this change but they cannot do it alone. The NHS – nationally, locally and regionally – must prioritise supporting its BME leaders to feel safe from discrimination in the workplace so we can make the NHS the employer of choice and support them even more to do their vital roles."
Matthew Taylor, chief executive of the NHS Confederation, added: 
"The findings from our survey are stark but as we have been saying throughout our conference, real change starts with honesty and if we want the NHS to be a learning organisation, that means knowing when to deliver some uncomfortable truths.
"As General Sir Gordon Messenger found, we need to deliver a consistent approach to leadership development at all levels, including how we can continue to improve the diversity of the NHS's workforce.
"We can't hide from the fact that all too often staff from ethnic minority backgrounds are still not being provided with the support they need to progress to leadership roles. As our report sets out, we need to move beyond admiring the problem and make concrete progress in addressing it."
About us
We are the membership organisation that brings together, supports and speaks for the whole healthcare system in England, Wales and Northern Ireland. The members we represent employ 1.5 million staff, care for more than 1 million patients a day and control £150 billion of public expenditure. We promote collaboration and partnership working as the key to improving population health, delivering high-quality care and reducing health inequalities.