Event
The Innovate Awards
Join us in recognising excellence in health and care innovation through the Innovate Awards, brought to you by NHS Confederation and the AHSN Network.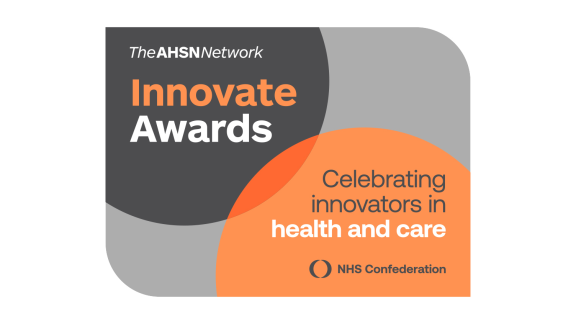 The Innovate Awards is a collaboration between the AHSN Network, which operates as the innovation arm of the NHS in England and acts as the collective voice of the 15 academic health science networks (AHSNs); and NHS Confederation, the membership body, representing healthcare in the UK.
The coronavirus (COVID-19) pandemic highlighted exemplary efforts by staff in health and social care teams but also shone a light on the need for innovation and transformation in the way we work. The new Innovate Awards celebrate excellence in innovation in health and care, showcasing those teams, organisations and health and care systems leading the way in positive change.
There are ten categories open for entry in the awards, with an 11th grand prix prize, recognising the overall innovation champion of the year, which will be selected from among the winners.
Net Zero Innovation of the Year
The Diversity in Innovation Award
Excellence in Patient and Public Involvement in Transformation and Innovation
Innovation Spread Award
Best Workforce Innovation
Innovation Helping Address Health Inequalities
Outstanding Contribution to Population Health Through Innovation
Innovative Health System of the Year
Outstanding Collaboration with Industry
Enabling Safer Systems of Care Through Innovation
The awards are open to publicly-funded or charitable organisations and collaborations. Applications from other partners in the private sector are welcomed as part of a submission led by a public or voluntary sector body.
You can now enter teams or individuals who have been pioneers in their fields for the below categories. Entries are open now and will close at midnight on Thursday 30 June 2022.