Conference
Action for equality: The time is now conference
Join the Health and Care Women Leaders Network on Thursday 11 November for the network's fifth annual conference.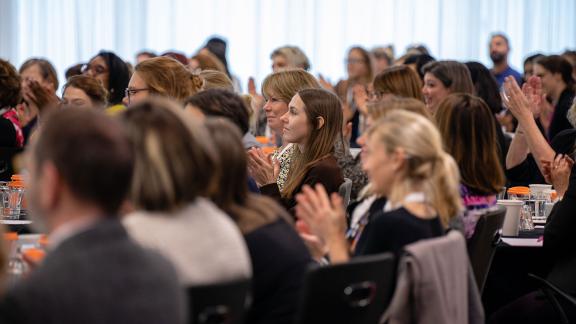 As with last year's hugely successful event, the conference will be held on a virtual platform on 11 November from 10am to 3.30pm.
The conference this year will focus on supporting delegates' personal and professional development. The programme will also look at work underway within the sector and the network to progress gender equality, and to achieve excellence and innovation in our approach to equality, diversity and inclusion.
Delegates will participate in an interactive programme including opportunities for networking and learning and developing. They will listen to inspirational speakers sharing stories and (quite literally) their recipes for success, join lively debates and discussion on the issues currently challenging our sector and beyond.
We are delighted to be joined by many amazing speakers, including:
Samantha Allen, Chief Executive, Sussex Partnership NHS Foundation Trust and Chair of the Health and Care Women Leaders Network.
Pinky Lilani, Founder, Women of the Future.
Kate Jarman, Director of Corporate Affairs at Milton Keynes University Hospital and co-founder of FlexNHS.
Dr Amanda Super, Chartered Occupational Psychologist

and author.

Sophie Williams, Equality activist and author.
We will be releasing more information about the programme and speakers who will be joining us in the very near future.
Why attend?
Over the course of the day, you will:
experience a combination of keynote, breakout and panel sessions

gather tools and advice to guide you on the next step of your leadership journey

gain inspiration and motivation from guests and experts

connect with colleagues, both male and female, working in health and care settings.
We look forward to seeing you there.
Take a look at the highlights from last years conference.
Exhibition and sponsorship
If you would like to find out how to get involved in the conference as an exhibitor or a partner please contact Ross Edwards, head of commercial at NHS Confederation at Ross.Edwards@nhsconfed.org.