Case Study
Treating more cataract patients and reducing waiting times
Treating more low-complexity cataract patients to reduce the backlog at Milton Keynes University Hospital NHS Foundation Trust.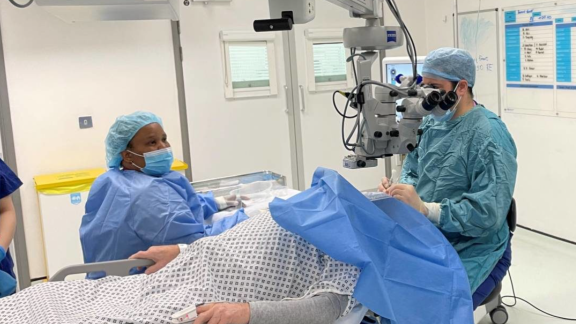 Overview
Milton Keynes University Hospital NHS Foundation Trust (MKUH) introduced a high volume low complexity cataract surgery list so that more patients can be treated over a shorter space of time.
Background
Like many hospitals, Milton Keynes University Hospital NHS Foundation Trust is facing the challenge of reducing waiting times for patients who need surgery. One particularly challenging area has been cataract patients who need surgery to improve their eyesight. A backlog of low-complexity patients has built up due to capacity being prioritised for more urgent patients. While the low complexity patients might not have an urgent need, their quality of life is significantly affected due to poor vision.
Improvement
To help reduce the waiting times for cataract patients, the ophthalmology team at Milton Keynes hospital reviewed existing processes to improve the efficiency of theatre lists.  They launched a new 'high volume low complexity' cataract surgery list so that more patients could be treated over a shorter space of time. This was achieved through streamlining resources, having careful consideration of which patients can go on the list, improving transfer processes of patients in and out of theatres and ensuring everything needed was well organised.  Previously, the surgeon would have attended to paperwork as well as performing surgery, but that is now carried out by another doctor, freeing up the surgeon to focus solely on the cataract removal and placement of a new lens.
Patients arrive at the day surgery unit where the nursing teams ensure that all paperwork is completed and correct. Anaesthetic eye drops are administered to the eye to be operated on so that the procedure will be painless. Theatre staff prepare trays of sterile equipment for each individual patient. When the procedure is completed for one patient, they are escorted back to the day surgery unit for refreshments, and they can go home soon afterwards. The process is repeated until all patients have been treated.
The new service requires detailed planning and is delivered by a multidisciplinary team of colleagues from theatres, ophthalmology, anaesthetics, day surgery unit and the wider surgical operational units.
Outcome
Ophthalmology has increased theatre use by being able to treat up to ten patients per theatre list – almost double the previous number. This has had a positive impact on the elective backlog. Services are much more streamlined and continue to provide high-quality care to all patients. The average operation time is now just ten minutes, with a five-minute turnaround in the theatre before the next patient is brought in.
The new process is designed as a Getting it Right First Time (GIRFT) approach to improving patient access to cataract surgery. The aim is to ensure patients have timely treatment, whilst also helping to clear the backlog of patients who have had long waits because of the pandemic.
A patient shared: "Everyone was reassuring and friendly. It was a very smooth process, and the procedure was over in no time."
Talia Lewis, theatres project manager said: "Organisation is key and every patient is accompanied to and from theatres with the same member of staff. This is great for both continuity but also to reassure any patient who might be worried or anxious about the procedure. It is a clear case of excellent teamwork. Everything is prepared and double-checked in advance, with staff very clear on what their role is going to be during a list."
Lessons learned
Teamwork is essential to understand everyone's role and how it can be improved.

Looking at all the tasks undertaken and assessing who is best to carry them out can help improve efficiency.

Working together to cut out waste in the pathway and simplify steps has helped improve the start and finish times.