Case Study
Collaboration between primary care and community services to support care for older people
Primary care and community services are working together in North Yorkshire to appoint community posts to support dementia and end-of-life care.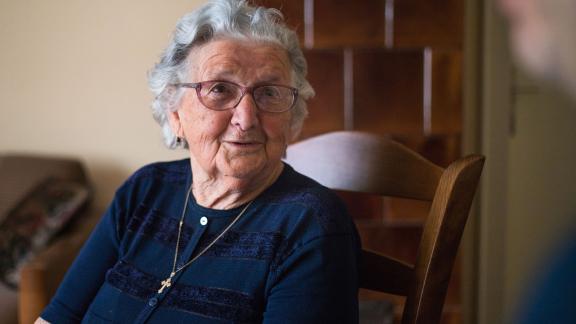 A collaborative approach between primary care and community services in North Yorkshire has placed dieticians from primary care to help care home staff to recognise malnutrition and make early interventions before a resident deteriorates. Through the partnership, the dietician role has offered  significant improvements in care for older people at risk of malnutrition, as well as reducing prescribing costs by decreasing the reliance on nutritional supplements and improving co-ordination of care. 
Key benefits and outcomes
Improved patient outcomes due to the dietetics service being much more aligned to the needs of residents and improving their lifestyle, experience and wellbeing.  

Savings of £30,000 in the first five months, through stopping/reducing nutritional supplements in care homes. 

Reduction in administration time for the GP practice and care home, through the reduction in paperwork and prescriptions.

Empowered care home staff can make changes themselves to support residents to eat well.
What the organisations faced
Within the Vale of York there was the recognition that community services and primary care could work closer together to benefit patients and improve the offer of care closer to home. Through regular meetings between the Selby Town primary care network (PCN) and the community services team at York and Scarborough NHS Foundation Trust, it was identified that care homes had a specific need in terms of support for their vulnerable residents around diet and nutrition. Although the dieticians within the community services offered outpatient clinics, the sessions were often full and did not necessarily align with the needs of care home residents. For example, a resident who might be losing weight and need quicker intervention and regular follow up. Leaders in primary care and community services recognised there was an opportunity to work in a more joined-up way and provide a better service focusing on the needs of the patient. 
What the organisations did
The head of community services at York and Scarborough Teaching Hospitals NHS Foundation Trust and the clinical director of Selby Town PCN worked together to jointly host a dietician role within the PCN, taking the service closer to the patient. The trust offered a dietician on a six-month secondment, to highlight the benefits that a dietician could bring to primary care and to look towards a more sustainable funding arrangement.  
As part of the collaborative approach, the dietician from the hospital-based team is based at the local medical practice within Selby. Working on the ground with primary care staff across the PCN and the care homes, she provide support to improve the health and wellbeing of residents through a focus on nutrition. The dietician provides regular catch ups where staff can bring patients to review and offers a mentor role. She also supports staff who work with the elderly, such as the frailty coordinators, as they have regular contact with vulnerable patients who may be subject to malnutrition or need help with nourishment.  
Historically, if a resident in a care home was beginning to lose weight, the care home would arrange an appointment with the GP, who would then refer to the dietetic service. Due to the referral process and the availability of clinics, it could take as long as three to four weeks to get the intervention, during which time the patient could potentially be deteriorating.  
With the community dietician working with the practices in the PCN, the role allows the dietician to deliver services in a local environment and gives flexibility to adapt them to meet the individual needs of the patients. Adopting a model trialled in Doncaster, the PCN dietician focused on working with care homes to upskill and train the staff on malnutrition and dehydration. She provided training and developed a handbook, food charts and a toolkit that care home staff could use as a guide. This was supported by advice and video training for reinforcement. She encouraged use of the 'MUST' tool: a five-step screening tool to identify adults who are malnourished, at risk of malnutrition (undernutrition), or obese. It also includes management guidelines that can be used to develop a care plan. This training and support has helped to educate care home staff on the importance of nutrition for residents and supported them to move away from prescribed supplements and use more natural fortification of foods. 
As a result of the collaboration between community services, primary care and care homes, the staff can ask for advice from the dietician and have the right resources to intervene and put a care plan in place immediately, rather than having to wait weeks for an intervention. This results in better health and wellbeing for the patients. 
Results and benefits
Improved patient outcomes: The dietetics service is much more aligned to the needs of residents and improving their lifestyle, experience and wellbeing:
The dietician visited a lady with diabetes. Her blood glucose was high. The dietician trained the staff about nutrition and the importance of portion sizes. The resident's blood sugar levels dropped from 20 to under 10, and she was delighted. She began to take more self-care, watch her food intake and became happier. 

Another care home reported that its residents now gain weight much quicker after hospital admissions than before. Part of the dietetic training highlights the detrimental effect a hospital admission can have on nutritional status.

A number of homes have confirmed that they are making steps towards offering a daily over-the-counter vitamin D supplement to all their residents. Initial audit showed around 70 per cent of residents were not being offered a daily supplement, with 30 per cent having it prescribed to treat an existing condition. 
By stopping/reducing nutritional supplements in care homes the dietician saved £30,000 in prescriptions during the first five months of the pilot for the Selby area. 
Administration time is saved for the GP practice and care home through the reduction in paperwork and prescriptions.
Staff within care homes are empowered to make changes and support residents to eat well. By enabling the care home staff to be nimble and giving them the right tools, they can now put a care plan in place immediately rather than having to wait for a referral. A resident who had unintentionally lost 15kg rapidly has now regained 3kg since commencing the food first and homemade supplement approach, enacted by the care home staff, and she is no longer taking any additional prescribed supplements.  
Feedback from care homes illustrates that they enjoyed working with the dietician to have someone to bounce ideas off, who is accessible and can help train staff to make a difference. 
The local GPs have said that it is invaluable to have an expert resource who can help with referrals, advice, training and navigating the way into secondary care. The practice has already identified other areas that the dietician could become involved in, such as patients with IBS, infant feeding and paediatric allergies. 
Through the development of relationships at a local level via the PCN, they are in a better position than they have ever been to try new ways of working with wider system partners. 
Overcoming obstacles
Covid: The pandemic has made going into care homes difficult and means that the evaluation of the project has been delayed. However this has been mitigated by training staff to spot the signs and symptoms more easily and ask for advice in a more timely manner.  
Funding: Although no new money was needed to fund the pilot, as it came from within the community dietetic team, a longer-term funding solution needs to be reached.  Hopefully the pilot will show the benefits of working in partnership around the needs of the patient. There is an opportunity to move away from the traditional commissioned model of services provided in acute settings and look at community outreach support which focuses on population health need.  
Needing proof of concept: It's much easier to keep running services as they have always been run, than to try and set up a new way of working. Buy-in and willpower of people to make a change is needed to move the project on. Often there is not enough time given to properly allow the change to embed and make a difference due to short-term funding. 

Governance and paperwork:

Governance can be burdensome for roles that work across the interface between care sectors. It often requires service-level agreements between organisations, complicated financial flows (and procurement rules) and information governance hurdles. There is often not the time for additional administration as there is already lots to do in the day job. This means that only those who are really invested in making the change will take the time to try new ways of working. 
Takeaway tips
It's important to have a shared purpose and vision and ensure all the partners are signed up. 

Focus on the patient and improving experience and outcomes.  

Invest in relationships – get to know people, build trust and mutual understanding. 

Open dialogue and working together at a local level.  

Work with PCNs and have a clinical lead who can drive the change at a local level 

Be brave and willing to try something new.

Use people's skill sets and recognise the value of the team. 
Further information
For more information on the work in this case study, please contact: